Belarusian President Lukashenko In Hospital After Meeting With Putin, Opposition Claims 'Poisoning'
Belarus president Alexander Lukashenko was rushed to a hospital shortly after meeting his Russian counterpart, Vladimir Putin, in Moscow, multiple media reports have said.
Belarus's opposition leader Valery Tsepkalo also took to Twitter on May 27 to share details about the health status of the country's president.
"According to preliminary information, subject to further confirmation, Lukashenko was urgently transported to Moscow's Central Clinical Hospital after his closed-door meeting with Putin. Currently, he remains under medical care there," Tsepkalo wrote in the Twitter post.
He added blood purification procedures have been conducted on the Belarus president, noting that his condition was deemed non-transportable. He also alleged Kremlin's involvement in the "poisoning" of Lukashenko.
"The orchestrated efforts to save the Belarusian dictator aimed to dispel speculations regarding Kremlin's alleged involvement in his poisoning," the opposition leader further wrote.
In another tweet Sunday, Tsepkalo alleged the Kremlin launched a "cover-up" operation by spreading information about a scheduled medical examination of Lukashenko.
"According to reliable information, this time, after the emergency hospitalization, doctors warned him that he simply wouldn't be able to make it alive if he would fly by an airplane," he added in the tweet. "It's evident that the Kremlin fears speculation regarding its involvement in his deteriorating health. The best doctors from across Moscow were gathered, and they were bluntly told by the special services, 'if he dies, we all go down with him.'"
However, there has been no official confirmation from the government regarding the president's hospitalization.
According to Ukrainian outlet Ukrainska Pravda, Lukashenko participated in the Eurasian Economic Forum in Moscow on May 24. During the event, he said that Russia had already began sending nuclear weapons to Belarus within the framework of bilateral agreements.
However, the exact date of Lukashenko's meeting with Putin has not been released.
Speculations revolving around the health conditions of the Belarusian president, who is considered a close ally of Putin, have been rife in recent weeks. Earlier this month, Lukashenko failed to attend events marking the National Flag, Coat of Arms, and Anthem Day following rumors of his ill health. On May 14, Belarus Prime Minister Raman Halouchanka read a speech on the 68-year-old president's behalf after he could not attend the event in Minsk.
However, last week, Lukashenko appeared in public, dismissing reports regarding his sickness.
"I'm not going to die, guys. You'll have to struggle with me for a very long time to come," he said in a video. "If someone thinks I am going to die, calm down."
Lukashenko, who has been ruling Belarus since 1994, allowed Russian forces to use his country to launch an invasion of Ukraine last year.
He recently made headlines for promising nuclear weapons to nations willing to join Russia and Belarus.
"It's very simple," Lukashenko had said. "Join the Union State of Belarus and Russia. That's all: there will be nuclear weapons for everyone." This came after he confirmed that the transfer of tactical nuclear weapons from Moscow to Minsk had started.
"A decision has already been made to develop what was said orally. We had to prepare places, storage and so on. We did all that, so... the transfer of nuclear ammunition began," the Belarus president said.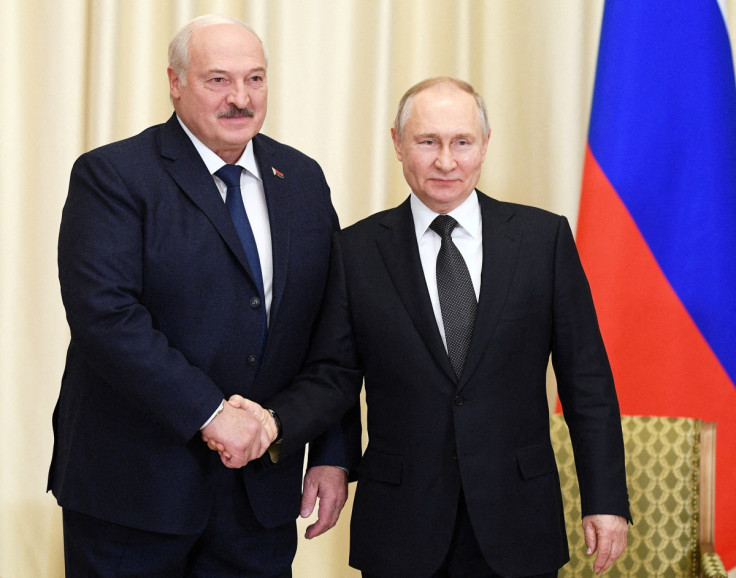 © Copyright IBTimes 2023. All rights reserved.