Belmont 2018 Betting Odds: Justify The Clear Favorite Ahead Of Triple Crown Pursuit?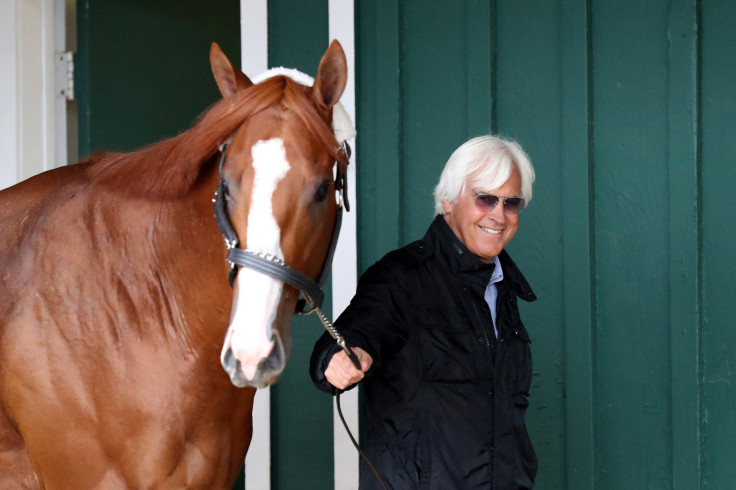 Justify is a week away from making his run at history, as the third and final leg of the Triple Crown looms next Saturday in the Belmont Stakes. Prior to American Pharoah's win in 2015, there had been a 37-year Triple Crown drought, but Justify can put an end to another gap with a strong run on the 1.5-mile-long race in New York.
Justify, trained by Bob Baffert, is the clear favorite with 4/5 odds, but that doesn't mean a victory is certain. At the Kentucky Derby and the Preakness, Justify won on a sloppy track and Belmont is the longest race of the three. (The very early forecast calls for partly cloudy skies, but there might be rain this week in New York.)
"It is very tough to win the Triple Crown. Just ask the connections of California Chrome, Big Brown, Smarty Jones, Real Quiet, Silver Charm, Alysheba and Spectacular Bid. All those great horses came up short in the Big Apple," handicapper Mike Dempsey of OddsShark.com wrote on Friday.
What works in Justify's favor is a somewhat weak field. Hofburg, Bravazo and Tenfold appear to be the only serious competitors. Vino Rosso and Noble Indy could be considered legitimate dark horses.
Justify, who overcame the Curse of Apollo, won at Churchill Downs by a convincing 2 1/2 lengths but it was a close win at Pimlico.
"Right now, everything seems that it's going smoothly," Baffert said of Justify on Monday. "Flesh-wise, he looks great. I'm very happy with the way he's going."
Baffert has stated that he is pleased with Justify's conditioning and weight.
Should Justify wins Belmont, he will become the 13th Triple Crown champion since the first winner, Sir Barton, in 1919.
Belmont Betting Odds (Odds Shark)
Bandua, +4000
Blended Citizen, +1800
Bravazo, +750
Free Drop Billy, +3500
Gronkowski, +3500
Hofburg, +425
Justify, -145
Tenfold, +875
Vino Rosso, +925
Restoring Hope, +3500
Noble Indy, +2500
Seahenge, +5000
© Copyright IBTimes 2023. All rights reserved.