Bend It Like Afridi? Pakistani Cricketer Outraged By Kissing Scene In New Film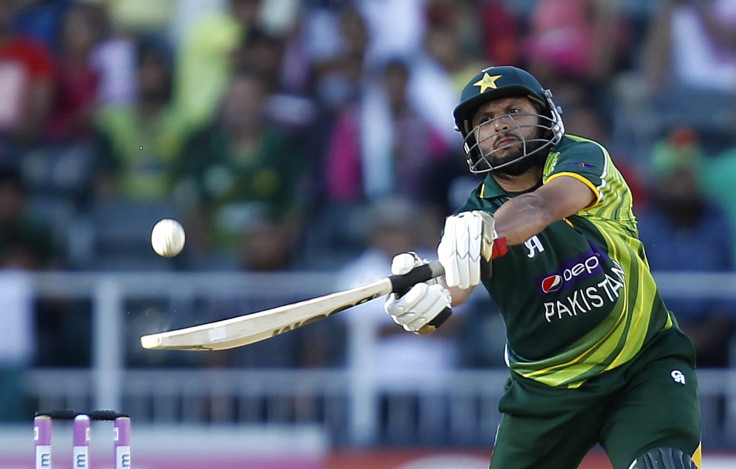 Pakistani cricket superstar Shahid Afridi has expressed his outrage over a kissing scene in a new film that was inspired by his successful career, leading him to demand that producers excise the offending segment from the movie, calling it "obscene." The $1 million Pakistani-made film, "Main Houn Shahid Afridi"("I am Afridi"), which originally had the all-rounder's support, tells the story about a young boy who dreams of becoming a great athlete and uses Afridi as his principal inspiration.
However, Afridi, 33, who comes from the extremely conservative Khyber agency region on the border of Afghanistan, was outraged by a scene in which the young protagonist in the film kisses a girl in a nightclub. "I had given permission for the film with an aim to give kids some positive healthy entertainment, to divert their minds towards cricket and it should not have obscene things," Afridi said, according to Agence France-Presse. "I want to tell the people that the film is not related to my life."
Afridi, one of Pakistan's most popular celebrities who became a star at the tender age of 16, has asked the film's producer, Humayun Saeed, to cut the kissing scene. "A lot of kids and families would go to watch the movie because of me and if they see things like that they will feel bad, so I hope they remove those scenes and run the film," he said.
Afridi reportedly was offered the starring role in the film himself, but turned it down over concerns that such an undertaking would cause offense to his tribe. "I had declined the offer to act because my elders are against acting, nor did I charge a single penny from them," he stated.
The Afridi film was expected to revive Pakistan's film industry, which is a pale imitation of the huge Bollywood system in neighboring India, whose product dominates Pakistani cinemas. A number of factors have contributed to the near collapse of Pakistan's once formidable film industry, including the closure of hundreds of crumbling theaters across the country, rampant video piracy, lack of training facilities for aspiring filmmakers, lack of modern equipment, as well as the fervent opposition to movies by some Islamic fundamentalists.
Pakistan produces only a few movies a year, while Bollywood churns out hundreds annually. But there is now some faint hope for resurgence. "The industry is re-emerging very fast," said cinema-owner Nadeem Mandviwalla, to the Guardian. "But after 30 years of decline there is a lot of catching up to do." For a country of 180 million, Pakistan has only 150 cinemas, and most of them are in poor shape.
Sharmeen Obaid-Chinoy, the filmmaker and documentary producer who became the first Pakistani to win an Oscar in 2012, told Star Online the Pakistani film industry is slowly recovering. "Pakistanis are going back to the cinema, new theaters are being built, and more students are opting for a career in the arts," she said. "Over the past two years, we have seen a significant rise in the number and nature of films being produced locally, from independent art films to blockbuster song and dance thrillers. It may take time but I have no doubt that the film industry will prosper if nurtured properly."
© Copyright IBTimes 2023. All rights reserved.
FOLLOW MORE IBT NEWS ON THE BELOW CHANNELS