Benjamin Netanyahu's Likud Party Wins 2015 Israeli Election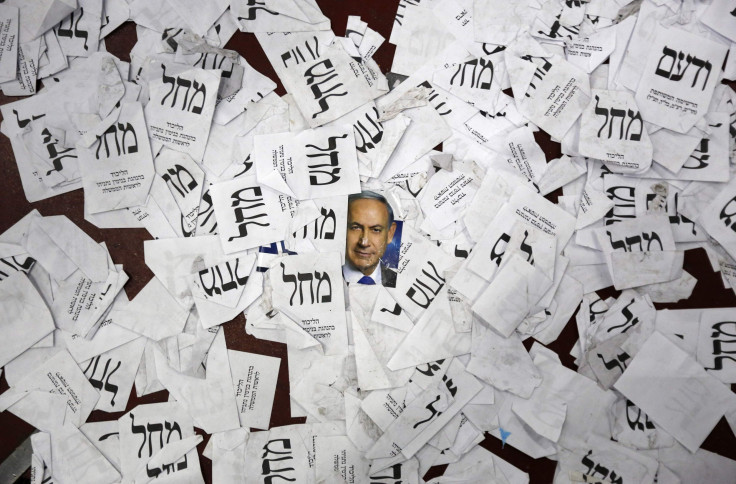 ISTANBUL -- With 99.5 percent of the votes counted, Israeli media announced early Wednesday morning that Prime Minister Benjamin Netanyahu's Likud Party had won the national elections. The right-wing party's leader beat his main opponent, Isaac Herzog of the center-left Zionist Union, by 29 seats to 24 in the country's parliament, or Knesset. The Joint Arab List or Hadash came in third with 14 seats, an unprecedented result for Israel's Arab parties, which were running together for the first time.
Pending an official announcement by the Israeli Central Elections Committee, newspaper Haaretz said that the tally was as follows: Likud 29, Zionist Union 24, Joint Arab List 14, Yesh Atid 11, Kulanu 10, Habayit Hayehudi (Jewish Home) eight, Shas and United Torah Judaism seven each, Yisrael Beiteinu six, Meretz four.
But formation of a new government remained uncertain, with a coalition required to reach the 61 seats needed for a majority. No single party has ever won an outright majority in all of Israeli history since 1948.
Turnout was 71.8 percent of eligible voters, up 4 percentage points more than the last election in 2013.
In a tweet Tuesday night, Netanyahu declared the result a "great victory," following exit polls showing him ahead, after polls last week had showed him running from behind, several seats behind the center-left alliance.
To serve as prime minister for a fourth term, Netanyahu would most likely have to enlist the support of right-wing, nationalist parties, whose agendas would not be conducive to advancing peace negotiations with Palestinians.
Another possibility would be a "grand coalition" with the Zionist Union. In an interview with Haaretz, President Reuven Rivlin said he wanted party leaders to work together to form a national unity government. But Netanyahu had previously shut down that idea, claiming that there are too many ideological differences to overcome.
After official results are authenticated, which could take several days, Rivlin will start consultations with the parties and name a candidate whom he considers best placed to form a coalition. The nominee will then proceed to build support and must present a coalition to parliament within 42 days.
In this fragmented situation, a tie-breaker could come from Kulanu, a new party led by ex-Likud member of parliament Moshe Kahlon, which got a strong showing at the polls by focusing on economic equality issues. Analysts say Kahlon, though he did not align himself with any candidate during the campaign, is expected to play a major role in the negotiations on the formation of a new government.
The other major news of the night was the 14 seats clinched by the Arab Joint List bloc, led by Ayman Odeh. The bloc's showing gives an unprecedented strength to Israel's Arab parties and a possible seat at the negotiating table when it comes to forming a majority. Bloc spokesman Yousef Jabareen had told IBTimes on Monday that "we will do our best to prevent Netanyahu, Bennett and Lieberman from staying in power." Naftali Bennett and Avigdor Lieberman lead two right-wing parties in the outgoing coalition, Jewish Home and Yisrael Beiteinu, and are known for extreme positions regarding Arabs.
Netanyahu had called for the snap elections in December after his cabinet, supported by a coalition running from the center to the religious right, had fallen apart over disagreements including on budget policies and a controversial proposal to declare Israel the nation-state of the Jewish people.
The breakup of Netanyahu's majority led to the formation of the Zionist Union bloc between the Labor Party and Hatnuah, a secular party led by outgoing Justice Minister Tzipi Livni.
During the campaign, analysts had predicted that Netanyahu would suffer from rising economic inequality, especially as reflected in the housing crisis. Last month the country's comptroller released a report saying that housing prices in Israel had risen by 55 percent between 2008 and 2014. It also said that the government was not doing enough to ensure affordable housing.
Palestinians living in the West Bank and Gaza could not vote in the election; they vote instead in elections for the Palestinian Authority, the self-governing body in the West Bank and the Gaza Strip. Arab citizens of Israel, which form around 20 percent of the population, vote but typically do so in low numbers. This time Arab turnout was 66 percent, the highest in Israel's history.
Netanyahu's win signals a likely extension of his existing policies in regards to Palestinians, which he reiterated this week. On Monday Netanyahu, facing the risk of a poor showing, courted voters worried about security by saying that if he was elected there would be no Palestinian state.
"I think that anyone who moves to establish a Palestinian state and evacuate territory gives territory away to radical Islamist attacks against Israel," Netanyahu said in an interview with the Israeli NRG website.
Netanyahu's remarks came as a last-minute effort for the Likud party to pull back right-wing voters who had voiced frustration about the prime minister's perceived lack of clarity on the Palestinian statehood issue.
Security remains one of the top issues the new prime minister will have to address. Last summer the Israeli army fought a war with Hamas in the Gaza Strip, in which more than 2,100 Palestinians as well as 66 Israeli soldiers were killed, and the wider Middle East is in a chaotic situation, with the Syrian civil war next door to Israel posing a constant risk.
A re-elected Netanyahu will also likely continue his campaign to stall the nuclear negotiations between Western nations led by the U.S. and Iran, arguing that a deal exchanging the lifting of sanctions in Iran for a halt to its nuclear program does not do enough to protect Israel.
Netanyahu spoke before a joint session of the U.S. Congress earlier this month, denouncing forcefully any deal with Iran in the form currently being discussed in negotiations between Iran and the West.
Any Israeli prime minister other than Netanyahu would not make a difference in Iran's approach to a possible deal, however.
"It makes no difference who is in government in Jerusalem," said Alex Vatanka, an expert on the Iranian nuclear issue at the Middle East Institute, a think-tank in Washington. "The Iranians ... are per official regime line against the existence of the Jewish state."
© Copyright IBTimes 2023. All rights reserved.