Bernanke Comments Send Markets Into Rally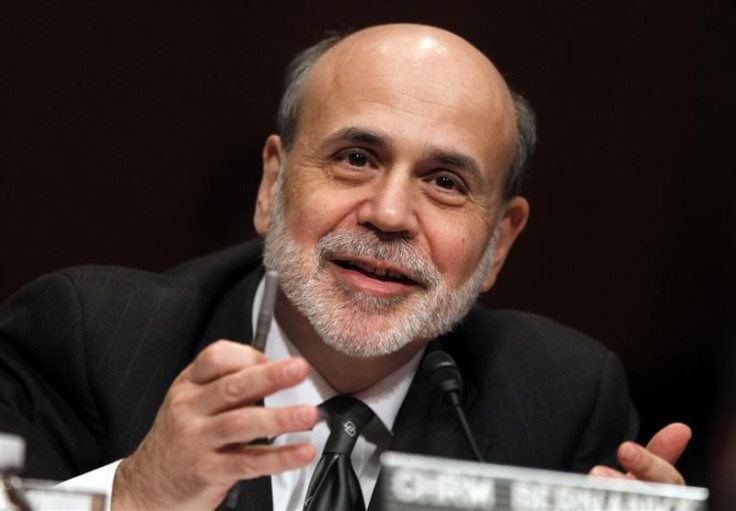 Today's secret word: puzzle.
That unassuming noun was how Fed Chairman Ben Bernanke described the dynamics of the recent U.S. economic recovery Monday, in a speech to the National Association of Business Economists. And that, it seems, was all it took to send investors into a buying frenzy, as traders in nearly all asset classes apparently saw the comments as likely to benefit their positions.
Stocks rose on what was perceived as a more optimistic tone on the path U.S. GDP growth is taking. Bernanke said stronger job growth had brought good news in recent months, a statement that contributed to send U.S. equity futures to gains of over 1 percent shortly before the market opened. The gains continued into the beginning of the trading session. As stocks settled from a heady 15 minutes of initial trading, the Dow Jones Industrial Average was up .75 percent -- and rising -- to 13,178.70. The wider S&P 500 Index was up by a similar range, gaining .79 percent to 1408.11.
But Bernanke's comments were also interpreted as suggesting further monetary easing would be on the way, as the Fed Chairman espoused a theory that recent job recovery was out of sync with the level of economic growth and might need a further boost from the central bank to keep chugging along at present rates.
The recent, rapid job growth appeared to be a reversal of the unusually large layoffs that occurred during late 2008 and over 2009, Bernanke said in his speech, noting that to the extent that this reversal has been completed, further significant improvements in the unemployment rate will likely require a more-rapid expansion of production and demand from consumers and businesses, a process that can be supported by continued accommodative policies.
These arguments support the case for further policy action, analysts at Nomura wrote in a note to clients, according to Fox Business
And that's exactly how pit traders in New York and Chicago saw it, using the hint of further easing to send commodities futures soaring. Gold, which had been down before Bernanke's comments, rose, with the most actively traded contract, for April delivery, up 1.05 percent to $1677.8 per ounce. Oil also rose, more slightly, to $106.98 per barrel for May delivery. Copper, silver and agricultural futures based on soybean and wheat also rose.
The rise in commodities was further aided by a decline in the dollar -- the markets usual reaction when traders expect further monetary easing. The dollar fell against all major currencies -- with the exception of the Japanese yen -- and fell strongly against European currencies, down .5 to 1 percent against the Continent's monetary standards. Having fallen below the psychologically significant $1.30 mark, the euro was selling for $1.3323 shortly after 10 a.m. New York time. The British pound was quoted at $1.5942 during that period.
© Copyright IBTimes 2023. All rights reserved.
FOLLOW MORE IBT NEWS ON THE BELOW CHANNELS