Bernard Hopkins Gives Canelo Alvarez '90 Percent Chance' To Beat Gennady Golovkin In 2017 Fight
While Floyd Mayweather vs. Conor McGregor has gotten most of the attention in recent weeks, the fight between Canelo Alvarez and Gennady "GGG" Golovkin will be the biggest true boxing match of 2017. Two of the sport's top athletes will compete in a middleweight title fight that will arguably determine the world's No.1 pound-for-pound boxer.
With just one loss in their 88 combined career fights, the Sept. 16 bout is about as unpredictable as any big fight can get. Golovkin is the slight betting favorite, though there are plenty within the boxing world that give Alvarez the advantage.
READ: Bernard Hopkins, Oscar De La Hoya Aren't Convinced Mayweather-McGregor Will Happen
Count boxing great Bernard Hopkins, who also promotes Alvarez with Golden Boy Promotions, among those who believe Alvarez should be the favorite. The man that dominated the middleweight division before Golovkin became champion gives the underdog a 90 percent chance to win and "expose" the undefeated Golovkin.
"People are blinded by punchers, and when you're a puncher you can create that type of buzz," Hopkins told International Business Times, in regard to Golovkin.
"He's gonna lose because Canelo stalks guys, he beats them down, he hits them on top of the head and he beats them. Does Golovkin have plan B? Every great fighter one day they step in that ring, they're gonna have to have plan B. He never had to have plan B. Come September, I believe he's gonna have to have plan B and C."
Over the last few years, there has been a debate surrounding exactly how good Golovkin is. His resume is impeccable, going 37-0 with 33 knockouts. Many of his victories, through no fault of his own, have come against subpar competition.
Golovkin hasn't proven to be a great defensive fighter during his 18 consecutive title defenses, using his overwhelming power to maintain his perfect record. Some believe that he is more of a puncher than a boxer, and he could be in trouble when he finally faces a well-rounded fighter.
"When punchers can't punch you out, a lot of times, there's no way out. They die by the punch, they live by the punch," Hopkins told IBT.
Alvarez will be the toughest opponent of Golovkin's career, though he has been able to secure quality competition in his last two fights after years of being avoided by the best boxing has to offer. Golovkin forced Kell Brook's corner to throw in the towel in the fifth round on Sept. 16, and he defeated Daniel Jacobs by unanimous decision on March 18 in a title unification bout.
Even in victory, however, Golovkin looked more vulnerable than he ever has.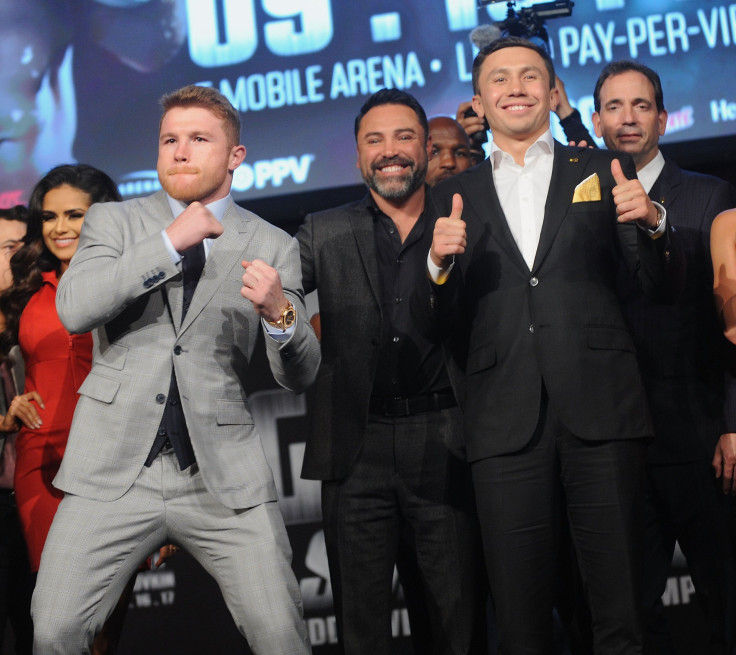 Brook was able to land more clean shots on Golovkin than any opponent in recent years, and GGG could have found himself in more trouble if he hadn't been facing someone that recently made the jump from the 147-pound division. The decision against Jacobs was a controversial one, as Golovkin landed 18 fewer power punches.
The knockout artist went 12 rounds for the first time in his career against Jacobs, and he struggled as the fight moved along. Golovkin has been at the top of the middleweight division for the better half of a decade, and Hopkins believes it's time for Alvarez to take that spot.
"Every fight, if you don't elevate your game, others are watching and they're gonna take your spot one day. When you're there, there's always someone tryna get there too. Canelo is there right now. That's why I believe it'll be a fight in the second half where boxing skills and strength will not mix together. And his boxing skills will overcome the strength, and I think that Golovkin's gonna be in a situation where he's never been before because he didn't have to. He just knocked everybody out."
There's no doubt that Golovkin appeared more beatable than ever in his last bout, but the Kazakh fighter deserves credit for going the distance against a boxer as good as Jacobs. Jacobs entered the fight with 12 straight knockouts of his own and landed just 175 total punches to Golovkin's 231.
"I haven't had a chance to see GGG make adjustments as much as I've seen Canelo. He had made some, GGG that is, against Danny Jacobs. He made some adjustments. But I think a lot of those fights gave a blueprint of how to pick that lock and get the door open."
Alvarez is eight years Golovkin's junior, but he's already had a few big fights in his career. He suffered his only ever loss when he faced Floyd Mayweather in 2013, and the bout generated a then-record $150 million from 2.2 million pay-per-view buys. Alvarez followed that up with a split decision victory against the tough Erislandy Lara, as well as wins over James Kirkland and future Hall of Famer Miguel Cotto.
His competition in the last few years hasn't been nearly as daunting. Amir Khan is a solid welterweight, but he stood little chance against Alvarez's power. Alvarez was a heavy favorite against Liam Smith when they fought for the light middleweight title in September, and Julio Cesar Chavez Jr. was clearly overmatched in Alvarez's first fight at more than 160 pounds.
Even though Alvarez hasn't faced a top boxer recently, that doesn't mean he hasn't continued to get better.
"What makes Canelo great is his IQ to do more than one thing," Hopkins said. "Mayweather taught him a lot in that defeat. We've seen and witnessed the process of that development and that education towards fighters that he beat and knocked out viciously. Amir Khan was one, Kirkland (another). We saw a good technical fight against Cotto. That to me shows a young guy who went to school early with Mayweather and learned how to do more than one thing, and that's punch.
"Canelo at every step has gotten better. GGG has flatlined straight ahead. Didn't get better, didn't get no worse. But he's who he is."
For close to two years, boxing fans have been asking for Golovkin and Alvarez to get in the ring against one another. If the fight was made earlier, GGG would have been the clear favorite, having steamrolled through every challenge he's faced.
READ: Manny Pacquiao vs. Jeff Horn Betting Odds, Early Preview
Now that Golovkin has proven to be mortal, it's clear that the younger Alvarez has a real shot to hand him his first loss.
"Canelo fought Mayweather when he was 21 years old and he's just now 26 years old, so he has a long way to go, and now he's already fighting the very best in Gennady Golovkin," Oscar De La Hoya told IBT. "I think Canelo is the now of boxing, the future of boxing, and we have a lot of great fights to make. I think the fight fans and boxing are gonna benefit from Canelo's willingness to fight the very best."
© Copyright IBTimes 2023. All rights reserved.