Bernie Sanders: Wall Street, Bankers Are 'Taking Him More Seriously' As Possible President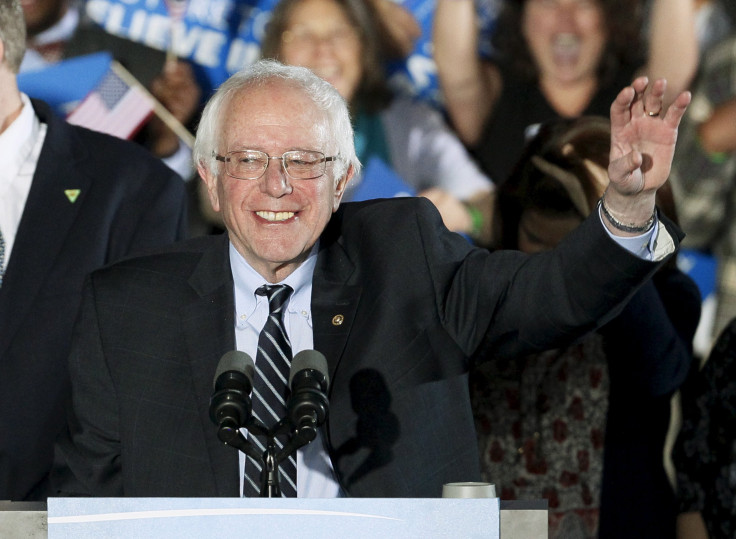 In some ways Paul Ryan is a typical Bernie Sanders supporter. He's sick of money in politics. His formative political events were the big-bank bailouts of 2008 and Occupy Wall Street in 2011. "The deck is stacked. This is the fundamental reality," Ryan said, evoking the Vermont senator's rhetoric on political power and inequality.
But there's one way that Ryan, who is of no relation to the Republican speaker of the House, differs with the bulk of Sanders' supporters — he is a Wall Street executive.
"I don't want to sound like I'm a socialist, because I'm anything but," Ryan said, referencing Sanders' self-applied ideological label. "But you have to realize there's a dialectic here. If it swings too far in one direction, it has to swing the other way."
Ryan, the founder of Hayfield Financial, a boutique firm that focuses on small- and middle-market financing, is one of a tiny contingent of investment bankers who have thrown their lot in with Sanders, despite the Democratic presidential hopeful's platform of taxing Wall Street "speculation" and breaking up the largest financial institutions.
Now, after a strong showing in Iowa and a thumping defeat of rival Hillary Clinton in New Hampshire's primary, Wall Street is taking a new look at the candidate. "The reaction to him is not one of pure ridicule at this point," said Wade Black, the chief operating officer at broker-dealer Scarsdale Equities, who has given $200 to the Sanders campaign. "People are taking him more seriously. They're actually looking at what he's talking about."
In a note last month, Guggenheim Securities analyst Jaret Seiberg told clients to "expect Wall Street bashing to intensify" as primary voting got underway. "This will create political pressure to further tax the biggest financial firms as well as to break them into smaller companies or force them to hold even more capital," Seiberg wrote.
In another note, Seiberg said that Sanders' plan wasn't as pie-in-the-sky as had been thought. "Sanders appears to argue that he could implement much of this agenda on his own even without the need for legislation," Seiberg wrote. "We caution against dismissing this view."
The vast majority of Democrats in the finance sector lean toward Clinton, who, with her husband, former President Bill Clinton, has nurtured a deep network of supporters on Wall Street. That support has come with a price, however, with Sanders repeatedly referencing Clinton's paid speeches at Goldman Sachs in an effort to portray her as too cozy with bankers.
Recent fundraising hauls haven't countered that notion. Clinton's campaign, together with associated super PACs and similar vehicles, has received more than $44 million from banks, hedge funds and other financial firms, totaling more than a quarter of all her donations, according to the Washington Post.
That doesn't mean Clinton has proposed going easy on the financial sector. Her Wall Street reform program runs about 10 times longer than her rival's, touching on a range of nuanced regulatory concerns including shadow banking and whistleblower protections.
But Clinton's financial reform ambitions haven't scared off Wall Street donations. Her top backers include hedge fund billionaire George Soros, investment firm D.E. Shaw and employees at JPMorgan Chase & Co.
Among the campaign bundlers listed on Clinton's website are numerous members of the financial community: managing directors at JPMorgan and BlackRock, the co-founder of investment bank Centerview Partners, a vice president at Citigroup and a partner at private equity firm KKR, where Clinton had a speaking engagement in 2013.
None of the Clinton bundlers responded to requests for comment.
The scrutiny over these ties hasn't stemmed the flow of donations. "Secretary Clinton will absolutely continue to raise money in the tri-state area and some percent will definitely come from the financial services sector being that it makes up a large part of the demographic," investment banker Robert Wolf told Politico last week.
Meanwhile, a growing number of top Wall Street executives are worried about Sanders. Lloyd Blankfein, chairman and CEO of Goldman Sachs, said Sanders' rise "has the potential to be a dangerous moment," in an interview with CNBC last week.
Bernie Sanders Presidential Candidate Profile | InsideGov
But Blankfein, a Democrat, stopped short of declaring his support for Clinton. "I don't want to help or hurt anybody by giving them an endorsement," he said.
Blankfein's comments followed those of Blackstone CEO Steve Schwarzman, who marveled at the "remarkable" level of anger among Democrats as well as Republicans during a panel at the World Economic Forum in Davos, Switzerland, in January. "Bernie Sanders, to me, is almost more stunning than some of what's going on in the Republican side," Schwarzman said. "How is that happening?"
Schwarzman, a Republican, shares an ideological bent with most of his industry. Financial interests have given 12 times more money to GOP causes and candidates than to their Democratic counterparts so far in the 2016 race, the Wall Street Journal reported.
"Wall Street is obviously not a monolith," said hedge fund manager Jon Finkel, who donated $1,000 to Sanders last year. Though Finkel found some of Sanders' comments about Wall Street to be overblown — particularly that the industry runs entirely on "greed, fraud, dishonesty and arrogance" — he found himself broadly in sync with the candidate's politics.
"The basic message that money has too much influence in politics I agree with," Finkel said. "Even if I think some of the nuances are lost on the campaign trail."
© Copyright IBTimes 2023. All rights reserved.