With Inequality Rising, Billionaire Steve Schwarzman Expresses Surprise That American Voters Are Unhappy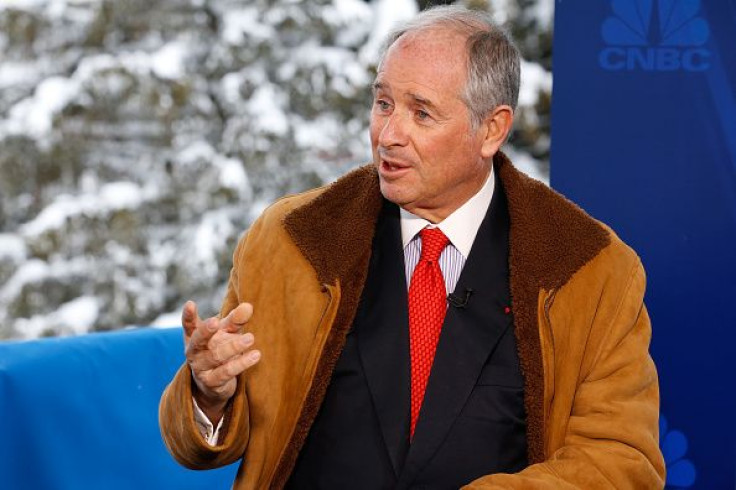 DAVOS, Switzerland -- As income inequality and healthcare costs rise in the United States and as an economic slowdown may be on the horizon, one of the world's richest men expressed surprise that U.S. voters seem so angry in advance of the 2016 presidential election. Speaking at a gathering of corporate and government leaders in Switzerland, Blackstone CEO Steve Schwarzman told Bloomberg Television that he is bewildered about why Americans seem so discontented.
"I find the whole thing astonishing and what's remarkable is the amount of anger whether it's on the Republican side or the Democratic side," the Wall Street mogul said at the World Economic Forum in Davos. "Bernie Sanders, to me, is almost more stunning than some of what's going on in the Republican side. How is that happening, why is that happening?"
On the eve of the conference, the nonprofit group Oxfam released a report showing that the richest 62 people on the planet now own more wealth than half the world's population. In the United States, recent data from Pew Research shows the average American's median household worth has stagnated, as the median household worth of upper-class Americans increased 7 percent. Schwarzman, though, expressed surprise that people are enraged.
"What is the vein that is being tapped into across parties, that has made people so unhappy?" he said, telling Bloomberg's anchor, Erik Schatzker, "That is something you should spend some time on."
Schwarzman's private equity firm, Blackstone, manages — and makes fees from — billions of dollars of pensioners' assets, and was recently fined by federal regulators for not properly disclosing fee terms to its investors. The investors harmed by Blackstone's conduct included public retirement systems in California, Florida and New Jersey.
Schwarzman has donated $100,000 to a super PAC supporting Jeb Bush's presidential campaign and reportedly organized a meet-and-greet session between John Kasich and Wall Street executives, but Schwarzman said on Wednesday that he would ultimately support Donald Trump should his fellow Republican billionaire win the GOP nomination for president. In recent years, Schwarzman has made national headlines likening tax increases on the wealthy to the Nazi invasion of Poland.
On Thursday, Schwarzman is scheduled to appear with bank CEOs on a World Economic Forum panel that will discuss "what regulatory reforms can foster inclusion while averting future shocks" to the economy.
© Copyright IBTimes 2022. All rights reserved.
FOLLOW MORE IBT NEWS ON THE BELOW CHANNELS