Best Weather Apps To Track Tropical Storm Harvey, Hurricane Developments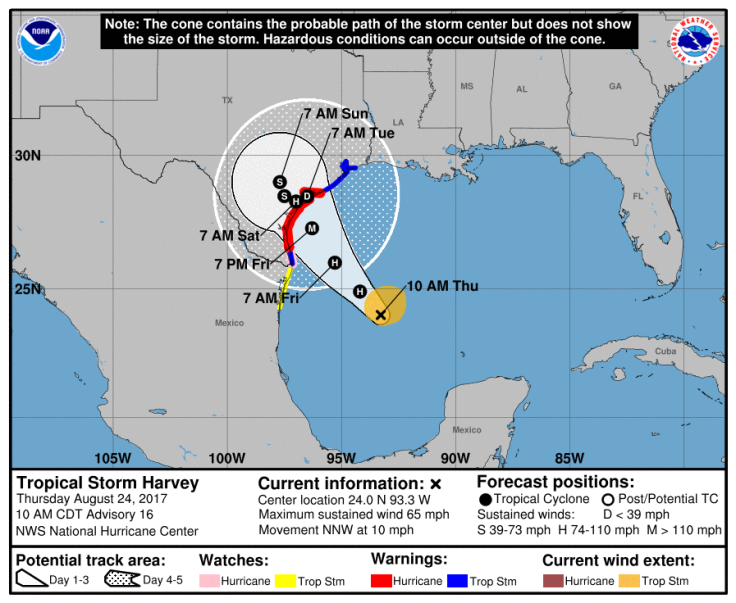 There's a storm brewing over the Gulf of Mexico named Harvey. It's currently considered a tropical storm, or a storm classified by surface wind speeds between 39 miles per hour and 73 miles per hour. Harvey's maximum wind speed as mid-day Thursday was 65 mph. But this could change before the storm hits land, if surface wind speeds reach more than 73 mph the tropical storm will then be classified as a hurricane.
As of mid-day Thursday Harvey was moving at a pace of about 10 miles per hour. This means rain and wind from the storm might hit the coast of Texas and Mexico as early as Friday. Preparations for the storm and the flooding it is likely to cause are already underway in cities like Houston and the surrounding areas. Stores were dealing with high demand for items like bread and water.
Harvey is likely to either become a category one hurricane or remain a tropical storm and drop inches of rain on the state for several days after it makes landfall. The National Oceanic and Atmospheric Administration is warning: "Harvey quickly strengthening and forecast to be a major hurricane when it approaches the middle Texas coast...Life-threatening storm surge and freshwater flooding expected."
Current projections show that it will likely stall over land dropping rain well in to next week and causing major flooding. To keep track of its progress and classification you can always check the National Hurricane Center's website but there are a few good apps to use as well.
NOAA World Radar:
This app from NOAA is available in the app store as "NOAA World Radar - Weather, Rain & Hurricanes" and it works in many countries internationally and in a variety of languages. The best part is that there's a free version of it making it accessible to anyone with a smart device. The app provides information on hurricanes as well as other storms but for hurricanes it provides users with information on the path, wind speed and quadrants and more. On Google Play it's called "NOAA Weather and Radar Alerts" but has essentially all of the same features as the iOS version.
Weather Underground:
This app uses data that is crowd-sourced from weather enthusiasts reporting conditions all across the country. It can also give push notifications for extreme weather and has National Weather Service Radio built right into it. The interactive map provides information that can be layered on rain accumulation, radar and more. It's available on both Android and iOS devices from Google Play or the App Store.
Hurricane American Red Cross:
The American Red Cross has an app to help people track storms before and during the extreme weather events. It allows you to follow weather conditions where you are but to also check on up friends or family across the country as well. It does this using map layers and location based services. It can also be used to set alerts on social media that let people know you're safe. Not only does it give users important storm forecasts and a way to connect, it also provides them with safety knowledge and guides to make safety kits and safety plans for extreme weather and the location of Red Cross stations. It's free and available on iOS and Android.
Weather Channel:
The Weather Channel's app is called "Storm Radar with NOAA Weather." It's very similar to the other apps in that it offers live radar maps and forecasts but it also provides historical paths of past hurricanes for users looking to compare current storms to older ones. The perk this app gives about hurricanes and storms is that it also provides users with an expected time that the storm will hit in their location and provides the cone of uncertainty. It's available on iOS and Android devices.
© Copyright IBTimes 2023. All rights reserved.