Biden: MH17 'Blown Out Of The Sky,' US Officials Confirm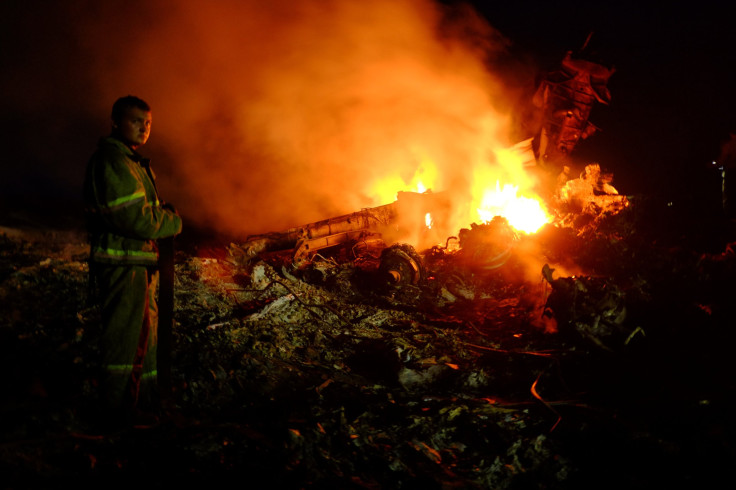 U.S. officials have said outright that Malaysia Airlines Flight MH17 was shot down with a surface-to-air missile, but are unsure of the missile's origin.
Vice President Joe Biden said during an appearance in Detroit that it appears MH17 was "shot down, not an accident. Blown out of the sky," and other American officials confirmed that a missile was fired at the Boeing 777, but are unsure who shot the missile.
A senior U.S. official told CNN that just before MH17 crashed, a radar system noted a surface-to-air missile system tracking an aircraft, and a second system saw a heat signature. By analyzing the trajectory of the missile, investigators can try to pinpoint the source of the attack.
Biden spoke for a half hour with Ukrainian President Petro Poroshenko and offered help with the investigation. He said officials from the National Transportation Safety Board (NTSB) would head to Ukraine to assist the Ukrainian government.
U.S. President Obama and President Poroshenko stressed in a phone call that the crash site must remain as it is so investigators can get a full picture of what happened. Both separatists and Ukrainian military officials accuse each other of downing the passenger jet.
Separatist leaders claim they don't have weapons with that kind of reach, but reported in late June that rebel forces took over a Ukrainian military base and captured BUK surface-to-air missile defense units, which could reach MH17 where it was at around 30,000 feet.
Two Ukrainian Air Force transport planes and one jet fighter have been shot down in the last month over the skies of eastern Ukraine. Ukrainian officials say a Russian fighter took out theirs and Russian missiles took down one of the transport aircraft that was shot down on Monday. That plane was flying at 21,000 feet.
U.S. officials have not yet confirmed if there were any American citizens onboard MH17 when it crashed, but preliminary reports say there were 23 American nationals onboard.
© Copyright IBTimes 2023. All rights reserved.
FOLLOW MORE IBT NEWS ON THE BELOW CHANNELS