Big Brazilian Companies Eye Major Portuguese Cement Maker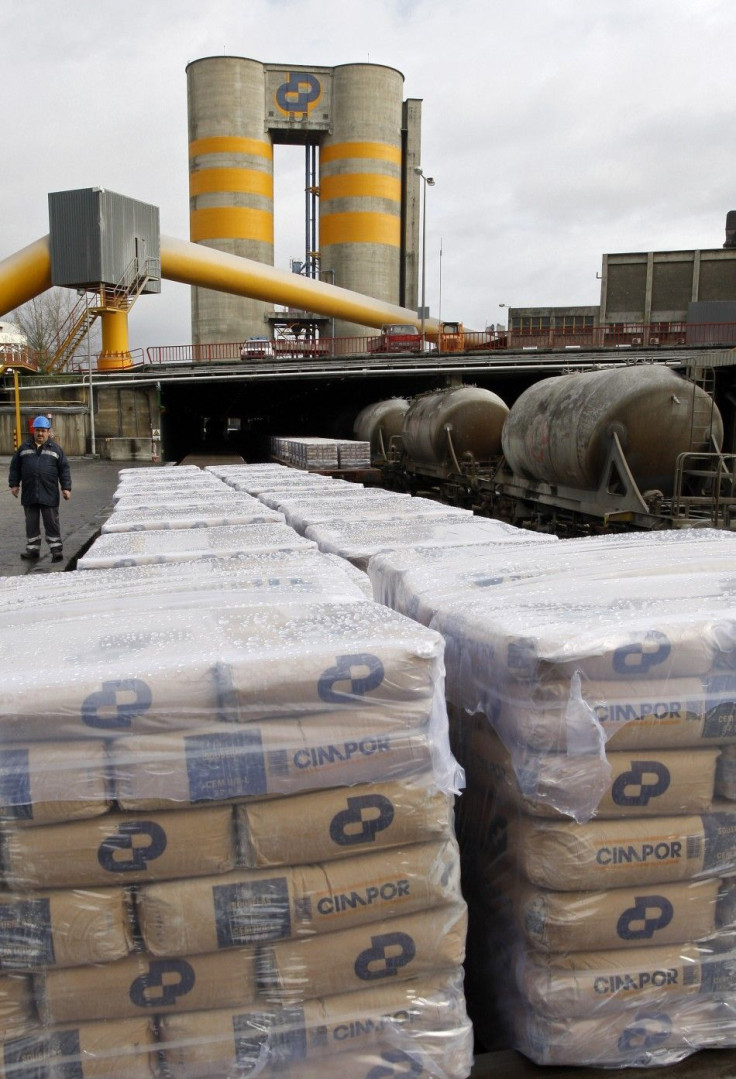 Two Brazilian industrial titans are circling a big Portuguese cement maker in the latest sign that the euro zone's recession is cutting the value of companies based in struggling European countries and making them takeover targets, especially for corporations based in booming economies like Brazil.
Camargo Correa SA, Brazil's second largest construction company, on Friday bid €2.48 billion ($3.32 billion) for the 68 percent stake it doesn't already own in Cimpor-Cimentos de Portugal SGPS SA, a publicly traded Portuguese cement company with global operations.
The offer by Camargo, which is Cimpor's largest shareholder, comes to about €5.50 per share, a premium of 10 percent from Friday's closing price. By late Monday Cimpor-Cimentos shares had risen to nearly the Camargo offering price.
Meanwhile, Votorantim Participaçõ es SA, another large Brazilian industrial company that holds a 21 percent stake in Cimpor, is mulling whether to exercise the right to buy into a Camargo Correa-Cimpor deal twithout having to put in a larger bid, according to published reports.
Analysts believe Votorantim will exercise that right, allowing it to increase its stake in Cimpor to over 30 percent.
A competing offer (from Votorantim) is unlikely. We think that the end game might be that Votorantim and Camargo are interested in sharing Cimpor's assets and for that Camargo and Votorantim would need two-thirds of the votes in a shareholders' meeting, Nuno Estacio of Brazilian investment bank Espirito Santo, wrote in a research note quoted by Reuters.
Estacio believes Votorantim might end up with Cimpor's international assets further down the line, in exchange for yielding that company's Brazilian operations to Camargo Correa, and other concessions.
The two companies focus on Cimpor reflects Brazil's surging industrial growth and the extent to which cash-rich Brazilian companies have the resources to grow through international acquisitions.
But the focus on Cimpor also follows recent merger and acquisition activity involving two other Portuguese companies, highway operator Brisa Auto-roads of Portugal and energy company Galp Energia, and underscores how willing owners of companies in struggling economies are to cash out, Reuters said.
Portugal's state-owned banks and pension funds, which are deleveraging as a result of the austerity mandate included in a recent bailout package, have large stakes in Cimpor.
State-run CGD bank has said it will sell its 9.6 percent stake in the cement maker at the price Camargo is offering, even though that is lower than the €6.50 share price of early 2010, when Camargo Correa first bought into Cimpor. Various analysts have a valuation of Cimpor that is closer to €6 per share.
The equity markets were judging the deal as fait accompli. Shares of Cimpor rose to as high as €5.50 on news of the deal before settling at €5.47, a tight spread between the market and announced deal price that suggests investors are highly confident the deal will be done.
© Copyright IBTimes 2023. All rights reserved.