Big Data On The Farm: FarmLogs CEO Discusses The Interaction Of Crops And Software (Q&A)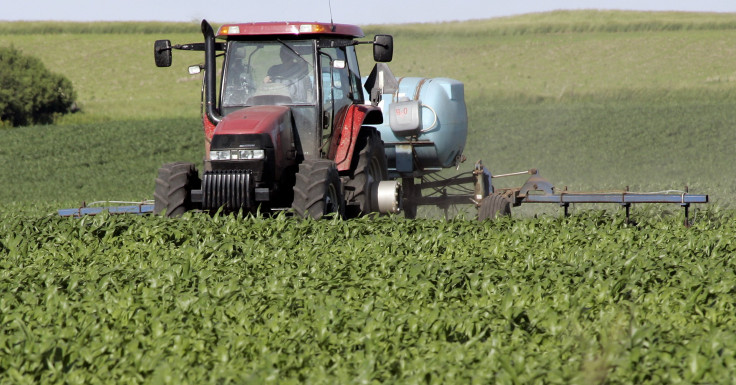 Giant public companies like Monsanto Company (NYSE:MON) and DuPont Co. (NYSE:DD) are using big data to improve farming yields. They're betting farmers will buy sophisticated technology that optimizes and tracks harvests, the Wall Street Journal reported on Wednesday.
So-called "prescriptive planting" techniques help U.S. farmers exploit modern data-gathering techniques for bigger crop yields, even as some farmers worry about data privacy. Data-driven planting advice could boost crop outputs by $20 billion annually, according to Monsanto's estimates.

But small start-ups have also delved into the business of farm data. Michigan-based FarmLogs started in 2012. The company helps farmers track rainfall, monitor grain prices, and manage inventories and budgets using mobile-based technology. The venture capital-backed firm raised $4 million in a recent funding round, partly for research into better farm tech.

We spoke with FarmLogs co-founder and CEO Jesse Vollmar about the intersection of big data and farming. Vollmar grew up on a family farm in Michigan and was named a Forbes 30 Under 30 entrepreneur for 2014.

Q: What's your focus for 2014?

A: The focus is getting a lot of people on our platforms. That'll mean new opportunities down the road. We later hope to see other people building on the platform. For us, 2014 is all about bringing the industry online and getting as many farmers onto the platform and into the product as possible.

This year it's mostly about investing in product. It gets into the deeper data science we're doing now. With more resources behind us, we can go from the small, scrappy and young original team to hiring larger groups of engineers.

Now that we have all this data on fields, with crop history on every field in the country, we're building a machine learning model. That model automatically recognizes what the next crop on fields would be, following standard rotations.

We want to then model out the cost of production for farmers in a couple of clicks. Instead of growing field-by-field and planning what they're going to grow on each, we can model the cost of production for them, leveraging data and artificial intelligence.
We're computer scientists. We're hackers. This is how we approach problems. Big companies take more dated approaches to solving these problems.

Q: How exactly does your technology help farmers?

A: We aggregate local pricing in real time from every grain buyer in the country. We also automatically compute transportation costs from the farmer's location to that buyer. So we can say: This is where you can go to get the best prices for your grain, even factoring in driving distances.

We also show the exact amount of precipitation on their fields, rather than making farmers drive around to check rain gauges in the fields. What used to take them a couple of hours a day now takes a couple of minutes.

Q: How is your technology different from or better than programs offered by rivals?

A: Monsanto and DuPont solutions are primarily focused on planting prescriptions for the fields. It's definitely a useful technology, but it's aligned with putting more seeds in the ground. Of course they want to help farmers increase their yields, but they want to do it using their own specific seed solutions.

Our product is all-encompassing. We can find the best price for grain, precipitation levels, and organize all their information online. It's full cycle farming and full farm management. With the bigger companies, they focus on one narrow problem, with very niche solutions.

Things like GPS systems for tractors -- other companies have been making that for twenty years. That's not innovative. The interfaces involve very rudimentary and dated technology. We're on the Web, we're on mobile. With some older technologies, they were based on desktops. We take the user experience very seriously.

Q: How many farmers use your technology?

A: We've grown tremendously in the last year. We hope to expand to a really widespread region by the end of this year. I can't give out more exact numbers, but we help over 5 percent of row crop farms in the U.S.

Q: What's your end-game plan? Has your company or your sector drawn much attention from Wall Street financiers?

A: We don't spend a ton of time thinking about how we're going to exit. A successful exit for our investors might not mean an exit for the business. We can continue to grow this for many years to come.

We can build a business that definitely has the potential to go public. That's a massive market that we're revolutionizing. While there may be companies that would want to buy us, I can very well see us growing large enough to take the company public.

We get calls from investment bankers, with the usual stuff, exploring mergers and acquisitions opportunities. Their clients are sometimes interested in talking with us. We avoid that stuff right now. It's too early for us.

What's really interesting is seeing how many large farmland investment funds are being created. Wall Street has discovered farmland as a new asset class that is fairly stable and increasing in value.

We get a lot of calls and meeting requests from farmland investment funds, too, on how we can help their farmers be more productive. Tech becomes a big part of this -- by boosting production, the value of the land goes up, too.
© Copyright IBTimes 2023. All rights reserved.