Bill De Blasio 2016: Is NYC Mayor's National Agenda Positioning Him For A Presidential Run?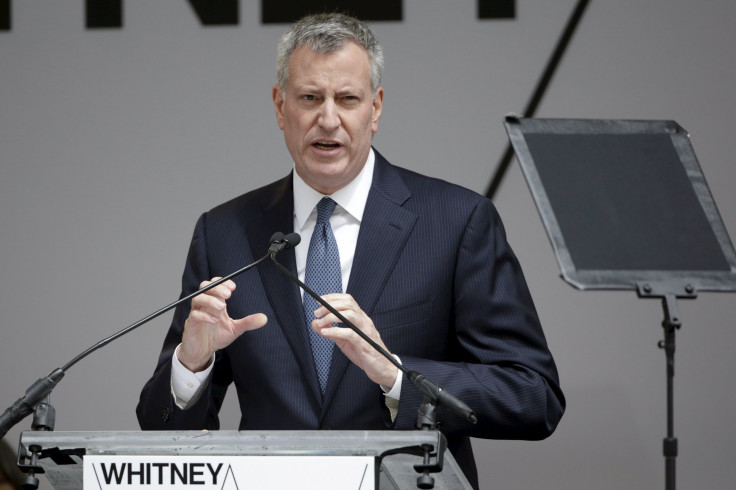 Despite his emphatic denials about running for president, New York City Mayor Bill de Blasio's actions and his national agenda seem to be betraying his words. From Iowa to Washington, D.C., to California, the second-year mayor -- who has yet to endorse Hillary Clinton's candidacy -- has made his way around the country pushing a plan to address the polarizing topic of income inequality. But all of the political posturing away from his constituency has some wondering why he's making these moves without at least one full mayoral term under his belt.
"Choice No. 1: He's running for president. Choice No. 2: He wants to be the standard bearer of the people from the center-left who are looking for progressives, which I think is probably right," said Alan Chartock, president and CEO of WAMC/Northeast Public Radio and a retired political science professor of the State University of New York at Albany. "I don't think he's going to be the candidate [in 2016] or anything like it. But I think he is likely to want to capture that crowd and to be their champion. I think this is all about him maintaining his presidential credentials so when and if the time comes he will be able to use him."
Hank Sheinkopf, a New York City political consultant, agreed that de Blasio's planned unveiling of "The Progressive Agenda to Combat Income Inequality" is more about the mayor's personal advancement than positioning himself as a challenger to Clinton in the primaries.
"He is young, therefore he is ambitious," Sheinkopf said of the 54-year-old de Blasio. "But he has to figure out a way to get out of New York alive, because no mayor has in recent memory." De Blasio's predecessor, Michael Bloomberg, had flirtations with running for president, while former Mayor Rudolph Giuliani flamed out in his 2004 bid. The last mayor to ascend to higher office was John T. Hoffman, who was elected governor of New York in '69 -- 1869. But de Blasio's national schedule isn't unusual for a New York mayor; Bloomberg used his influence to push a gun control agenda and convince other cities to adopt his smoking ban.
In his successful campaign for New York City mayor in 2013, de Blasio was critical of the police department's stop-and-frisk policy that opponents said unfairly and illegally targeted minorities. His "Tale of Two Cities" campaign theme highlighted how 46 percent of city residents were living close to or at the poverty level while speaking of raising taxes on millionaires and pushing for free pre-kindergarten.
"His timing is impeccable because issues of police-community relations, income inequality, affordable housing are big right now nationally," Sheinkopf said. "He helped create the dialogue."
The mayor's schedule this week includes an appearance Tuesday at the National Press Club alongside Sen. Elizabeth Warren, D-Mass., who is adored by progressives. De Blasio is set to outline "The Progressive Agenda to Combat Income Inequality" at the event, according to his press office. He'll also be making a related announcement near the steps of the U.S. Capitol. Later on Tuesday, de Blasio and a bipartisan coalition of mayors will meet with congressional leaders to urge more federal transportation funding for cities.
On Wednesday, de Blasio is heading to Santa Clara, California, in Silicon Valley. His schedule doesn't give a reason for the stop, but the New York Times reported that he is attending a fundraiser for the Campaign for One New York, an issue-advocacy group that promotes his agenda. The group raised nearly $2 million last year for de Blasio's pre-K initiative in New York, according to Capital.
It's unlikely that de Blasio is motivated by immediate political gain, according to Sheinkopf. He would only lose clout if he joined Clinton's administration, should she win the Democratic nomination and the presidency.
"He'll never get the visibility anyplace else but New York," Sheinkopf said. "What happens here is national news by definition -- sometimes international news. What he is doing is setting himself up for the future by heading a national movement."
De Blasio's posturing keeps him relevant in the national conversation, Sheinkopf said. "By doing so, he creates a national network and a national constituency and years down the road. … He's got a movement put together that can allow him an opportunity to run for something other than mayor. The question is: What is it and when?"
© Copyright IBTimes 2023. All rights reserved.
FOLLOW MORE IBT NEWS ON THE BELOW CHANNELS