Bitcoin Bull John McAfee Arrested In Spain, Sued By SEC For Misleading Cryptocurrency Promotion
KEY POINTS
SEC charges John McAfee for misleading the public by promoting initial coin offerings without disclosing that he was paid to do so
The SEC says his actions are a violation of federal securities laws
He has also been charged with tax evasion and willful failure to file returns
John McAfee, the creator of the eponymous anti-virus software and a known cryptocurrency enthusiast, has been arrested in Spain for allegedly evading taxes in the U.S. and willfully failing to file tax returns. He has also been accused of making misleading cryptocurrency recommendations.
In a 55-page complaint, the Securities and Exchange Commission (SEC) said McAfee has leveraged his fame to earn more than $23.1 million in undisclosed compensation when he promoted at least seven initial coin offerings (ICOs) among his followers. The regulator said McAfee was misleading the public because he did not disclose the payment he received from these ICO projects.
"Promoting a security without disclosing that you are paid to do is unlawful 'touting' and violates federal securities laws," the SEC said in the complaint, adding that McAfee repeatedly lied when asked whether he was paid for those promotions.
McAfee had claimed he was an investor or technical advisor to several of these ICOs, implying that the projects benefitted from his technical expertise. The SEC said these were also lies because his recommendations, in the form of positive tweets, were actually paid promotions that were "disguised to look like impartial investment advice."
The SEC also alleged that at some point, McAfee was holding some worthless tokens. He then tried to generate interest for these tokens by tweeting about them, encouraging his followers to purchase the tokens while he was simultaneously trying to sell his own holdings. McAfee also allegedly violated federal securities laws by deceptively generating interest in the tokens in order to sell quickly and profitably.
The SEC also charged McAfee's bodyguard, Jimmy Gale Watson Jr., for assisting McAfee in his schemes. It was also Watson who negotiated the deals with the ICO issuers, the regulator alleged.
In total, McAfee received $11.6 million worth of Bitcoin and Ethereum. He was also paid an additional $11.5 million worth of tokens for undisclosed promotions. Watson received $316,000 from McAfee for his role.
The SEC did not disclose the names of the ICO issuers. The regulator also said McAfee's tweets were "extravagant", like publicly predicting BTC's price would reach $1 million.
The SEC seeks civil penalties against McAfee and disgorgement of his gains, with interest, Reuters reported. The regulator also seeks to ban him from serving as an officer or director of any listed company for life.
A criminal indictment unsealed by the Department of Justice (DOJ) on Monday said McAfee allegedly earned millions from promoting cryptocurrencies, consulting work and speaking engagements, as well as selling his life story to be made into a documentary. The indictment says McAfee did not file any tax returns between 2014 and 2018.
If convicted, McAfee could face five years in prison on each count of tax evasion. He was also facing charges of restitution and monetary penalties.
McAfee's extradition to the U.S. is pending.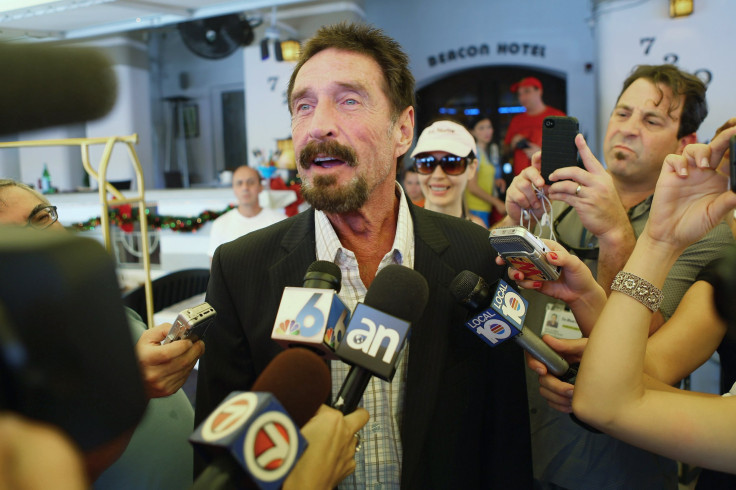 © Copyright IBTimes 2023. All rights reserved.