Black Friday 2013 Survival Guide: Helpful Apps, How To Kill Time, Dressing For The Weather And More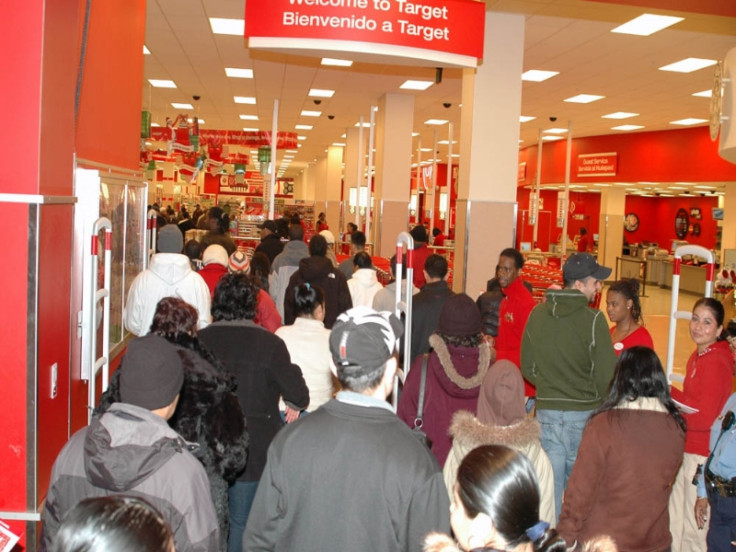 Black Friday: Its infamy is tantamount to the day an asteroid smashed into the Yucatan Peninsula and wiped out the dinosaurs, paving the way for the human race. The notorious annual shopping day, defined by dragging lines, bottlenecked aisles and cantankerous squabbles over merchandise, will certainly separate the sheep from the goats, so to speak. Black Friday 2013, as it does every year, will test shoppers' endurance, wit, patience and, indubitably, their sanity.
Black Friday is fast approaching, with just three days before the biggest U.S. shopping day of the year. The doorbuster deals are sure to abound, with stores like Walmart and Best Buy offering everything from TVs to tablets to toys at competitive low prices. It's these bargains that make Black Friday the cosmic consumer event that it is.
And this year, Black Friday is likely to be even more tumultuous. With six fewer selling days between Thanksgiving and Christmas, the stakes are higher than ever for retailers. Short of showing up with pepper spray or banana peels, there are several ways you can prepare yourself for Black Friday. Because surviving the busiest shopping day of the holiday season emphatically will require some planning on your part.
For shoppers who want to feel better equipped, here is our Black Friday 2013 survival guide.
Helpful Black Friday 2013 Mobile Apps
When in doubt, turn to the smartphone. It's your best tool for holiday shopping this season.
As The Post-Standard noted, many of your favorite retailers have Twitter accounts, and you should be following them. Brands often keep their customers informed about discounts and gift ideas, all in real time.
Also, many of your favorite retailers have free apps you can easily download on your iPhone or Android. If you know you'll be shopping at a particular store, see what their app has to say!
Additionally, Forbes put together a nice list of essential apps for Black Friday shoppers. It includes Zoomingo, an app that will let you know about local sales and offers at more than 70,000 outlets from 100-plus national retailers.
Shopular will send you push notifications when you're inside a store alerting you to coupons and deals. The best part? You don't even have to open your phone to see them!
PoachIt is a handy app that sifts through the detritus of invalid coupons to find you the ones that are valid. The app bills itself as the ultimate "shopping sidekick."
Black Friday 2013: How To Pass The Time While You Wait
Of all the contenders on Black Friday, the hardest to defeat could be the anticipation itself. Long lines at stores mean long waits, and shoppers are notorious for their restlessness. Boredom can certainly fell the most resilient consumer.
There are a few things you can do in order to kill time while you wait. As we said before, your smartphone is also your best friend. Games like Draw Something, which lets you select a word to draw for a friend to guess, and Words Rumble, similar to Boggle, are both fun and great for letting the hourglass empty. For more mobile game ideas, click here.
If games aren't your thing, and you'd rather spend your waiting time doing something more productive, you can download any of a variety of productivity apps. Got some emails you've been neglecting? Trusted Trio will help you manage that steady flow of emails that keep piling up in your inbox.
Whatever you do, don't let the time you'll inevitably spend waiting go untapped. Bring a book or, better yet, a friend along. Make it an event! Formulate an action plan, map out where to go first, the best route to get there, and where to grab that much-needed cup of coffee on the way.
What To Wear On Black Friday 2013
Black Friday is no time to impress. You're going into the consumer trenches – leave the platform heels at home.
Opt for something casual and light, and wear comfortable walking shoes. While temperatures in some areas of the country are predicted to dip into the 40s and 30s, the more you can leave at home, the better. Heavy jackets and tons of accessories like gloves and beanies will only become excess baggage once you're inside, and you don't want to be bothered schlepping them around while trying to reach for those coveted gift items. We suggest thermal wear.
And if you're shopping in the Northeast, beware: A deadly storm system has moved east and is expected to bring heavy rain, snow and gusty winds to the Eastern Seaboard on Thanksgiving.
Also, lay your outfit out the night before. In fact, anything you can do the night before – set the coffeemaker on a timer, prepare a ready-to-heat breakfast, put out the cat food – is another minute you won't have to spend doing it in the morning. The last thing you'll want to do when that alarm goes off at 4:45 a.m. is to go digging for a pair of socks in the closet.
Black Friday 2013: Additional Tips For Surviving Doorbuster Deals
Here are some additional tidbits and pointers for surviving Black Friday.
Get a babysitter. Don't get stuck pushing both a baby stroller and a shopping cart. Ditch the former and concentrate on nabbing those big-ticket items!
Bring a folding chair that you don't mind leaving behind. This will come in handy if you have to wait in a line outside the store before it opens. But again, the less you have to carry with you through the store, the better. Bring a cheap chair you're willing to give up.
Take note of where you parked the car. The last thing you want after battling through the store aisles is to spend another 45 minutes searching an endless parking lot for your ticket out of bedlam. Take note – or even photos – of landmarks near your vehicle, like lampposts or signs.
Be nice to salespeople. You think they like being at the front of a caffeinated, savings-hungry mob at 6 in the morning?
Know your credit limit. A lot of the things you'll be buying on Black Friday will be big-ticket items. The credit card, while certainly a convenient way to purchase more expensive gifts, is also a dangerous trap. Don't get caught in the snare of heaping debt; know what you can afford, and don't exceed it. Plus, you don't want to get caught at the checkout line with a maxed-out credit limit.
Bring a snack. No one is going to save your spot in line while you run to the nearest drive-thru.
And if these Black Friday 2013 survival tips aren't enough for you, there's always Mashable's guide to enduring Black Friday based on HBO's "Game of Thrones." Happy bargain-hunting!
© Copyright IBTimes 2023. All rights reserved.
FOLLOW MORE IBT NEWS ON THE BELOW CHANNELS