Black Lives Matter And The 2016 Republican Debate: 30 Seconds Then 'Straight Outta Compton'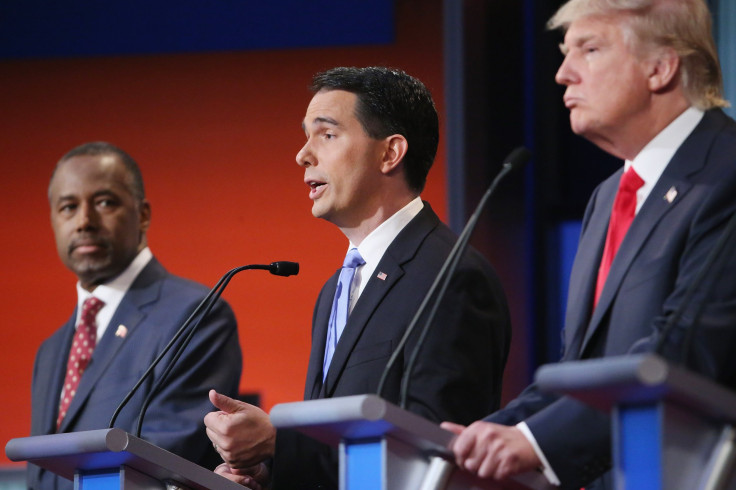 Just over an hour and a half into the first Republican debate of the primary season, Wisconsin Gov. Scott Walker was asked about the Black Lives Matter movement. Then, about 30 seconds later, Fox News cut to a commercial for the hip hop flick "Straight Outta Compton." At another point, Dr. Ben Carson, the only black candidate on the stage Thursday night, was asked in a roundabout way about the nation's racial divide during questions to the candidates about faith.
The brief focus on Black Lives Matter was immediately met with criticism, outrage and ridicule from Twitter users who decried Fox News for giving such little air time to a national discussion on race that has led to widespread protests and even riots. For Twitter users using the Black Lives Matter hashtag, the Republican debates had, in their view, effectively ignored the discussion about race relations and the disproportionate number of African Americans killed by police.
"It's about training, it's about making sure that law enforcement officials" have the tools and training they need, Walker responded to the question, the only time the phrase "black lives matter" was used.
The recipient of the question struck some as odd. Walker is the governor of a northern Midwestern state, Wisconsin, which had a 6.5 percent black population in 2013, according to U. S. Census data. The black population in the United States as a whole is 13.2 percent. Communities like Ferguson, Missouri, and Baltimore -- both of which have been the scene of major moments in the Black Lives Matter movement over the last year -- have much higher black populations.
Carson, a neurosurgeon by trade, was later asked how he would heal the "divide" within the country. He responded by explaining why he doesn't talk about race on the campaign trail. He's a surgeon, he said, so he operates on the stuff that matters and "skin, hair doesn't make" people who they are. "Our strength in the nation comes from our unity. We are a United States of America, we are not a divided states of America."
The GOP debate hosted by Fox News saw the 10 leading GOP candidates discuss national security, immigration and God in Ohio Thursday night.
© Copyright IBTimes 2023. All rights reserved.