Jeb Bush Denies Calling Donald Trump An 'A--hole' During GOP Debate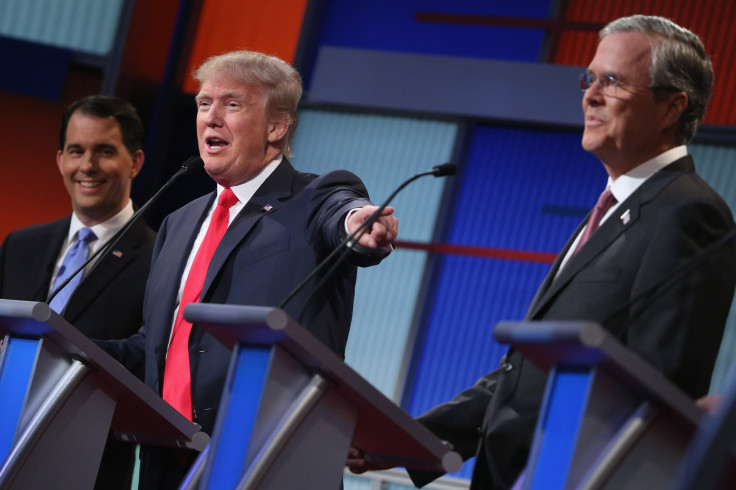 Former Florida Gov. Jeb Bush took a moment out of the first Republican debate to address a rumor from earlier Thursday that he slammed fellow presidential candidate and GOP front-runner as an "a--hole."
"You've called [Trump] a clown, a buffoon, and a word I can't say on television," said Fox host Megyn Kelly midway through the debate.
"No, it's not true," Bush assured the audience. "But I have said Mr. Trump's language is divisive."
The purported quote came from Politico, citing anonymous sources who overheard Bush calling Trump a "clown," a "buffoon" and an "a--hole" during a meeting with donors.
Bush has said that he takes Trump's remarks on immigrants "personally," noting that his wife Columba came to the United States from Mexico. He further accused Trump of trying to "inflame and incite and to draw attention" to his fledgling campaign.
Trump also drew ire when he retweeted a Twitter user who said that Bush "has to like Mexican illegals because of his wife." The mogul later denied that he'd endorsed the user's remark.
"You can love the Mexican culture, you can love your Mexican-American wife and also believe that we need to control the border," Bush said after Trump boosted the random user's remark, calling it "ludicrous."
"This is a bizarre kind of idea that somehow you can have an affection for people in a different country and not think the rule of law should apply," Bush added.
© Copyright IBTimes 2023. All rights reserved.