Black Lives Matter Violence: Ferguson Bad Publicity Requires Better Message Control, Experts Say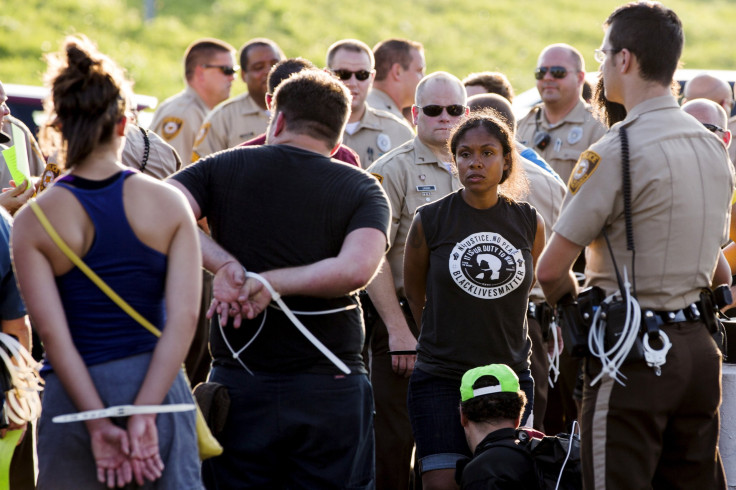 As Black Lives Matter activists gathered this week in Ferguson, Missouri, to mark the first anniversary of Michael Brown's death, their planned anti-police brutality demonstrations were marred by violence that gave opponents more pretext to attack their movement. As the world watched the demonstrations on Twitter and Facebook, protesters were branded criminals and hooligans amid isolated incidents of shootings, looting, arson and assault on police officers.
In the year since the fatal police shooting of Brown, an unarmed black teenager, organizers have seen how difficult it is to control the message when otherwise peaceful demonstrations get publicity for riots, gunfire and other events that are not their fault. The challenge represents a broader struggle for social justice movements -- how do you attract a diverse base of support, control the message and survive bad publicity?
"It really comes down to how you tell your story," said Cesar Vargas, an undocumented immigrant who co-directs the Dream Action Coalition, an advocacy group pressuring the U.S. government for a pathway to citizenship. "I think most people will start to see that [Black Lives Matter] is a serious and urgent issue. It's not just politics. You have to make them seem how difficult and unfair it is [to be a police brutality victim.]"
The Black Lives Matter movement first emerged as Twitter hashtag campaign started after the 2013 acquittal of George Zimmerman in the shooting death of Trayvon Martin, an unarmed black teen in Florida. It has evolved into mass demonstrations emulated around the world, following widely-publicized police-involved deaths of African Americans in the United States in the last year.
Controlling the Black Lives Matter image is nearly impossible, in part because there is neither a central leader nor a clear agenda set by a central organization. The movement has also struggled to counter a backlash from opponents who disliked activists' afrocentric message, anti-police rhetoric and occasional bad behavior by supposed participants. In some cases, Black Lives Matter activists were slammed for heckling and shutting down events where organizers were seemingly sympathetic to their cause.
People Killed by Police by Race in 2015 | FindTheBest
There is also a branding problem. Some have argued that the #BlackLivesMatter hashtag is a public relations effort that helped garner broad support for the movement. But others say the use of the hashtag is too broadly used to show a focus on policing and criminal justice issues. Black Lives Matter activists did not immediately respond to requests for comment Tuesday.
Other modern social movements have also had to battle criticism aimed at unruly supporters while maintaining their message. In some cases, groups have sought public relationship help to control their images and national scandals.
The anti-war group Code Pink, a grassroots movement founded in 2002 after the U.S. started wars in Afghanistan and Iraq, has routinely protested speeches and congressional testimony of Democratic leaders in Washington, D.C. and elsewhere. But the confrontational tactics and personal scandals of their supporters and leaders eventually overshadowed the group's message.
Prominent abortion rights and family planning group Planned Parenthood has existed for decades as a national advocacy organization for women's health. The organization last month hired the Washington public relations firm SKDKnickerbocker following the release of an undercover video showing Planned Parenthood clinic staff discussing the handling of fetal tissue after an abortion, Politico reported.
Michael Turney, professor emeritus of communications at Northern Kentucky University in Highland Heights, said that social movements' use of public relations have existed as far back as the slavery abolition and prohibition movements of the 1860s and 1920s, long before "PR" became a profession that was studied at universities.
"Today, there's not a single successful social movement -- whether it's the Tea Party, born-again Christians, same-sex marriage advocates, [or] Second Amendment supporters -- that doesn't make use of public relations and help foster its success as a profession," Turney wrote.
Labor unions, gay rights groups and disability advocates have also benefited from controlling their message by publishing their own pamphlets and newspapers for the purposes of informing sympathizers and mobilizing foot soldiers, said Robert Widell, a history professor at the University of Rhode Island in Kingston who has studied black civil rights movements of the 1950s and 1960s.
Black empowerment movements, especially those started by groups like the militant Black Panther Party, benefited from highlighting their efforts to feed, clothe and provide healthcare clinics in the community for which they fought, Widell said. This established a multifaceted image, one that was not just about street demonstrations and raucous rallies.
"Movements should not get too distracted by negative publicity or spend all of its time responding to critics," Widell said.
Vargas, the undocumented immigrant activist, said the Dreamer movement would not be where it is without effectively communicating its stories to the public. That meant interviews with national TV broadcasters and in-depth profiles in magazines. "When the people affected by [the broken immigration system] were stepping out, it spoke to the power of the human story," he said. "Someone from D.C. doesn't have to speak for me. I am your neighbor. I am the guy who sits next to you in class. I'm your friend. We were able to speak for ourselves."
With social media users scrutinizing every word from high-profile activists, groups that want to win over new supporters should devote time not only to crafting creative protest signs, but also to finalizing a solid public relations strategy, Widell said.
"Maybe this notion of PR gets so much attention because it's about deciding who your audience is and what the purposes of your activism are," he said. "Are you really worried about what the average reader of the Washington Post or the New York Times might think about your movement? If you're looking to change the proverbial hearts and minds of the United States, then you are perhaps more concerned about that."
FOR FREE to continue reading
✔️ Unlock the full content of International Business Times UK for free
offer available for a limited time only
✔️ Easily manage your Newsletters subscriptions and save your favourite articles
✔️ No payment method required
Already have an account? Log in
© Copyright IBTimes 2023. All rights reserved.