Black Student Activism 2015: University Of Missouri Grad Student Goes On Hunger Strike Over Swastika Drawn With Feces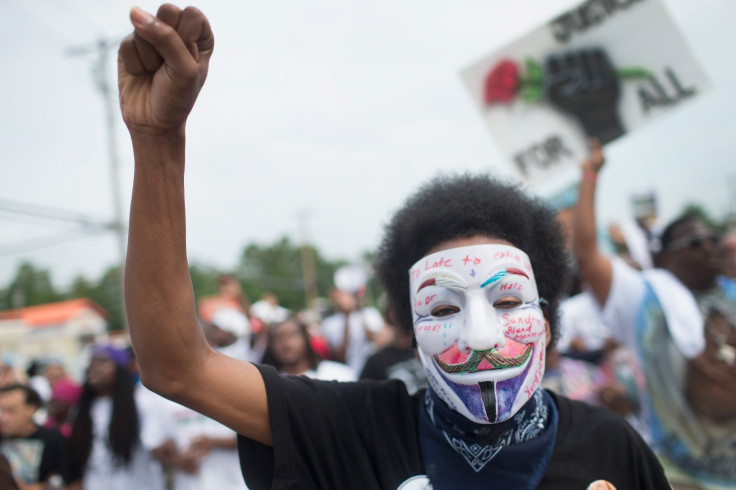 An African-American student at a Missouri college two hours away from the epicenter of anti-police and anti-racism protests that erupted last year launched a hunger strike following racist incidents that he says have gone mostly unaddressed by campus officials. Jonathan Butler, a 25-year-old grad student at the University of Missouri in Columbia, told the Washington Post Thursday that he will go without food until he dies, unless the school's president resigns.
Butler's one-man hunger strike comes after a swastika drawn in human feces appeared on a college dorm's brand-new white wall Oct. 24, according to the Post. But racial tension had been simmering for months before the hate symbol surfaced, as black students in Missouri and around the U.S. had complained of racist taunts and microaggressions on campuses where the Black Lives Matter movement has taken root.
"I already feel like campus is an unlivable space," said Butler, who blames University of Missouri president Tim Wolfe for the school's failure to address an increasing prevalence of racism on campus. "So it's worth sacrificing something of this grave amount, because I'm already not wanted here. I'm already not treated like I'm a human."
R. Bowen Loftin, the university's chancellor, said in a statement that he was concerned for Butler's health and agreed that "racism has deep roots at our university." Loftin promised to "make our university an inclusive and welcoming environment for all," according to the statement.
Butler's hunger strike exemplifies growing student activism around racism, with its roots in the civil rights movement of the 1960s. In the 15 months since Michael Brown, a black teenager, was killed by a white police officer in Ferguson, Missouri, minority students and their white allies at universities across the country have sought to root out racism and prejudiced policies on campus.
The reaction to the student activism has frequently been blatant racism. Nooses have been left hanging on trees at Duke University and the University of Mississippi, according to the Post. "Blackface parties" and racism among predominantly white fraternities have been reported at multiple schools in the past year.
Missouri student Butler said these incidences of racism can be stopped if school officials take minority students' concerns seriously. Four days in to his hunger strike, he is only drinking water and refusing multivitamins and painkillers.
"My body feels like it's on fire," Butler said. "I have pain all over. I'm exhausted. Of course, I'm hungry. I've got an ongoing headache."
Hate Crimes in the United States Broken Down By Bias | FindTheBest
© Copyright IBTimes 2022. All rights reserved.
FOLLOW MORE IBT NEWS ON THE BELOW CHANNELS