Is Blue Wine Real? Spain Winery Gïk Fined For Violating Alcohol Regulations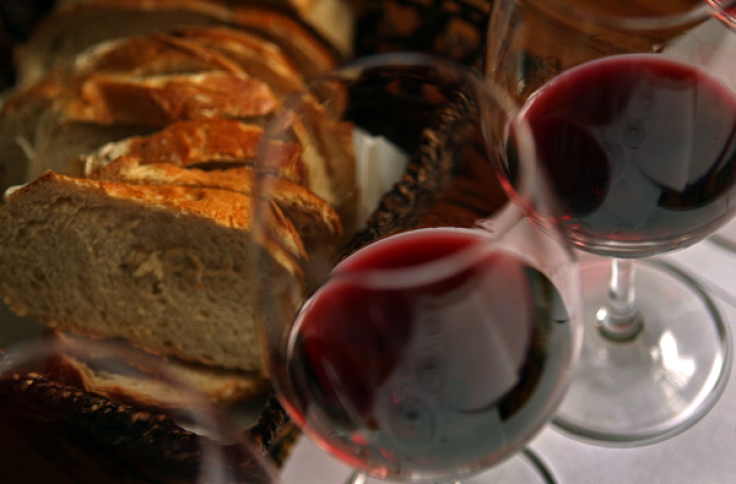 Blue isn't typically a color used to describe wine, and it never will be if Spain's Agriculture Ministry has it their way. The department recently hit a premiere wine company, Gïk, with a fine for selling blue-colored wine, according to Sunday reports. The company also had to change its wine label to show that the product was not pure wine.
The winemakers, who have been distributing their blue-labeled wine since 2015, have sold more than 120,000 bottles mostly in countries outside of the European Union including Brazil, Japan and South Korea.
However, the company's use of indigo dye and anthocyanin, a grape skin pigment, that results in the wine's neon blue color is technically an illegal wine-making practice, hence the fine.
"None of us really liked normal wine, which comes with too many norms, such as whether you can take it with ice or not," Gïk co-founder Taig Mac Carthy told the New York Times. "So our goal was clearly to offer something to people looking for a wine that was a bit more fun and crazy. The trouble is that we are trying to revolutionize an industry that has worked for centuries without making any change — and they control the rules of the game."
Blue is not an approved color under the European Union's oenological regulation. In fact, wine that is not red, white or rosé is a violation of the rules. Another wine company from Spain was fined back in 2008 for production of its "gold cava" that was made by adding gold particles to the sparkling wine.
Gïk was forced to suspend production for more than two months in order to readjust its bottle label to show the product contains 99 percent wine and 1 percent grape. As for the fine, Gïk creators told the Times they are planning to appeal it and have launched an online petition in an effort to get the department to recognize more than just traditional wine colors.
Before the ban, retailers that were carrying Gïk blue wine were already noticing a liking for the blue wine developing among customers.
"At first people didn't believe we were selling a blue wine, but when they tried it, they loved it – and they keep coming back for it," Enrique Isais from Spain's popular Sushi Artist Madrid restaurant told BBC in November.
© Copyright IBTimes 2023. All rights reserved.