BMW And Daimler Enter Joint Venture: What Does It Mean For The Companies?
BMW and Daimler have joined forces to develop what it is calling "urban mobility for customers." The joint venture will create five new entities between the companies that will dip into the car-sharing, taxi, parking, charging, and multimodal industries with the SHARE NOW, FREE NOW, PARK NOW, CHARGE NOW, and REACH NOW app services.
The two companies will invest €1 billion into the joint ventures, drawing on their 60 million strong customer base in the U.S. and European markets.
"Ultimately, we want to offer our customers as many options as possible for getting from A to B. In short, this is about driving, riding or being driven," said Dieter Zetsche, chairman of the board of management at Daimler AG and head of Mercedes-Benz Cars
The REACH NOW app will offer multimodal services that allow customers to pay and book public transportation from their smartphone, including car-sharing, ride-hailing, and bike rentals.
CHARGE NOW is the companies' charging network serviced by Digital Charging Solutions GmbH. Customers of the service will be able to locate, use, and pay for public charging stations across the globe from an app.
The PARK NOW service is designed to make parking easier for customers as it will give them the option reserve parking slots, manage their parking time, and make ticketless entry and exit from public parking garages in addition to cashless payment of parking fees globally.
FREE NOW is a mobility service that features taxis, private chauffeurs with rental cars, and e-scooters all within a ride-hailing app.
SHARE NOW is BMW and Daimler's car-sharing app that allows customers to rent and pay for vehicle right from their smartphone. The app has 20,000 vehicles in 31 cities around the globe, the companies said.
"We have a clear vision: these five services will merge ever more closely to form a single mobility service portfolio with an all-electric, self-driving fleet of vehicles that charge and park autonomously and interconnect with the other modes of transport," said Harald Krüger, management board chairman of BMW AG.
"This service portfolio will be a key cornerstone in our strategy as a mobility provider. The cooperation is the perfect way for us to maximize our chances in a growing market, while sharing the investments."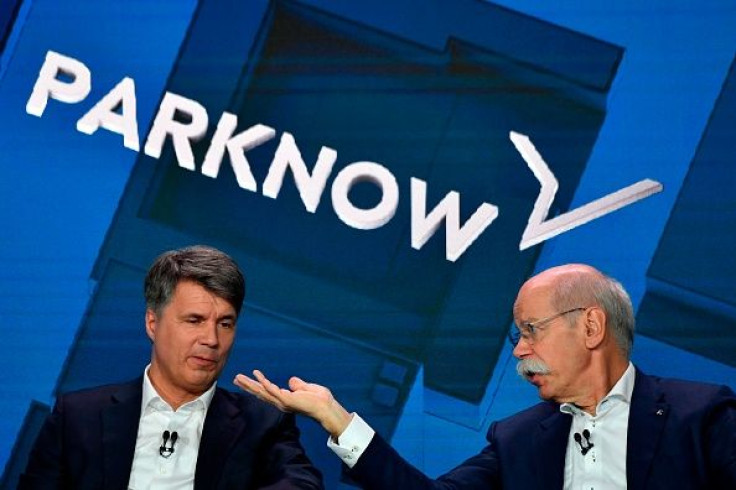 © Copyright IBTimes 2022. All rights reserved.
FOLLOW MORE IBT NEWS ON THE BELOW CHANNELS