Bo Pelini Rant: Nebraska Head Coach Curses 'Fair-Weather' Fans In Leaked 2011 Audio Recording [LISTEN]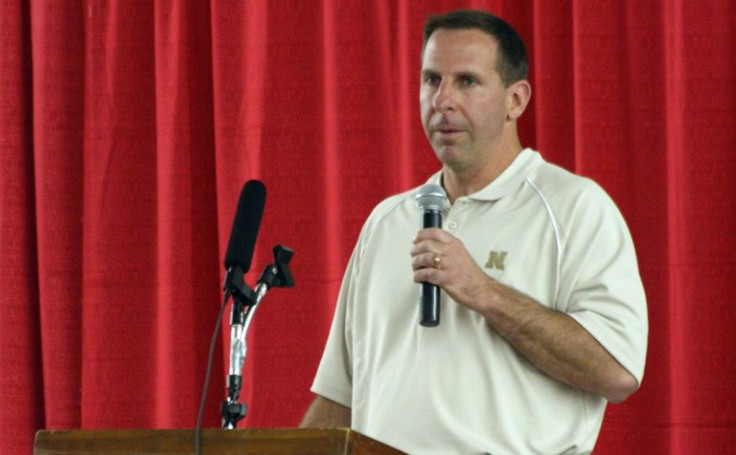 The embattled head coach of the University of Nebraska's football team issued an apology Monday after a 2011 recording in which he cursed the school's "fair-weather" fans was made public.
In a 2011 recording obtained by Deadspin, Bo Pelini, head coach of the Nebraska Cornhuskers since 2008, levied heavy criticism against the school's fan base. Pelini's rant reportedly took place on Oct. 8, 2011, shortly after the Cornhuskers managed a comeback victory over Ohio State, Deadspin notes. Pelini was slated to be interviewed by Greg Sharpe of the Husker Sports Network, but had a few choice words before the official meeting took place.
Pelini's full 2011 rant regarding the University of Nebraska's fans can be found over at Deadspin.
First, Pelini criticized Omaha World-Herald columnist Tom Shatel, after an unexplained incident at the postgame press conference.. "F--- him, too. F--- him. That's what I'm going to tell him. He wants to walk out after my press conference? I'm gonna say, 'Get the f--- away from me. I'm done with you, mother------.' I'm done with him," Pelini said of Shatel during the 2011 recording.
Next, Pelini set his sights on Nebraska's "fair-weather" fans. "It took everything in my power to not say, 'F--- you, fans. F--- all of you.' F--- 'em," the 45-year-old coach said. Sharpe notes that many Cornhuskers fans had left their seats, while an unnamed woman explains that many of the game's attendants eventually returned to their seats. Regardless, Pelini continued to rant.
"Our crowd. What a bunch of f---ing fair-weather f---ing, they can all kiss my a-- out the f---ing door. 'Cause the day is f---ing coming now. We'll see what they can do when I'm f---ing gone. I'm so f---ing pissed off," Pelini said. At that point, Sharpe began the actual interview.
In a statement on Monday night, Pelini addressed his 2011 comments and issued an apology to Cornhuskers fans:
"I want to sincerely apologize for my comments from two years ago which became public today. I take full responsibility for these comments. They were spoken in a private room following the Ohio State game. I was venting following a series of emotional events which led to this moment. That being said, these comments are in no way indicative of my true feelings. I love it here in Nebraska and feel fortunate to be associated with such a great University and fan base. I again apologize to anyone whom I have offended."
Shawn Eichorst, Nebraska's director of athletics, expressed disappointment regarding Pelini's 2011 comments. "I am disheartened and disappointed by the 2011 comments published today attributed to Coach Pelini about our dedicated and passionate fans and supporters. I have spoken with Chancellor Perlman and I have addressed the situation with Bo and expressed our deep concern," Eichorst said in a statement.
The release of the 2011 recording is just the latest setback for Pelini, whose Cornhuskers have struggled throughout the 2013 college football season. The Big Ten school dropped to 2-1 on Saturday after blowing an 18-point lead in their home stadium and losing to UCLA, 41-21.
© Copyright IBTimes 2023. All rights reserved.