Boehner Defends Whip In White Supremacist Controversy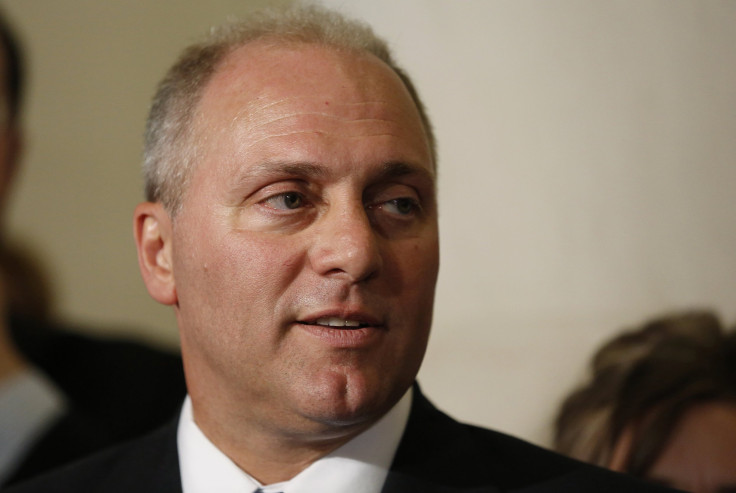 WASHINGTON -- House Speaker John Boehner Tuesday defended Republican Majority Whip Steve Scalise who is under fire for a speech he gave more than a decade ago at a white supremacist conference, saying he made an "error in judgment." Scalise, who initially said he didn't know whether he addressed the group in 2002, said he deeply regretted his appearance at the event.
"More than a decade ago, Representative Scalise made an error in judgment, and he was right to acknowledge it was wrong and inappropriate," Boehner said in a statement. "Like many of my colleagues on both sides of the aisle, I know Steve to be a man of high integrity and good character. He has my full confidence as our whip, and he will continue to do great and important work for all Americans."
The speech was before a conference of the European-American Unity and Rights Organization. The Southern Poverty Law Center named the organization a hate group. Scalise was first elected to Congress in 2009 and became the Republican whip during the summer. He apologized for speaking before the organization.
"It was a mistake I regret, and I emphatically oppose the divisive racial and religious views groups like these hold," Scalise said in a statement. "I am very disappointed that anyone would try to infer otherwise for political gain. As a Catholic, these groups hold views that are vehemently opposed to my own personal faith, and I reject that kind of hateful bigotry."
The 2002 address to a group founded by David Duke, a KKK leader who ran for office in Louisiana multiple times, was exposed by a Louisiana blogger who found a reference to Scalise's attendance on a white supremacist online message board from the time. Duke told the Washington Post he wasn't friendly with Scalise, but that his campaign manager did know the congressman and that was who invited him to speak.
At first, Scalise's office said it was unclear whether he attended the conference. They said he spoke everywhere he was invited and as a state lawmaker had no staff to screen invitations. Scalise acknowledged the speech Tuesday and offered a more apologetic tone.
"Twelve years ago, I spoke to many different Louisiana groups as a state representative, trying to build support for legislation that focused on cutting wasteful state spending, eliminating government corruption, and stopping tax hikes,"Scalise said in a statement. "One of the many groups that I spoke to regarding this critical legislation was a group whose views I wholeheartedly condemn."
Several Republicans rallied to Scalise's side, saying he does not have ill intentions.
"Congressman Scalise acknowledged he made a mistake and has condemned the views that organization espouses," House Majority Leader Kevin McCarthy, R-Calif., said in a statement. "I've known him as a friend for many years and I know that he does not share the beliefs of that organization"
He also drew support from fellow Louisiana Rep. Cedric Richmond, the only Democrat and black man in the state's delegation. "I don't think Steve Scalise has a racist bone in his body," Richmond told the New Orleans Times-Picayune. "Steve and I have worked on issues that benefit poor people, black people, white people, Jewish people. I know his character."
But Democrats in Washington used the opportunity to draw attention to House Republicans' lack of movement on issues steeped in race politics, like the renewal of the Voting Rights Act and immigration reform.
"Actions speak louder than whatever Steve Scalise said to that group in 2002," said Drew Hammill, spokesman for House Minority Leader Nancy Pelosi. "Just this year, House Republicans have refused to restore the Voting Rights Act or pass comprehensive immigration reform, and leading Republican members are now actively supporting in the federal courts efforts by another known extremist group, the American Center for Law and Justice, which is seeking to overturn the president's immigration executive actions."
© Copyright IBTimes 2023. All rights reserved.