Boko Haram Kidnapping: Man Arrested In Abduction Of Chibok Schoolgirls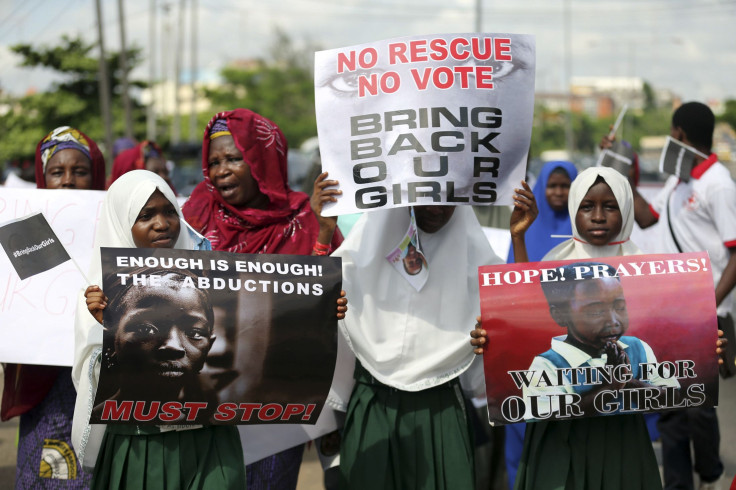 A businessman accused of "participating actively" in Boko Haram's mass abduction of about 300 schoolgirls from Chibok village of northeastern Borno state in Nigeria has been arrested, the Associated Press (AP) reported, citing a statement from the country's defense ministry Tuesday.
The accused, Babuji Ya'ari, led a "terrorist intelligence cell" for the militant group while disguising as a member of a youth vigilante self-defense group, Nigerian Major General Chris Olukolade said in a statement, according to the AP. Olukolade also reportedly said that Ya'ari's arrest helped them take into custody other members of the cell "who are women." However, he did not mention when these arrests were made or how many people had been arrested.
Nigerian soldiers also reportedly arrested a woman named Hafsat Bako who managed the payroll for the operatives. She received a minimum of 10,000 naira (about $50) a job, according to a statement by the Nigerian defense ministry, the AP reported.
According to Olukolade, Ya'ari reportedly regulated various fatal attacks on the northeastern Nigerian city of Maiduguri, the capital of Borno. He is also accused of leading the May 2014 assassination of Muslim leader Alhaji Idrissa Timta, the emir of Gwoza town in Borno. Timta had been reportedly vocal about Boko Haram's extremism.
This April marked one year of the kidnapping of Chibok schoolgirls that triggered a massive campaign called "Bring Back Our Girls." Some of the girls have managed to escape on their own, but over 200 are still missing.
Meanwhile, Nigerian daily P.M. News reported that Baana Fanay, a key Boko Haram leader, was arrested, Alghassim Khamis, a public prosecutor from Chad, said Tuesday. Fanay, who was apprehended with two other terrorists by security forces Sunday, reportedly coordinated trafficking of weapons in Nigeria, Cameroon and Chad. Khamis also said that Fanay, alias Mahamat Moustapha, was responsible for buying weapons and recruiting fighters for Boko Haram.
© Copyright IBTimes 2023. All rights reserved.