Boko Haram Leader Dead? Abubakar Shekau Says Allah Is Protecting ISIS In Nigeria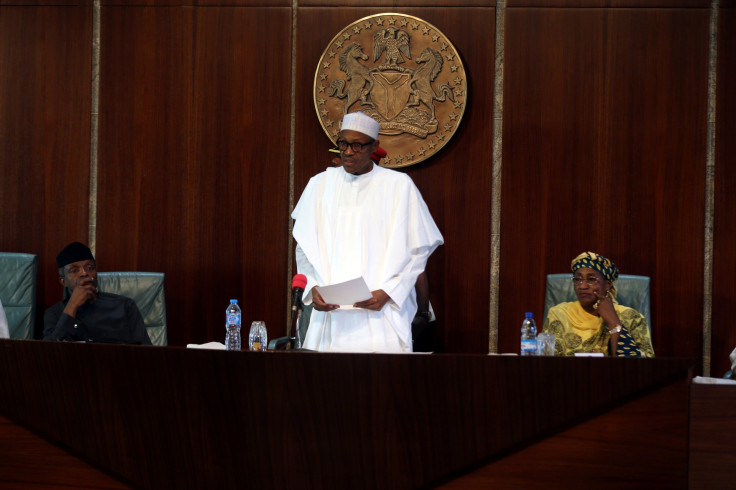 The leader of the deadly Boko Haram militant group disputed Thursday claims that the Nigerian government had forced the Islamic militants from their stronghold in the Sambrisa Forest. Abubakar Shekau said the group is protected by god, Agence-France Presse reported Thursday.
"We are safe. We have not been flushed out of anywhere. And tactics and strategies cannot reveal our location except if Allah wills by his decree," Shekau said in a 25-minute video as he stood alongside masked armed fighters.
At one point, the Boko Haram leader spoke directly to Nigerian President Muhammadu Buhari, who claimed on Christmas Eve that the group had been defeated and driven from its territory in northeastern Borno state. Buhari said his months-long military campaign had led to the "final crushing of Boko Haram terrorists in their last enclave in Sambisa Forest." The Nigerian military later claimed Wednesday it had recovered Shekau's Quran from Boko Haram's headquarters in the Sambisa Forest.
"You should not be telling lies to the people," said Shekau, who claimed the video was filmed on Christmas Day. "If you indeed crushed us, how can you see me like this? How many times have you killed us in your bogus death?"
It's true that Buhari's government has repeatedly claimed victory against Boko Haram, and Shekau has responded in various video messages to the claims in recent months. Most recently, he appeared in a video in September to dispute reports from the Nigerian military that he had been wounded in battle.
"The war is not over yet. There is still more," he said, vowing no "respite" for Nigerians. He urged followers around the world to "fight and kill infidels."
"Our aim is to establish an Islamic Caliphate and we have our own Caliphate, we are not part of Nigeria," he said.
Boko Haram has killed 20,000 people in West Africa and displaced 2.6 million people while vowing to bolster its efforts against the government. The United Nations has called Boko Haram the "largest crisis in Africa" and has projected that the group could harm another 14 million people in 2017.
Boko Haram pledged allegiance in 2015 to the Islamic State group, but that relationship has created conflict among Nigerian militants. In August, ISIS claimed Shekau had been replaced by Abu Musab al-Barnawi, the 22-year-old son of Boko Haram's founder Mohammed Yusuf.
© Copyright IBTimes 2022. All rights reserved.
FOLLOW MORE IBT NEWS ON THE BELOW CHANNELS