Boko Haram Violence: Hundreds Of Corpses Discovered In Nigerian Town Of Damasak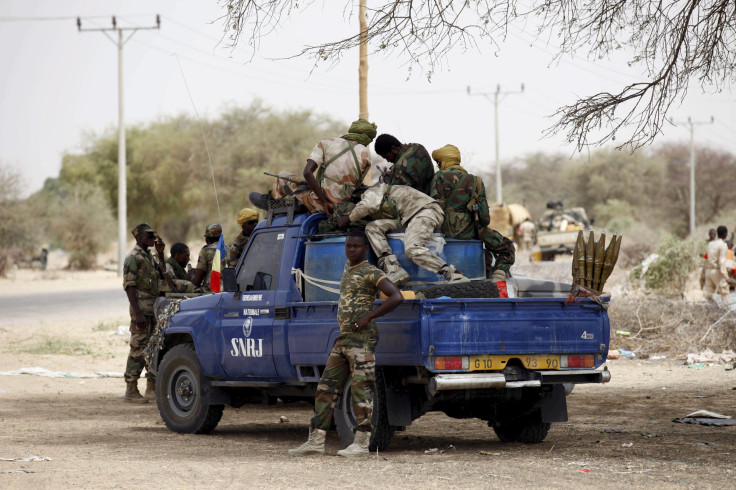 Hundreds of corpses were discovered in a Nigerian town, in what is believed to be the aftermath of another attack by the Boko Haram extremist group, officials said Monday. Decomposed bodies were found buried in shallow graves and many seen littering the streets of the northeastern town of Damasak this weekend, Agence France-Presse reported.
The town, which was occupied by Boko Haram in November, had been recently liberated after a joint military operation by Nigerian-Chadian forces.
A military coalition of troops from Chad, Cameroon, Niger and Nigeria has made major headway against the extremist group in the country's northeast, reportedly flushing Boko Haram out of all the territory it had obtained. However, the latest grisly discovery, which CNN estimates to be at least 400 bodies, underscores the toll the insurgency has taken on Nigeria.
Local residents reportedly said they disposed of the bodies. "We brought all of them and though the bodies have decomposed, we gave them (a) proper burial in more than 20 mass graves that can be identified anytime the need arises," local resident Kaumi Kusur told AFP.
The reports came shortly after incoming president Muhammadu Buhari called Boko Haram a "fraud" that misused the Islamic values it claims to represent. "They have nothing to do with religion. They are terrorists and we are going to deal with them as we deal with terrorists," he said, according to the AFP.
Buhari won the presidential election last month and promised to crack down on the terrorist group that has killed at least 15,000 people during its six-year insurgency, and forced at least 1.5 million people to flee their homes.
The administration of current President Goodluck Jonathan has been criticized for not doing enough to tackle Boko Haram's rise. Earlier this month, he rejected the possibility of allowing United Nations' forces to join the fight, asking for humanitarian support from the international body instead.
© Copyright IBTimes 2023. All rights reserved.
FOLLOW MORE IBT NEWS ON THE BELOW CHANNELS