Boris Johnson Stuck On Zip Wire: London Mayor Dangles Over Crowd After Stunt Goes Awry [Video]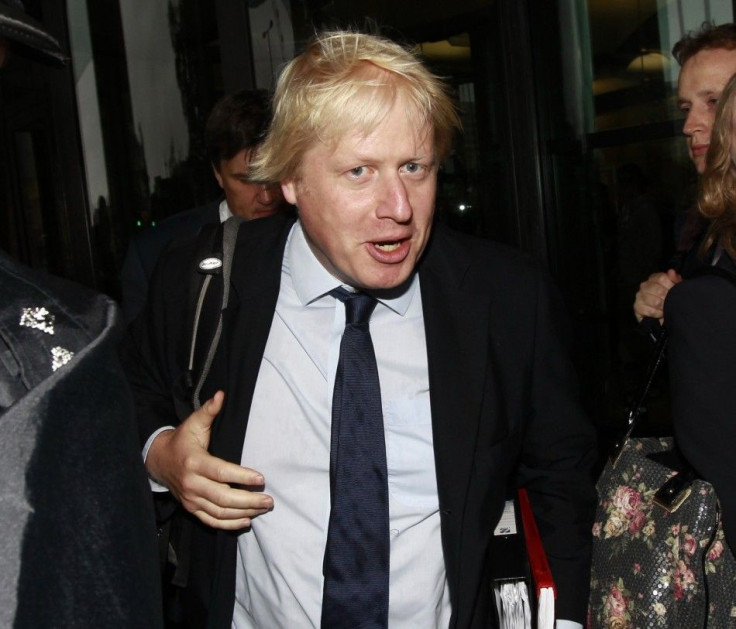 London's quirky mayor Boris Johnson was left hanging from a zip wire during a stunt on Wednesday, after his attempt at grandiosity left him dangling in a suit and helmet with two Union Jacks in tow, asking for a rope to climb down. (Check out the video below).
Johnson was invited to be a special guest in Victoria Park, London. He was supposed to ride a 1,000 foot zip wire, but his trip was cut short. The somewhat portly politico instead slowed down and eventually came to a full stop.
Photographs of the mayor calmly awaiting help while dangling about 12 feet in the air began spreading on Twitter and social networking sites within minutes.
"Can you get me a rope?" Johnson is heard asking. "Get me a rope, okay?"
The Pythonesque scene caused the crowd to respond to the mayor's pleas with guffaws. Someone asked him how he was doing, to which Johnson replied. "Very, very well thank you."
"It's very, very well organized," he said, while the cuffs on his pants crept up higher than his socks. "It's going well so far. Right."
The mayor spent his free time waving his flags and leading the crowd in cheers for the British gold medal-winning rowing squad, according to the Telegraph.
Johnson's staff eventually came to his aid, towing him down the rest of the line with a rope.
"I wouldn't want to be up there all afternoon," he later said.
When asked how he ended up stuck, Johnson said, "I don't know to be honest. I seemed to turn round. Possibly what had happened is that they left a brake on or something. But anyway, it was wonderful and I thoroughly recommend it."
The incident has been blamed on a faulty wire handling more weight than it should, and sagging under all the unexpected pressure. Other visitors to Victoria Park reportedly used the line successfully after Johnson got off.
"The judges will rightly be marking him down for artistic impression," Johnson's spokeswoman told reporters.
© Copyright IBTimes 2023. All rights reserved.