Boris Nemtsov Murder: Tens Of Thousands Gather To Mourn And March In Moscow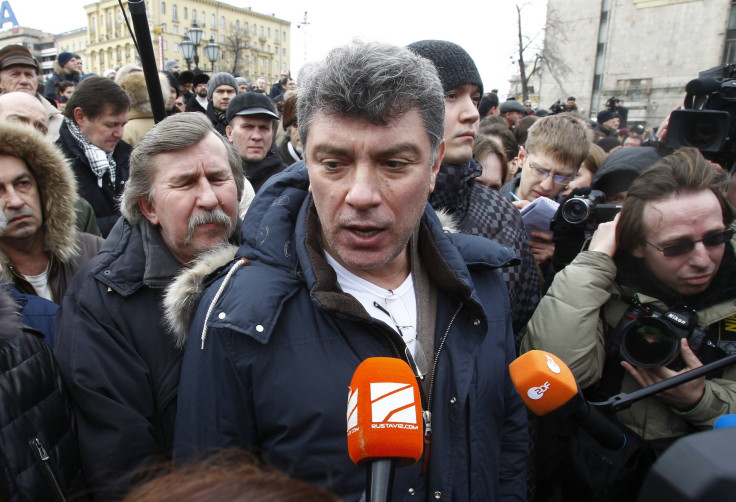 As many as 70,000 people gathered in Moscow Sunday to honor opposition politician Boris Nemtsov, who was shot to death Friday. Many of those marching carried portraits of Nemtsov while chanting "Russia without Putin," the BBC reported.
The rally was supposed to be a march opposing the Russian government that Nemtsov, a high-ranking member of the Republic Party of Russia-People's Freedom Party, was to lead. His killing turned the event into a wake.
While Russian President Valdimir Putin vowed to find the killers, Nemtsov's supporters and allies allege Kremlin involvement.
The march, which took place near to the Kremlin, was legally allowed to accommodate 50,000 people, but estimates suggest that as many as 70,000 attended. Other unofficial estimates say as few as 16,000 people were there.
Many marchers waved Russian flags and laid flowers at the site of the killing. Some even carried Ukrainian flags, in a show of solidarity against a Russia they say is supplying troops and weapons to rebels in the eastern Ukraine war.
Some of the signs read: "He died for the future of Russia," "They were afraid of you, Boris" and "I am not afraid."
Ilya Yashin, an opposition politician, told the Associated Press the killing was "a political murder aimed at frightening ... part of the population that supported Nemtsov and did not agree with the government. I hope we won't get scared."
Gennady Gudkov, another opposition politician told Reuters: "If we can stop the campaign of hate that's being directed at the opposition, then we have a chance to change Russia. If not, then we face the prospect of mass civil conflict."
Pro-Kremlin groups, which were expected to meet the rally before Nemtsov's death, said they would not disrupt the march.
© Copyright IBTimes 2023. All rights reserved.