Boston Celtics News: Why Doc Rivers Is A Better Coach Than People Think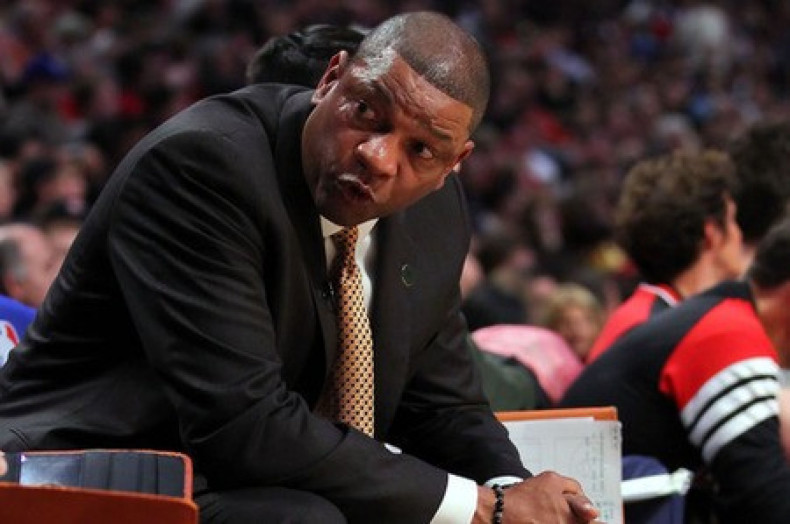 In 2006, the Boston Celtics were dead last in the Eastern Conference, posting the second worst season in team history. Paul Pierce requested a trade, and ESPN sportswriter Bill Simmons was among the many media pundits calling for coach Doc Rivers's head.
Simmons wrote a column in November of that year pretending that Rivers had already been fired. The article was filled with quotes detailing his contempt for the former NBA Coach of the Year:
"Doc Rivers gave Boston the best chance at finishing with a high lottery pick."
"Either we need more scouts, or Doc needs to spring for League Pass."
"If Doc didn't have a master plan last season, he certainly doesn't have one this season. He overstayed his welcome by about nine months."
Despite similarly scathing reviews coming from every corner of the basketball world, Celtic general manager Danny Ainge elected to keep Rivers on and reward his perseverance with a crop of new Hall-of-Fame talent. Now, Rivers is one of the most applauded coaches in basketball and a perennial Coach of the Year candidate.
To be fair, during that ill-fated 2005-2006 season, Ainge did little to fill the Celtics roster with talent. Once he did finally bring good players in, Rivers capitalized on that talent, and his starting five of Rajon Rondo, Ray Allen, Paul Pierce, Kevin Garnett and Kendrick Perkins can still boast that they've never lost a playoff series when healthy.
It was Rivers's coaching ability that made a team filled with three guaranteed Hall of Fame players into a defensive juggernaut built on sharing the ball. Defensive intensity and ball distribution are both signs of well-coached teams. Gregg Popovich has built his own Hall of Fame legacy on those two coaching pillars, and Rivers appears to be a strong proponent of that philosophy.
As his personnel changed around him, Rivers's style also changed. He played match-ups more often, took more responsibility for losses, and shortened his rotations to maximize the talents of his starters. In 2007, it could have been argued that Boston was coasting on their immense talent.
But look a little deeper, and Rivers's accomplishments are far better than they look on the surface.
After 2007, Boston has made at least the Conference semifinals each season, despite being constantly racked with injuries. In the 2011-2012 season, Rivers took a Celtics team running on fumes to Game Seven of the Eastern Conference Finals. Boston had lost an incredible four players to season-ending injuries, and three players that logged serious minutes in that series had surgeries within two weeks of the crushing loss to the eventual champion Miami Heat.
Aside from the amazing on-court results, Rivers has had a huge impact in off-the-court matters. It was Rivers who brought in the "Ubuntu" philosophy that held the 2007 team together. The most prominent translation of the Southern African word is: "I am what I am because of who we all are," and emphasizes a philosophy of teamwork and sacrifice.
Rivers hasn't stopped there, though. He is also heavily involved in free agency. Combo guard Jason Terry, who signed with the Celtics last month, stated that Rivers called him the moment that free agency started and his enthusiasm was a big part of why he decided to leave Dallas. Kevin Garnett's deal was in place before free agency began, and there was never a question as to whether the big man would play for another coach.
Another area Rivers has been important in is the development of Rajon Rondo. A former star point guard for the Atlanta Hawks, Rivers has imparted his knowledge on Rondo, and the former Kentucky standout has adjusted accordingly. Rondo has quickly become a comparable talent to the "Big Three," and Rivers has repeatedly called Boston, "Rondo's team."
In five years, Doc Rivers has re-written his legacy in Boston, from flameout coach, to the backbone of a constant contender. Now in London, covering the Olympics for NBC, media pundits are calling for him to coach Team USA in 2016.
Not bad for someone who was so close to being jobless only five years ago.
With a retooled Boston squad heading into the season, expectations are high once again for Rivers. His players love him, the media loves him, and he has a legitimate shot of adding another title to his collection.
One thing is for sure, Bill Simmons owes him an apology.