'Boycott Israel' Event At Brooklyn College Draws Protests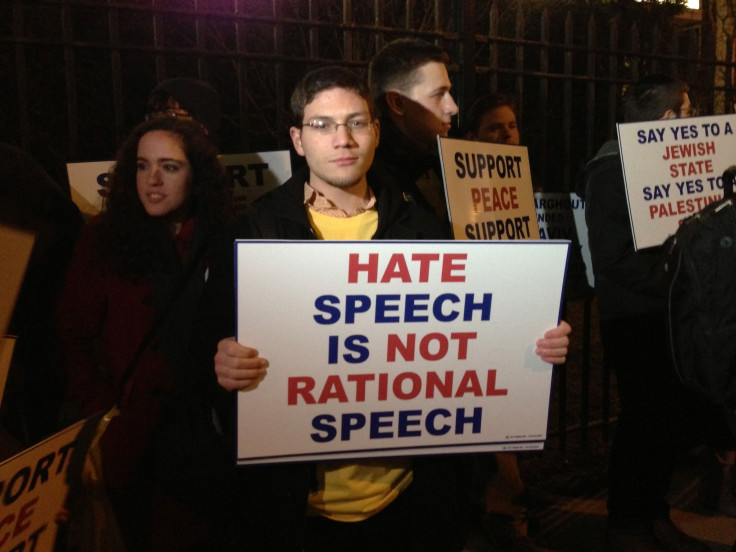 Tension ran high Thursday over a New York City college's sponsorship of a Boycott Divestment and Sanctions against Israel, or BDS, event, in what has become a recurring national debate over academic freedom versus academic integrity at universities across the United States.
The debate was especially heated at Brooklyn College -- the latest campus to host a BDS event -- because of the public college's large Jewish and Muslim populations. The college sits in the heart of the Midwood neighborhood of Brooklyn, home to a large population of Orthodox Jews, many of whom are staunch Zionists. Likewise, the college also has a burgeoning Muslim student population, including many supporters of the pro-Palestinian BDS movement.
Roughly 150 attendees to the BDS panel had to be placed on a special list to get inside the building; New York City police officers checked them for weapons with metal detectors and frisked each attendee. Outside the building, pro-Israel protesters shouted down attendees and held signs that said "hate speech is not rational speech."
This was just the latest stop of Omar Barghouti's cross-country tour. Barghouti is a researcher and a founding member of the Palestinian Campaign for the Academic and Cultural Boycott of Israel, and no stranger to controversy. He's visited a number of universities to deliver his BDS message. Just the day before, he was at Yale University in New Haven, Conn., where protesters also contested his visit to campus.
Barghouti is speaking along with left-wing activist Judith Butler, a philosopher and professor at the University California at Berkeley. Both have advocated that the United States government and its people divest from Israeli universities, corporations, cultural groups or any entity the Israeli government backs, in an effort to pressure Israel into ending its occupation of the Palestinian territories.
Israel captured the territories in the Six-Day War of 1967 from neighboring states. The United Nations Security Council Resolution 242 that same year called for a "withdrawal of the Israeli armed forces from territories occupied in the recent conflict," but Israel has cited security reasons and a stalled peace process with the Palestinians and its Arab neighbors among the main reasons it needs to hold onto the lands.
The BDS movement likens Israel's occupation to the South African apartheid regime, and it is modeled after the Western boycott initiated in the 1960s of South African universities and corporations, against South African apartheid.
But it has come under heavy criticism from a number of Jewish groups who believe the BDS's anti-Zionist message is simply a guise for anti-Semitism. They believe BDS fails to consider that Israel was not founded by a group of colonizers, but by victims of the Holocaust. And they argue the BDS movement doesn't just advocate for an end to the occupation of the territories but for the destruction of the entire state of Israel.
"There's a huge difference between supporting free speech and supporting hateful speech," Howard Wohl, board president of the college's Hillel, an organization for Jewish students on campus, said. Wohl believes this is the latest in a series of anti-Semitic moves by Brooklyn College's political science department, saying that two years ago the department hired "a supposed Middle East scholar who has applauded terrorism against Jews, to present a one-sided course favoring the Palestinian position."
Nadia Drucker, a protester, said she felt supporters of BDS were hypocritical, because they wanted the college to sponsor their event but also advocate blacklisting Israeli professors. "The same people that speak about academic freedom want to deny academic freedom in Israel," Drucker said. A spokesman for the New York-based Anti-Defamation League, whose mission is to fight anti-Semitism, said the organization was "troubled" by the event's "one sided, anti-Israel nature." And noted Harvard Law School professor Alan Dershowitz, a Brooklyn College alumnus, wrote in a Huffington Post column that the political science department's sponsorship of the event was "reminiscent of 'political science' departments in the former Soviet Union that 'encouraged' their students to follow the official party line."
Student attendees, however, said those charges were disproportional to the nature of the event.
"I want to support the BDS movement," 20-year-old Amira Hassan said. The young political science and chemistry major's head and neck were wrapped in a red and white checkered keffiyah, the scarf often worn by Palestinians, in a show of solidarity with the Palestinian resistance movement. "It's free speech, and everyone is entitled to their own opinion."
"I think it's ridiculous that there is so much opposition just because it brings out a different point of view from the norm," Sarah Aly, an 18-year-old freshman political science student, said. "I have Jewish friends who disagree about BDS, but we do hold in common the belief that people should be able to hear both sides."
Barghouti said he felt the media attention and opposition were indicative of the growing nature of the BDS movement. He said attempts to stifle his speech were a modern-day form of "McCarthyism."
Barghouti, who is currently studying for a master's degree at Tel Aviv University, said he has no problem with Jews. "This has nothing to do with a religious conflict; this has to do with flawed and selfish, ill-conceived nationalism," he said.
Not all Jews were opposed to the university's decision to hold the event. Mayor Michael Bloomberg, who is Jewish and a staunch supporter of Israel, defended Brooklyn College's decision to co-sponsor the BDS panel discussion.
Bloomberg said he "couldn't disagree more violently" with the movement but said that a university should be free to sponsor a forum on any topic, "including ideas that people find repugnant."
Earlier in the week, 10 New York City Council members sent a letter to Brooklyn College President Karen Gould calling on her to cancel the forum or face a cut in the university's funding.
"We do not believe this program is what the taxpayers of our city -- many of who would feel targeted or demonized by this program -- want their taxpayer money to be spent on," the letter stated. "We believe in the principle of academic freedom. However, we also believe in the principle of not supporting schools whose programs we, and our constituents, find to be odious and wrong."
© Copyright IBTimes 2023. All rights reserved.
FOLLOW MORE IBT NEWS ON THE BELOW CHANNELS