BP Gulf Spill Fines Could Turn Into Jobs Boon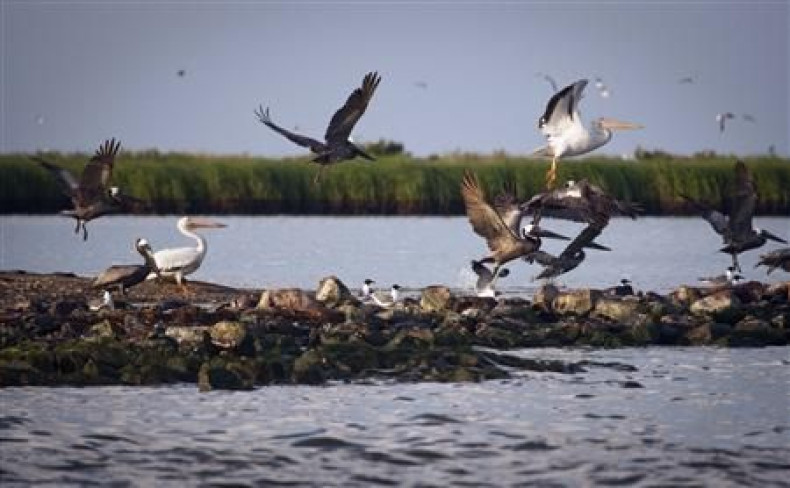 The 2010 Gulf Coast oil spill may prove to be a jobs booster for the region, if money paid in damages is spent to restore the Gulf's coast. That's according to an independent study by Mather Economics.
BP stands to pay billions of dollars in environmental fines under the Clean Water Act, and if some of that money is reinvested into the region, as the Restore Act currently pending in Congress would mandate, 58,000 new jobs could be created for regional wetlands restoration projects in the next 10 years.
The jobs will be a boon to a region that has been fighting off the taint associated with the worst environmental disaster in U.S. history, and is trying to slow down the erosion of its wetlands. Five million barrels of oil spilled into the Gulf in a few months' time beginning in April 2010. Some of that oil washed up on the shores of several Gulf states including Louisiana, Alabama and Mississippi.
Afer a massive cleanup, the region has been avidly promoting itself as one of the premier tourist destinations in the country. BP itself said it would dedicate $92 million over three years to promoting the region.
But while the region's economies are recovering, the wetlands are not -- a process that began well before the oil spill.
The Gulf Restoration Network, a grassroots organization dedicated to the restoration of the area's wetlands, said roughly 397,000 acres of freshwater wetlands were lost between 1998 and 2004, and more is lost thanks to rising ocean levels, the construction of canals for the oil and gas industry, oil spills, and the encroachment of urban centers. These same wetlands help support the area's wildlife and fisheries, and if they go, so too does a staple of the Gulf's economy -- fishing -- which provides 25 to 35 percent of the nation's total catch, said Mather.
If 80 percent of the fines BP may pay are dedicated to restoration projects, Mather's report said, Clean Water Act funds could generate 29.5 jobs for every million of dollars invested into wetland restoration.
BP already has a $7.8 billion settlement with thousands of claimants, and could face upwards of $21 billion in additional fines under the Clean Water Act. BP and its partners in the well that exploded in 2010 have yet to reach a settlement with federal prosecutors.
The report said the prime beneficiaries of the new jobs and Water Act money would most likely be utilities, government, leisure, business services, construction, retail and manufacturing sectors, but the restoration of the wetlands would help balance the region's economy.
Regardless of any BP money, the region is expected to by 2017 start receiving an estimated $200 to $300 million a year in offshore oil and gas royalties earmarked for coastal restoration projects under The Gulf of Mexico Security Act, the Associated Press reported.