Brazil, Argentina Aim To Boost Trade; Haddad Plays Down Common Currency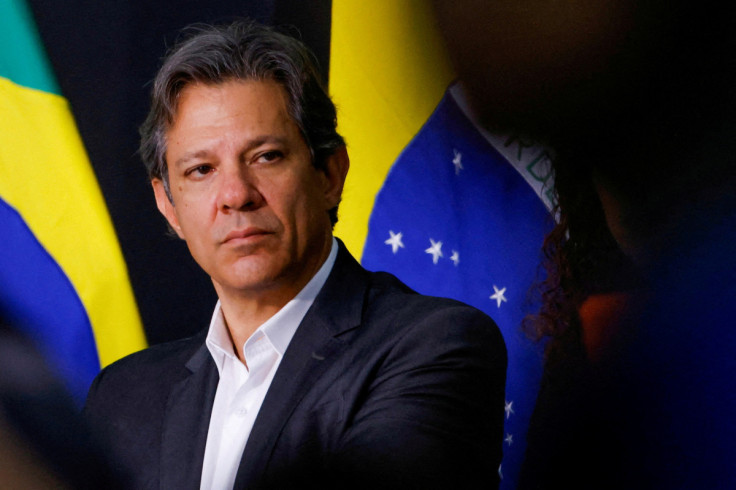 Brazil and Argentina are set to sign an agreement to boost bilateral trade, with more Brazilian export financing backed by Argentina's international collateral, a Brazilian government source said on Monday, as officials played down talk of a common currency.
Leaders from both countries are meeting at a summit in Buenos Aires, with Brazil's Finance Minister Fernando Haddad saying they were looking to stimulate bilateral trade.
Haddad talked down the idea of a shared currency circulating in both Argentina and Brazil in comments to journalists late on Sunday, after the countries' presidents published a joint article saying their aim for greater economic integration included studies of a common South American currency.
"Trade is really bad and the problem is precisely the foreign currency, right? So we are trying to find a solution, something in common that could make commerce grow," Haddad told reporters as he arrived in Buenos Aires ahead of leftist President Luiz Inacio Lula da Silva's first international trip since his Jan. 1 inauguration.
Haddad said a "common unit of trade" could be developed, but dismissed the idea of a unified currency in wider circulation.
Under the deal ready for signature in Buenos Aires, the source said, Brazilian banks would provide credit to Argentine importers, backed by a Brazil government fund to secure the loans. Argentina, in turn, would provide collateral to guarantee Brazil's trade financing with international liquidity.
"It could be Chinese bonds, gas contracts, wheat contracts," the source said. "Something with international liquidity guaranteeing that, in case of non-payment by the Argentine importer, Brazil can access it to compensate."
For now, operations would be carried out in Brazilian reais, according to the source.
The governments are also looking to set up a working group to study proposals such as a new account for clearing regional trade, backed by international reserves under a shared denomination, the source added. That proposed accounting measure would not involve a new currency in wider circulation.
The Financial Times reported on Sunday, citing Argentina's Economy Minister Sergio Massa, that the neighboring nations would announce this week they were starting preparatory work on a common currency.
Argentina's economy is suffering from a series of challenges, including a lack of dollars, with the government battling to replenish foreign currency reserves while also grappling with an inflation rate of nearly 100% last year.
© Copyright Thomson Reuters 2023. All rights reserved.