Brazil Cancels $870M Of Debt To 12 African Countries, Including 4 With Authoritarian Regimes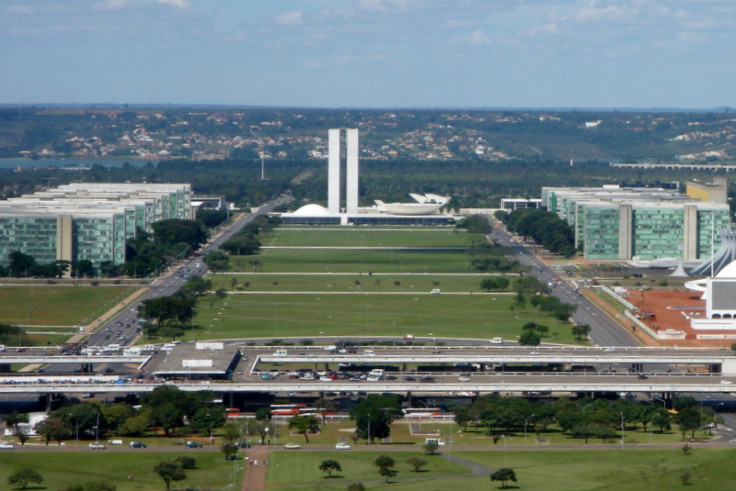 Brazil decided on Saturday to pardon almost $900 million in debt of 12 African countries -- including four that are ruled by authoritiarian governments: the Democratic Republic of Congo, Sudan, Gabon and Equatorial Guinea. Officials from all of those governments are currently under trial in Europe and the U.S. for corruption, money laundering or genocide.
These four countries together make up half of the debt. Other countries on the list are Tanzania, with $237 million, Zambia, with $113 million, and Congo-Brazzaville, with $352 million. Ghana, Guinea Bissau, Ivory Coast, Mauritania, Senegal, and Sao Tome and Principe are the rest, though there is no data on the actual amount of their debt.
Brazilian media took a critical stance on what could otherwise be seen as a laudable humanitarian gesture, with Rio de Janeiro newspaper O Globo dedicating its front page on Monday to the headline "Dictators Pardoned," commenting on the controversial decision and questioning if the economic boost Brazil has experienced in recent years is making the government less sensitive to ethics -- unlike Brazilian society, which has grown more aware of unfair practices and more vocal about its disagreement with them.
Brazilian opposition has criticized harshly the decision. "It is an offense to the feelings of society, which has taken to the streets to fight corruption. The people who have been condoned are corrupt," Senator José Agripino, from the Democrat party, said.
On the other hand, Senator Eduardo Bragoa of the Brazilian Democratic Movement Party, allied with the government of President Dilma Rousseff, defended the decision. "Brazil has economic interests in Africa. They are different issues -- if those dictators are corrupt or have committed crimes against humanity, the appropriate institutions will take care of it," he said.
On the other side of the Atlantic, the news was received with glee. Ethiopian Prime Minister Hailemariam Desalegn launched celebrations, urging leaders to "create a continent free from poverty and conflict and an Africa whose citizens can enjoy a middle-income status."
Konstantinos Todoulos, a research and advocacy assistant at the European Network on Debt and Development, or Eurodad, pointed at the lack of transparency in the decision, mentioning that the Brazilian government did not release any concrete details on its decision and motives. So key questions remained unanswered: "What form is this debt relief is going to take, cancellation or restructuring? Will there be strings attached to the deal? On what basis and negotiations has this been agreed? Is Brazil going to treat each creditor the same way?" he wrote.
According to Todoulos, the motivation to cancel African debt is twofold. On one hand, Brazil wants to improve its political and economic relations with the continent, which has become increasingly important in South-to-South trade and is already at the center of China's and India's interest.
On the other hand, Brazil is signaling to Western creditors that it is serious about taking part in international efforts by taking action on debt relief.
The Financial Times pointed out that under Brazilian law, the country cannot offer new loans and long-term financial assistance to countries with outstanding debt. Therefore, the cancellation of the debt opens the way for Brazil to start new ventures with trade partners and investment markets that otherwise would be impossible until they paid off what they owe.
Brazil has been steadily increasing its presence in the African continent. According to Spanish news agency EFE, it is the Latin American country with the most embassies in the continent. Trade went from $5 billion in 2000 to $26.5 billion in 2012. Partly state-owned oil company Petrobras (NYSE:PBR) has invested millions of dollars in coal, oil and natural gas in Nigeria, while Brazilian mining giant Vale (NYSE:VALE), the world's biggest iron ore producer, has investments of $7.7 billion in nine African countries. Last year, state-owned Banco Nacional Do Desenvolvimento (National Bank of Development, or BNDS) said it lent Brazilian companies operating in Africa $682 million, an increase of almost 50 percent compared to the previous year.
FOLLOW MORE IBT NEWS ON THE BELOW CHANNELS