Brazilian Officials Say Rising Inflation Rate Is Fine But Economists Disagree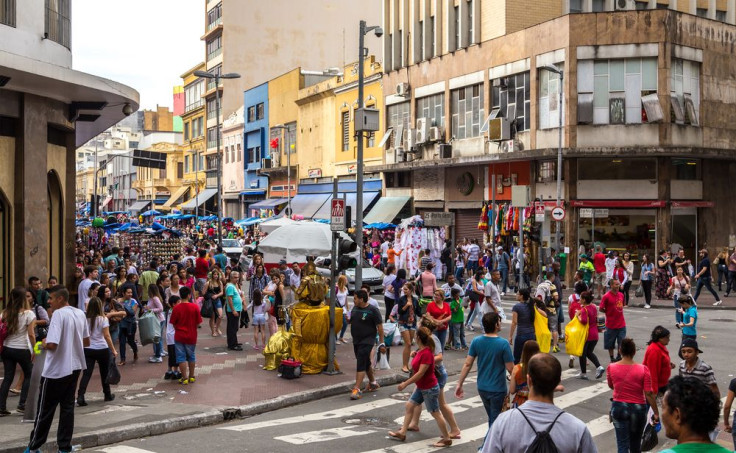 Consumer prices in Brazil grew faster in 2013 than analysts had expected, confirming fears about the country's economic future. This is not a welcome report for a nation with one of the world's highest interest rates and a government scrambling to keep prices in check without sinking the economy.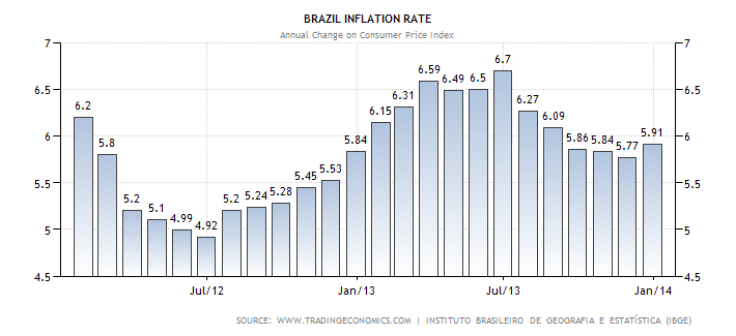 Brazil's national statistics bureau reported on Friday that inflation grew to 5.91 percent in 2013, up from 5.84 percent in 2012. This is well above the 5.81 percent analysts polled by Bloomberg had predicted.
"This also adds to the negative mood on Brazil," said Enestor dos Santos, principal economist at Banco Bilbao Bizcaya Argentaria, to Bloomberg.
"I think it could increase the possibility of a credit downgrade. It's very bad news," he said, adding that the central bank is likely to continue raising interest rates to help control prices.
"There's more pressure for monetary tightening," he said.
In November Alexandre Tombini, leader of the country's central bank, increased the benchmark borrowing rate to 10 percent from 9.5 percent. It was the sixth upward adjustment since January 2013, when the rate was just 7.25 percent.
President Dilma Rousseff will run for re-election in October. Her administration has already lowered taxes on cars, appliances and consumer goods, and the state-run Petrobas delayed a gasoline price hike last year.
According to Reuters, government-regulated prices grew just 1.52 percent in 2013 while freely determined prices increased 7.30 percent.
Though the current inflation rate is well above the government target of 4.5 percent, it is creeping up toward the ceiling of 6.5 percent.
"The most important thing is that inflation remains within the target range," Deputy Finance Minister Dyogo de Oliveira said to reporters after the numbers were announced.
"Inflation is under control, and there are no expectations at all that it will get out of control in the future," he added.
But a central bank poll of 100 economists tells a different story. They expect that inflation will climb to 5.97 percent this year and will be far above the target rate until at least 2018, according to Reuters.
--
(Note: Sao Paulo street scene / commerce locale photo by Shutterstock.com.)
© Copyright IBTimes 2023. All rights reserved.