Brazil's Recession Marks The Beginning Of A Long, Painful Contraction: Argentina, Venezuela, Rest Of Latin America Could Be Affected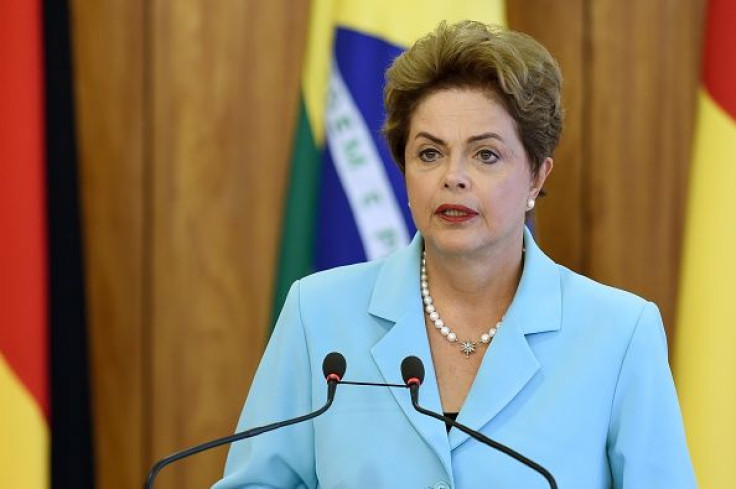 Brazil's official dip into recession, confirmed Friday with new figures showing the economy contracted by 1.9 percent in the second quarter, caps off a particularly tough week in a gloomy year for the country. But the dismal numbers mark just the beginning of what analysts have predicted will be Brazil's longest economic slump in more than eight decades, which is set to exacerbate the domestic turmoil that already has President Dilma Rousseff on the verge of ouster.
Economists had widely expected Friday's output figures to show Brazil in a technical recession, but the decline was more severe than anticipated. Brazil had already slipped into a recession in the second quarter of 2014, but was able to eke out 0.1 percent growth for the year. This time the contraction is set to continue as Brazil's economy remains on course to shrink by around 2 percent in 2015 and around 0.2 percent in 2016. That would mark the first time Brazil will have seen consecutive annual negative growth since the 1930s.
Friday's numbers represent Brazil's latest low point in an economic struggle that began four years ago amid falling commodity prices and slowing consumer demand. China emerged as Brazil's top trading partner in 2009, fueling demand for Brazilian commodities like soybeans and iron ore. But that commodities boom began waning in 2011 as China's rapid economic growth began to slow, and Brazil took a significant hit.
Brazil also failed to make the right moves to prevent its economic troubles from deepening over the years, analysts said. Rousseff's government has ramped up spending over the past several years and cut interest rates dramatically, which made it easier for businesses to access cash but also spurred a rise in inflation.
"The government held off on making economic adjustments, painful economic adjustments, because they were in a tight election," said Harold Trinkunas, director of the Latin America Initiative at Brookings.
Brazil's economic woes signal a significant drag on the Latin American region as a whole, including main trading partners such as Argentina and Venezuela. But the impact of its slowdown isn't likely to match the economic turmoil those countries are already facing, Trinkunas said. "Brazil's recession has some impact on those countries, but Venezuela and Argentina were already in recessions of their own, having nothing to do with Brazil," he said.
Roussef has been trying to push through long-delayed austerity measures this year, but growing political turmoil has only compounded the difficulties. The ongoing investigation over a sprawling corruption scandal at the state-run energy company Petroleo Brasileiro, or Petrobras, in which company executives allegedly inflated select contracts with kickbacks paid to politicians, has inched closer to the president. Rousseff, who chaired the company's board of directors during the time of the alleged wrongdoing, has not been directly implicated in the scandal but surveys show a majority of Brazilians believe she knew of illicit dealings during her time there. Growing calls for her impeachment in recent weeks have hit her credibility hard and prompted lawmakers to resist passing her proposed economic reforms.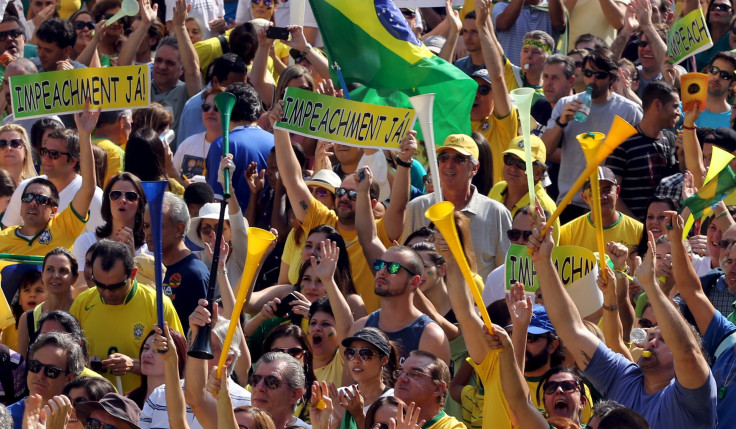 The continuing fallout over Petrobras, meanwhile, has exacerbated a drain in investor interest in Brazil. Moody's Investors Service downgraded Brazil's credit rating to just one notch above junk status earlier this month. Meanwhile, Brazil's currency, the real, is continuing on a persistent plunge as its value has tumbled by more than 27 percent this year.
Analysts project Brazil's problems will continue to play out for the next year amid its political impasse. Marcos Troyjo, an associate professor of international affairs at Columbia University and an expert on Brazil's economy, said in an interview earlier this month that Brazil's recovery wouldn't likely start showing up until early 2017, unless Rousseff could pull together enough political support to pass reforms sooner.
"If you think about a whole stretch of history from 2010 to 2018, which is almost a decade, Brazil's going to experience very little growth, if any growth at all," he said. "It's sort of a reproduction of what we lived through in the 1980s, a time that economics books called the 'Lost Decade.' So we are going to have another Lost Decade,'" he said.
Dion Rabouin contributed additional reporting.
© Copyright IBTimes 2023. All rights reserved.