Brazil Recession: Slow Global Growth Blamed On Country's Shrunken Economy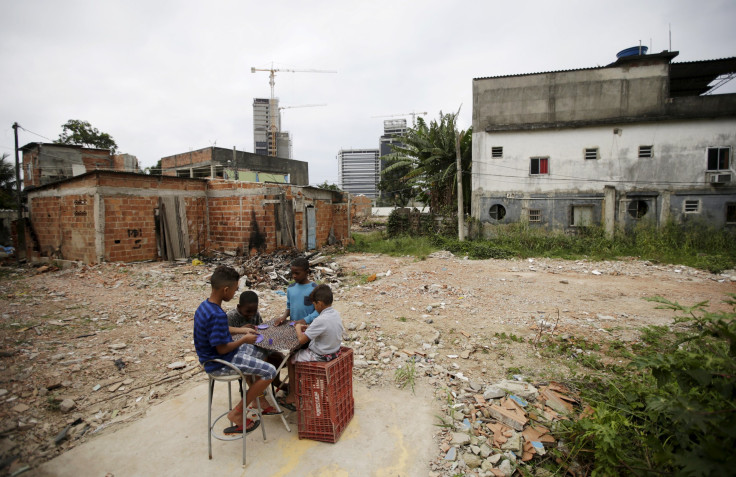 Brazil's economy shrank by 1.9 percent in the year's second quarter, official figures show, sending the world's seventh-largest economy into recession, the BBC reported. Many experts expected the slide: Brazil's growth has fallen partly due to low commodity prices, slow global growth and high interest rates. But the percentage of the decline was sharper than anticipated.
Consumer spending is one of the key drivers of Brazil's economy, but it has been hit hard by 14.25 percent interest rates. Spending by households dropped 2.1 percent between April and June compared to the prior quarter, and construction output dropped 8.4 percent, all while taxes have increased. Investments also have fallen in Brazil for the eighth consecutive quarter and unemployment is at its highest level in five years, CNBC reported.
Years ago, Brazil was on the rise, thanks largely to commodity purchases by China -- such as iron ore, beef and oil. But that boom slowed about four years ago, and China's recent economic slowdown has hurt as well. In the past year, Brazil's stock market has dropped 22 percent and its currency has lost much of its value, the Wall Street Journal reported Friday.
Brazil's current economic state is dogging President Dilma Rousseff's approval rating. She has tried to restore consumer and investor confidence by cutting spending and stopping the rate of inflation, but the efforts have achieved few results. That failure and news of a possible kickback scandal have dropped Rousseff's approval rating into the single digits, CNBC reported.
South America's largest economy sank into a recession last year around the same time, its first slide in more than five years. The economy shrank by 0.6 percent, worse than economic experts expected. Despite that setback, Rousseff was reelected in October 2014, defeating challengers Aécio Neves and Marina Silva.
"Falling consumer confidence and a worsening labor market move hand in hand," Cristiano Oliveira, chief economist at Banco Fibra in São Paulo, told the Wall Street Journal. "We're going to see demand slow down even more in the next few quarters, and I don't see anything that can change that."
© Copyright IBTimes 2023. All rights reserved.
FOLLOW MORE IBT NEWS ON THE BELOW CHANNELS