Brazil's Sunday Protest Marches Could Signal Tougher Times Ahead For Dilma Rousseff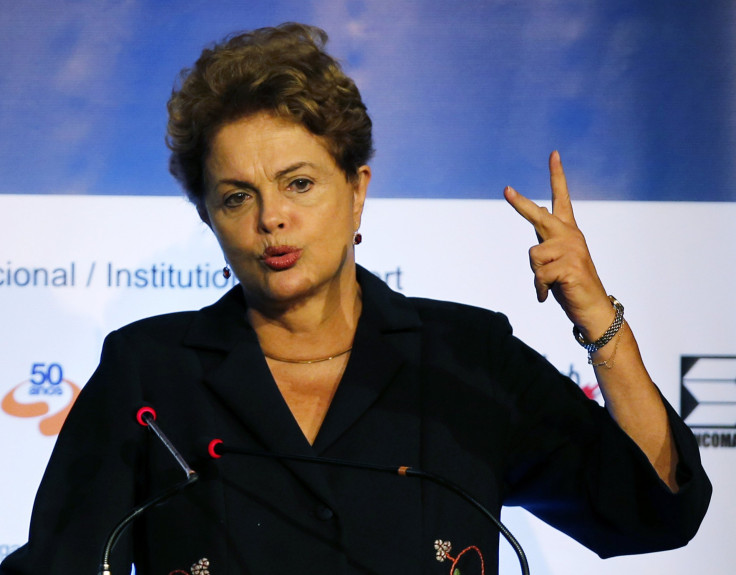 Brazil's President Dilma Rousseff has been in an unenviable position in recent weeks, having faced pot-banging protests, congressional resistance to her economic plans and the #VaiaDilma -- "Boo Dilma" -- hashtag trending on Twitter. She won't get any relief this weekend as tens of thousands of Brazilians are expected to rally against her in dozens of cities around the country Sunday, with many calling for her impeachment.
Analysts say impeachment isn't likely, and those calls are only coming from a minority of Brazilians. But it remains to be seen how many people will flock to Sunday's protest marches, which could signal just how tough things could get for Rousseff's presidency in the coming months as her administration faces a perfect storm of political and economic crises.
The demonstrations are planned for Rio de Janeiro, Sao Paulo, Brasilia and a slate of other cities, and have been highly publicized. Scattered Facebook event pages have amassed 100,000 to 300,000 RSVPs each for marches in various cities.
"To a certain extent this is polarized politics that have been going on since elections in October," said Ricardo Mendes, a managing partner at the consulting firm Prospectiva, based in Sao Paulo. "However, there is a growing dissatisfaction by the population with the government and the whole economic situation."
A greater turnout is expected on Sunday than was present in October, he added, when many rallied in support of a candidate rather than against the president.
Rousseff has been facing increasing pressure as heightening inflation, a sinking Brazilian real and painful austerity measures plague her nascent second term. On Friday the real's exchange rate with the dollar sank to 3.2 to 1, its weakest rate since 2004, marking a 13 percent decline in March alone. Rousseff has been on a campaign to defend an austerity program, including cuts to spending, worker benefits and tax credits, saying the measures are necessary to bring the public budget back into balance. But even members of her own party have spurned the program.
The ongoing corruption investigation of state-run energy company Petrobras may be her biggest problem, though. Last week, the country's Supreme Federal Court approved investigations on 54 politicians, mostly from Rousseff's Worker's Party, suspected of being involved in a graft scheme with the oil giant. Rousseff herself isn't implicated in the scandal. Even though she was chair of the Petrobras board at the time the alleged scheme occurred, she said she had no knowledge of any wrongdoing, and no evidence has surfaced implicating otherwise. Still, speculation about what she may have known has fueled the calls for impeachment.
As the scandal unfolds, Rousseff's popularity has sunk to an all-time low of 23 percent, according to a February survey by Datafolha. And the impeachment calls have grown to the extent that Rousseff herself addressed them this week. "Stop looking for a third electoral round," she said at a press conference Monday, according to news agency Efe. "The elections are over and a third round won't happen, unless someone wants a breakdown of our democracy."
"There is a feeling that the economic crisis is due to the corruption in government, which is partially true and partially not," said Bernardo Sorj, director of the Edelstein Center for Social Research in Rio de Janeiro. "The economic crisis is connected to different factors, not just corruption. But the perception in the population is that it is related to corruption, which changes the perception of the economic crisis, itself."
But it's not all doom and gloom for the president: On Friday, thousands of Brazilians took to the streets to voice support for the president and Petrobras amid the backlash. Meanwhile, a hashtag – #DomingoEuNaoVouPorque, or "Sunday I Won't Go Because" – trended on Twitter in the country as Brazilians listed reasons they were deciding not to attend the protest march.
Still, Rousseff is facing very real tests to her presidency. Peter Hakim, president emeritus of the Inter-American Dialogue, a think tank based in Washington, D.C., said her lack of communication savvy has exacerbated the discontent.
"She appears to be doing the right thing on the economy and the scandal," he said, noting that Rousseff has encouraged the Petrobras investigation and has undertaken necessary, though unpopular, austerity measures. "But she doesn't have the political charm, charisma or the skills that enable one to communicate forcefully and create confidence."
Sorj said that even though dissatisfaction is widespread, the calls for impeachment aren't realistic at the moment. "Most people know that impeachment doesn't solve any problems," he said. "There's no proof yet that she has any involvement in the corruption case, and most probably, nobody thinks she is a dishonest person. And impeachment may bring to power the people from the PMDB [the Brazilian Democratic Movement Party, of which Vice President Michel Temer is a member] who are not necessarily more honest or better equipped to solve the crisis."
But Sorj said Rousseff was in for rough times ahead. "What we're going to have this year is economic recession, inflation and more strikes. We are going to have a very difficult year."
Hakim agreed. "Things are going to get worse in Brazil before they get better. She has to figure out the right rhetoric for that."
"The question is not whether she can build up her public support," he added. "I think she's going to be down in the dumps for some time. The question is whether political leadership and people in senior economic and business posts will support her."
Prospectiva's Mendes had a more upbeat outlook. "Unless she does have really serious damage that will strengthen the opposition coming from the streets, there are good chances for her to recover," he said. "She's not going to be the best president Brazil has ever had, but she will survive to the end of her term."
An earlier version of this story misquoted Bernardo Sorj. He was referring to the Brazilian Democratic Movement Party (PMDB), not the Brazilian Social Democratic Party (PSDB). The error has been corrected.
© Copyright IBTimes 2022. All rights reserved.
FOLLOW MORE IBT NEWS ON THE BELOW CHANNELS