Brexit: UK Steel Crisis Highlights Future Troubles In Britain's Trade Relationship With China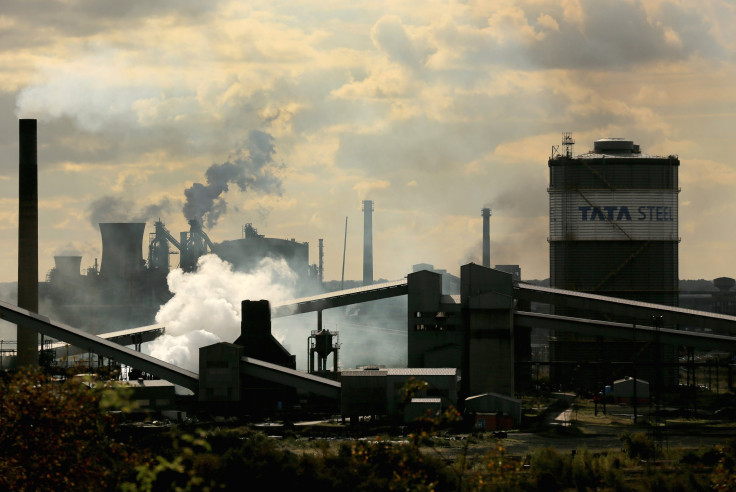 LONDON — An argument commonly heard from those who support Britain's departure from the European Union is that an independent U.K., untrammeled by EU regulations and the political considerations of other member states, would be free to act in its own interests rather than Europe's. The crisis in the country's steel industry, however, is highlighting the limitations a freewheeling U.K. would face when dealing with a powerful trading partner: China.
India's Tata Steel, the U.K.'s largest steelmaker, formally put its businesses in the country up for sale this week, putting thousands of jobs in the country at risk and sparking a political crisis as the government scrambles to develop a response.
One factor in the demise of Tata's U.K. business has been China's practice of dumping steel on the European markets. As Chinese domestic demand has slowed, China's heavily subsidized steel industry has dumped an increasing amount of its product in Europe. Eight years ago, China exported 59.2 million tons of steel, rising to 107 million tons last year, leaving Tata's high-cost U.K. operations unable to compete, the company said.
"[Chinese dumping] has brought prices down across the U.K. and Europe, making it unsustainable for U.K. manufacturers to run at a profit," Gareth Stace, director of industry body U.K. Steel, told International Business Times.
"I think government needs to be strong with China. If we don't deal with it now, we'll be bitten later on. I think it's slightly foolish if people think it is just going to be the steel industry and it won't expand into other sectors as the years go on," Stace said.
"Steel is obviously massively strategically important to defense, auto and aerospace in the U.K., and if steel goes, you've then got to think of the automotive sector — will there be a point where China is able to produce a car for X amount less because of state intervention and domestic policy, which will damage those sectors in the future?"
Experts IBT spoke with said, however, that while Chinese dumping has indeed had an effect on the U.K.'s steel industry, other forces are also at work.
"The [European] Commission estimates [that] for the industry as a whole, [there's] excess capacity at the European level. There is a need to reduce this surplus capacity, even without the Chinese imports. There are longer-term problems of productivity and restructuring in the industry in Europe as a whole, and the Chinese imports will come on top of that," said Dr Stephen Woolcock, a trade expert and associate professor at the London School of Economics.
But the U.K. has blocked moves at the EU level to impose more-stringent anti-dumping measures on Chinese steel coming into the market, prompting critics to suggest that the government has sacrificed the country's steel industry to curry favor with Beijing. EU tariffs on Chinese steel were set at 9 percent in March 2016. In contrast, the U.S. has put tariffs of up to 266 percent on steel imports from the country.
The reason for Britain's desire to court China is clear: The U.K. is keen to encourage foreign investment from the country — as evidenced by repeated trade missions by senior government figures and the red-carpet welcome for President Xi Jinping during last year's state visit, where trade agreements worth up to 40 billion pounds ($62 billion) were signed.
If the U.K. does block tariffs on Chinese steel to woo Beijing, it's a move that's unlikely to be reciprocated. This month, China imposed a 46 percent tariff on a type of sophisticated steel made by Tata in the U.K., a move that underscored the comparative weakness of the U.K.'s position in dealing with the world's second-largest economy.
In the event of a Brexit, with the U.K. facing an uncertain trade relationship with its European neighbors, experts say trade with China would be an even greater focal point for Britain's economy and the country would be in a more vulnerable position.
"The U.K. would be in a weaker position [if it voted to leave the EU], but I think the U.K. is in a weak position anyway," Manmohan Sodhi, a professor at City University London's Cass Business School, told IBT.
"[British Prime Minister David] Cameron has gone to China asking for money — that's never a strong position to be in ... [China] is the only source of large investment he can get. And to the extent that he can get those 40 billion pounds in trade deals with China he thought he was going to get, everything else is secondary," Sodhi said.
"This is [Cameron's] legacy — it's his last term; if he can actually get those 40 billion pounds of trade deals, he's not going to let that go."
FOR FREE to continue reading
✔️ Unlock the full content of International Business Times UK for free
offer available for a limited time only
✔️ Easily manage your Newsletters subscriptions and save your favourite articles
✔️ No payment method required
Already have an account? Log in
© Copyright IBTimes 2023. All rights reserved.