Brief Truce Provides Temporary Reprieve To Gazans As Rescue Workers Scramble To Recover Bodies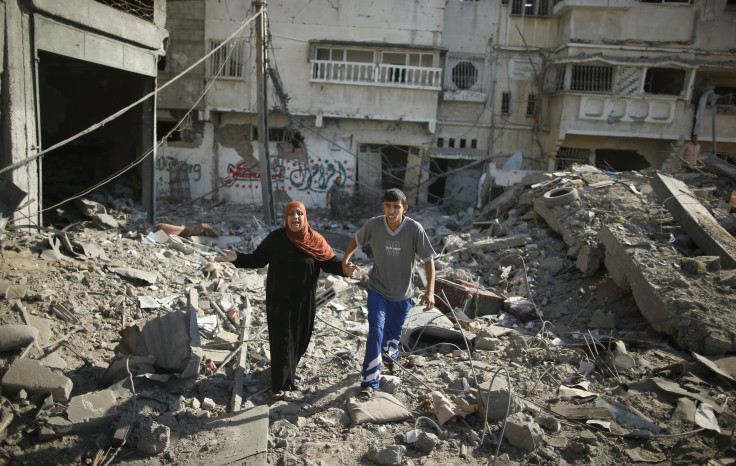 A 12-hour humanitarian truce that became effective in the Gaza Strip Saturday at 8 a.m. local time (1 a.m. EDT) appears to be holding, as Israel's Operation Protective Edge entered its 19th day.
Before the temporary cessation of hostilities between Israel and Hamas, however, 25 Palestinians were reportedly killed in airstrikes in and around Khan Younis in southern Gaza early Saturday. Al Jazeera said 18 members of a single family, who had been trapped inside their house in Khuzaa village, perished in the raids.
Ten houses were struck overnight by the Israel Defense Forces, or IDF, in the Gaza Strip, killing at least 11 children, Haaretz reported. A hospital was also reportedly bombed Friday night by elements of the IDF in Beit Hanoun in northern Gaza.
The U.N.-mediated humanitarian cease-fire agreement was reached amid unsuccessful efforts by U.S. Secretary of State John Kerry to secure a weeklong truce between Hamas and Israel. The Israeli Security Cabinet reportedly rejected Kerry's proposal because it involved halting IDF's operations to destroy Hamas military tunnels under the Israel-Gaza border.
Speaking at a press conference in Cairo Friday, Kerry said that while there was general agreement on the overall concept of a truce, there were some disagreements regarding the details. "Gaps have been significantly narrowed," he said. "It can be achieved, if we work through some of the issues that are important for the parties."
An anonymous Hamas representative quoted by Reuters said all Palestinian factions would abide by the brief truce. Meanwhile, the IDF said it would hold fire for 12 hours, but push on with the destruction of "terror tunnels" in Gaza. It also requested Palestinian civilians to refrain from returning to the homes that have been vacated during the operation.
During the first two hours after the beginning of the humanitarian truce, emergency workers recovered 60 bodies buried under rubble across the Gaza Strip, according to Haaretz, which reported the Palestinian death toll had risen to more than 1,000. Two Israeli civilians and 37 Israeli soldiers have also been killed since the start of the operation in Gaza.
© Copyright IBTimes 2023. All rights reserved.