British Airstrikes In Iraq: RAF Targets ISIS, Assists Kurdish Troops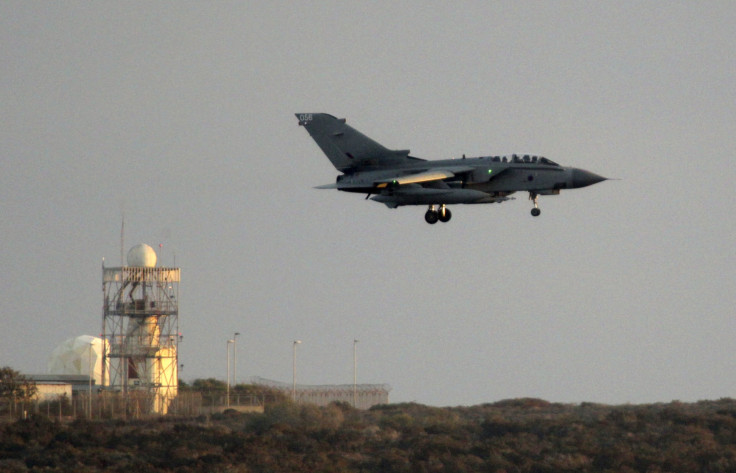 Two Royal Air Force Tornado aircraft conducted airstrikes Tuesday against Islamic State targets in northwest Iraq, the United Kingdom's Ministry of Defense confirmed. The attacks marked the first military action taken by the U.K. as part of the international coalition to support the Iraqi government in its fight against the group also known as ISIS or ISIL.
The RAF airstrikes targeted an ISIS "heavy weapons position" and later struck at an ISIS armed pick-up truck in the same area. Both attacks were successful, the Ministry of Defense said in a statement.
"Halting the advance of ISIL and helping the Iraqi government turn it back, and helping the Iraqi army and Kurdish forces to do that, is a huge task and is going to be a long campaign," Defense Secretary Michael Fallon said. "But the RAF have been flying day and night since Parliament gave that authority last Friday and they have been flying important missions, gathering intelligence, deterrents against ISIL terrorism, driving them back from the villages, as well as being there in close support when they are tasked to go down and help, in particular fighting, and that's now what they've done today."
The United Kingdom is one of over 50 countries that answered U.S. President Barack Obama's call for a "broad coalition" to "roll back" the threat posed by ISIS. Parliament voted Aug. 25 to approve U.K. Prime Minister David Cameron's request to join the coalition's efforts in Iraq, Reuters reported. Belgium, Denmark and Britain all pledged fighter jets to combat ISIS in Iraq, and French forces are already active in the region.
A coalition of five Arab nations joined U.S. forces in similar strikes against ISIS in Syria. However, European nations have expressed reluctance to aid American efforts there, the Wall Street Journal reported. Cameron said Parliament would require a second vote to approve military action in Syria.
FOLLOW MORE IBT NEWS ON THE BELOW CHANNELS