British Open: Jordan Spieth Wins Championship, Eyes Tiger Woods Grand Slam Record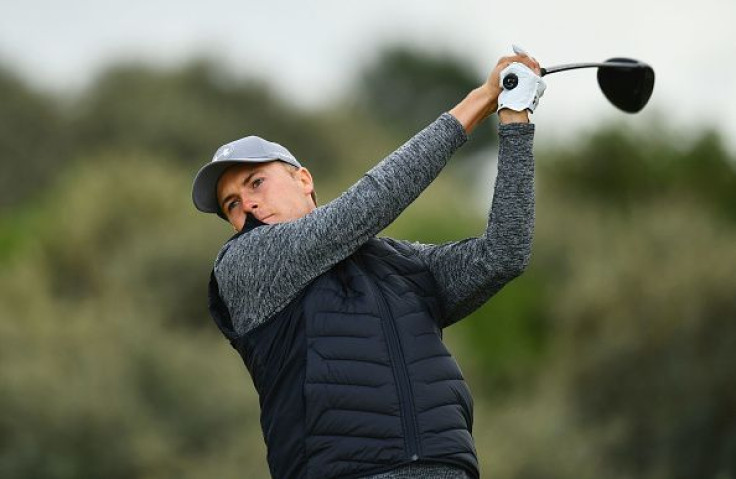 Jordan Spieth transformed hardship into victory, winning the 2017 British Open at Royal Birkdale. The Texas native played the last five holes in 5 under and ended with a 1-under 69, for a 3-shot win over Matt Kuchar Sunday.
The 23-year-old was three shots ahead of Matt Kuchar headed into the final round. In 40 minutes, he almost squandered his chance, similar to his Masters' fiasco last year. But, he bounced back with impressive shot after shot: a near-ace, a 50-foot eagle putt and a 30-foot birdie putt — which secured him the 146th Open at Royal Birkdale.
Spieth could surpass Tiger Woods as the youngest winner of a career grand slam if he notched next month's US PGA at Quail Hollow. Spieth triumphed during the Masters in 2015 and the US Open. Jack Nicklaus is the only golfer to win three titles before his 24th birthday and Woods only secured two majors before he turned 24.
The one that won it. #TheOpen pic.twitter.com/RfrJdByJXP

— The Open (@TheOpen) July 23, 2017
"It's a life goal of mine," he said. "Growing up playing golf, I just wanted to be able to play in major championships and compete with the best in the world, and things have happened very quickly. And it's good and bad, because a lot comes with it."
This time around, Spieth dug himself into a hole with three bogeys on the first four holes and four putts within 8 feet that he missed, which tied him with Kuchar. His tee shot on the par-4 13th sailed far right, when he finally found the ball on a lofty hill, it looked like he could hit a double bogey. Kuchar waited 15 feet away, set up for a birdie.
"We knew we were going to be there for a while," Kuchar said during the press conference. "We made ourselves comfy and told some stories. Certainly it was not anything I was ever going to be upset with. It's very understanding. It's a very difficult situation."
But Spieth's luck changed after he hit a 1-shot penalty, landing onto the range near the equipment trucks. He hit it about 7 feet and nailed the putt, granting him a bogey. Kuchar missed his birdie attempt, but he had the lead.
"Once we started playing again, I had a great shot at birdie and nearly thought my putt was going in to make a birdie there," Kuchar said. "I didn't lose any momentum. All of a sudden I now have a 1-shot lead after that hole in the British Open with five to go. I'm playing really well. Hitting a lot of good shots. I'm going to keep doing what I'm doing. And he just -- he really turned it up."
Spieth picked up steam with his bogey and he hit a four-foot birdie to tie the lead. He surpassed Kuchar with a 50-foot eagle putt during the 15th hole. Kuchar nailed a birdie on the 15th, but he couldn't come back once Spieth hit a 30-foot birdie at the 16th hole. Kuchar's last answer was a 20-foot birdie on the 17th hole to keep up, but Spieth pulled away when he hit a 7-foot birdie. He had a 2-shot lead into the 18th hole.
READ: New York Knicks Rumors: Kristaps Porzingis Unhappy, Future Uncertain As Team Shops Carmelo Anthony
Kuchar finished with 69. He never recovered after Spieth's run. Kuchar had one shot on the 13th hole. He played the following four holes, picked up two pars and two birdies, putting him two shots behind.
Spieth is headed to Quail Hollow in North Carolina looking for a chance at a Grand Slam. He ended at 12-under 268. Li Haotong shot 63 and finished third at 6-under 274 for China.
© Copyright IBTimes 2023. All rights reserved.
FOLLOW MORE IBT NEWS ON THE BELOW CHANNELS