British Pound Extends Gains As Scotland Votes 'No' To Independence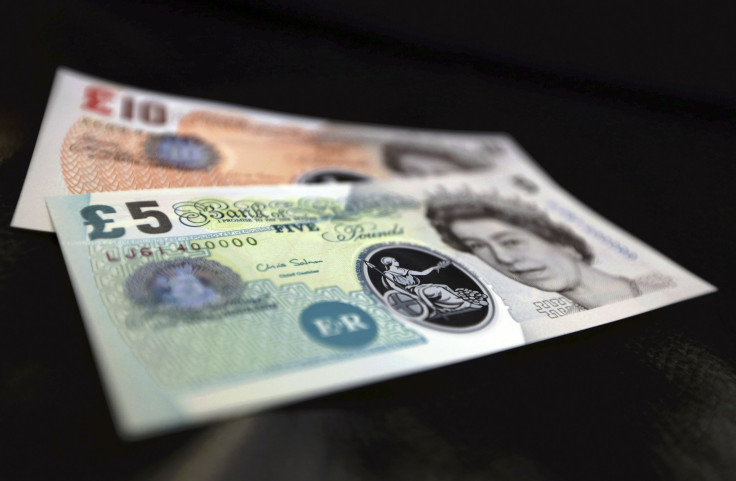 Update as of 4:44 a.m. EDT: The British pound rose to a two-week high against the dollar, and a two-year high against the euro Friday, while markets in Britain and Europe rallied, Reuters reported, after Scottish voters chose against independence in a historic referendum.
Stocks on London's FTSE index as well as those on exchanges in Spain and Ireland too rallied, Reuters reported, adding that stocks around the world were on track for a fifth weekly gain in six weeks. The FTSE 100 was up 0.81 percent while France's CAC-40 was up 0.49 percent and Germany's DAX rallied 0.84 percent. In Asia, the Nikkei-225 ended the day up 1.58 percent and Australia's S&P ASX 200 ended up 0.32 percent. The Hang Seng index closed up 0.57 percent while the Shanghai Composite index was up 0.58 percent, and in India, the Sensex was up 0.11 percent.
The British pound sterling, which jumped to a two-year high against the euro on Thursday, continued to rise early Friday as initial results of the Scottish independence referendum seemed to indicate that its three-century-old union with the United Kingdom would remain intact, according to media reports.
The GBP/USD rose to as high as 1.64 in early Asian trades, which is its highest since Sept. 2, from its previous close of 1.6397. The rise put the pound on course to its biggest two-day rise against the dollar in over a year, Bloomberg reported. Last week, the GBP had slumped to a 10-month low against the dollar over fears of the impact of a possible Scottish exit from the union.
"The pound's reaction clearly suggests investors are convinced that the Scots will vote to stay in the union," Fawad Razaqzada, a technical analyst at Forex.com, told The Telegraph.
Asian markets also reacted to the drastic rise in the GBP as the Japanese yen fell to its lowest level since 2008, underpinned by Scotland's rejection of independence.
The FTSE 100 index, which charts the fortunes of the UK's 100 largest publicly traded companies, had earlier ended three days of losses to close slightly higher on Thursday, finishing the day 38.39 points higher at 6,819.29. Following the results of the referendum, it is expected to open higher on Friday.
Japan's Nikkei 225 was up 1.51 percent while Australia's S&P ASX 200 was up 0.42 percent. India's benchmark BSE Sensex was up 0.31 percent while the Hang Seng was trading up 0.48 percent immediately after Scotland's First Minister Alex Salmond announced his acceptance of the "No" verdict in the referendum.
© Copyright IBTimes 2023. All rights reserved.