Broncos Brandon Marshall Update: Racist Twitter Confused Over Black Men With Same Name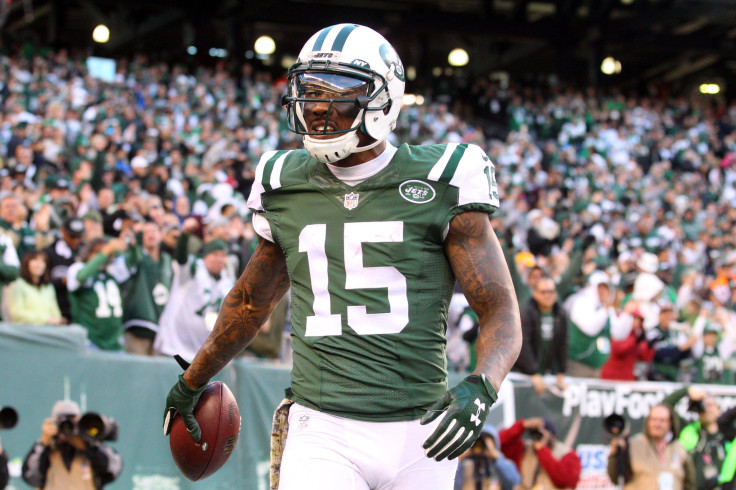 If you're going to send angry tweets to someone — which you probably shouldn't do — it would at least make sense to take the time to make sure you're going after the correct person.
A number of Twitter users didn't take such precautions Thursday night after the Denver Broncos Brandon Marshall kneeled during the national anthem marking the NFL season opener, joining the San Francisco 49ers' Colin Kaepernick in protesting oppression of African Americans in the U.S.
As the story made national news, a handful of Twitter users sent angry messages to @BMarshall, the Twitter handle of New York Jets wide receiver Brandon Marshall, a different, perhaps more famous football player with the same name as the Broncos linebacker. For posterity's sake, the Jets' Marshall is 32-year-old veteran who plays an offensive position and is often seen catching touchdowns. The Broncos' Marshall is a 26-year-old linebacker in his fifth year who can often be seen on defense tackling the person who catches the ball.
At least a few of the messages directed at the wrong Marshall were very racist, according to New Jersey Advanced Media. Black Sports Online first posted a number of the racist tweets.
Posted below is a sampling of some of the tweets directed at the wrong Brandon Marshall.
The Jets' Brandon Marshall hasn't responded to being on the receiving end of misguided attacks, but it's worth noting he threw his support behind Kaepernick, who said his protest was, in part, aimed at police brutality as well as the overall oppression of black people in the U.S.
"He is one of the biggest patriots out there," he said of Kaepernick during an appearance on a WFAN radio show this week, via NJ.com. "He is standing up for human rights."
The Jets' Brandon Marshall has typically been outspoken and willing to share his opinion, and he voiced this stance on a show hosted by Boomer Esiason, who said he was "disgusted" by Kaepernick's protest.
"When I look at the American flag, I see a bunch of fights and how much we have overcome," Marshall said on the show. "When you look at it, the American flag is bigger than just one thing... You have the civil rights movement, you have sex trafficking, immigration law. There are so many different fights there. But then there are times when one thing trumps all. When it comes to human rights, we really have to be careful."
Some Twitter users seemingly walked back their attacks on the wrong Marshall Friday morning — not apologizing for the messages' content, but rather for going after the wrong person.
The Broncos' Marshall has received his fair share of angry messages on Twitter, as well as some messages of support.
© Copyright IBTimes 2023. All rights reserved.