Colin Kaepernick's Birth Mother, Rodney Harrison Respond To Quarterback Over National Anthem Protest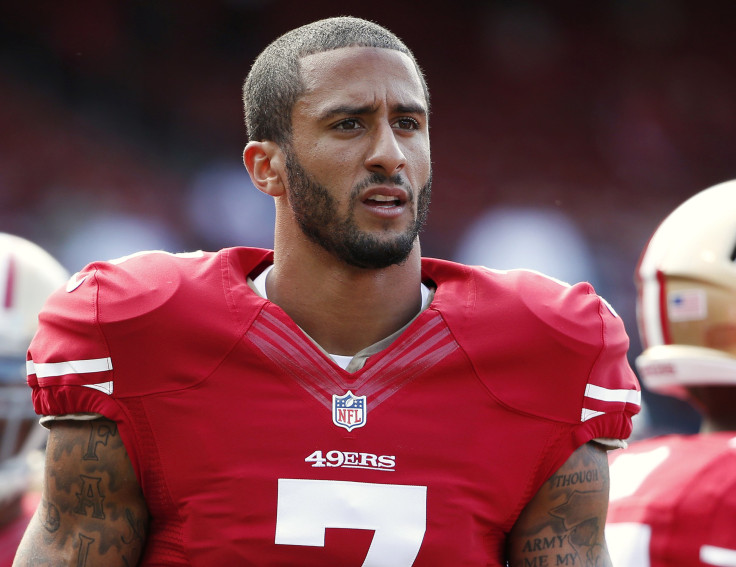 More folks voiced criticisms Tuesday about San Francisco 49ers quarterback Colin Kaepernick's decision to sit during the national anthem to protest what he says is the oppression of black people in the U.S. Among people who voice their opinions: Kaepernick's birth mother and retired NFL player Rodney Harrison.
Kaepernick was adopted as a baby and has no relationship with his birth mother, Heidi Russo, who has talked with the press about wishing to meet the son she gave up when she was 19 years old. Russo took to Twitter to critique her son's choice to sit during the national anthem, the Root reported Tuesday.
"There's ways to make change [without] disrespecting [and] bringing shame to the very country [and] family who afforded you so many blessings," what appears to be Russo's account tweeted. "The path less traveled doesn't need to be one of destruction."
Kaepernick is biracial, while Russo is white. The NFL player was adopted by white parents.
Harrison, meanwhile, weighed in Tuesday during an interview with iHeartRadio that included comments about Kaepernick's race. "I tell you this, I'm a black man. And Colin Kaepernick — he's not black," Harrison said, via Sporting News. "He cannot understand what I face and what other young black men and black people face, or people of color face, on an every single (day) basis. When you walk in a grocery store, and you might have $2,000 or $3,000 in your pocket and you go up in to a Foot Locker and they're looking at you like you about to steal something. You know, I don't think he faces those type of things that we face on a daily basis."
A number of people were critical of Harrison's comments, including ESPN anchor Sage Steele, who tweeted people like the former NFL player, "claim us biracial kids" when "it's convenient" for them.
Harrison, who now works for NBC, appeared to attempt to walk back his comments on Twitter, at first saying he didn't intend to offend anyone. He then tweeted "never even knew he was mixed," and later made a more full apology, saying, "I should not have called Colin Kaepernick's race into question during this morning's radio interview. It was a mistake and I apologize."
Everyone from Kaepernick's girlfriend to his former coach have chimed in on his protest. Meanwhile, the quarterback — who was once considered one of the top young players in the NFL — might end up not making the San Francisco roster at the end of preseason.
© Copyright IBTimes 2023. All rights reserved.