Brooklyn Police Shooting: Thousands Attend 8-Hour Wake Of Officer Rafael Ramos [PHOTOS]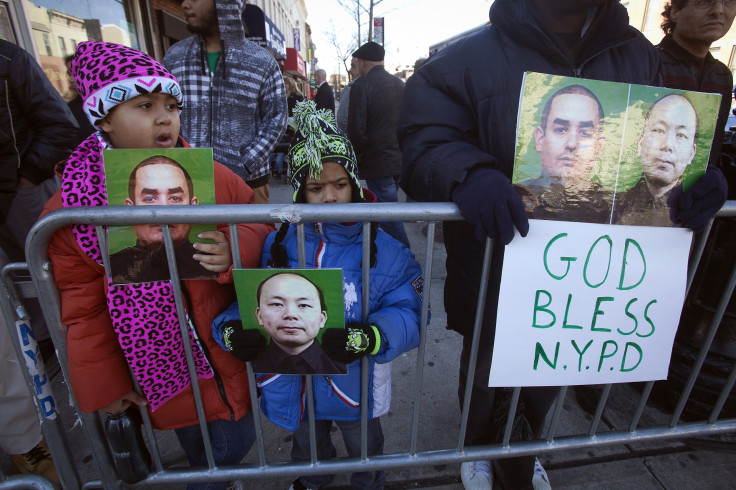 Thousands of uniformed officers on Friday joined the wife and two sons of Officer Rafael Ramos, the New York City policeman, who was gunned in the borough of Brooklyn along with another officer. The eight-hour wake was also attended by Mayor Bill de Blasio, who is expected to attend Ramos' funeral on Saturday, along with U.S. Vice President Joe Biden.
The tribute to Ramos reportedly took place at the Christ Tabernacle Church in Queens, where the slain officer -- dressed in full dress uniform -- was carried in a flag-draped open casket. His family, friends and colleagues spoke highly about him and described him as a selfless and compassionate person.
"Dad, I'm forever grateful of the sacrifices you made to provide for me and Jaden," Ramos' son, Justin, said, referring to his younger brother, according to The Associated Press (AP).
"Whether he was helping a mom with a carriage or bringing someone to their seats, he did it with so much love and so much vigor and so much joy," Pastor Ralph Castillo said, calling him a beloved church member, AP reported.
Ramos and Officer Wenjian Liu were shot by Ismaaiyl Brinsley on Dec. 20 while they were sitting in their patrol car on a Brooklyn street. Brinsley, who committed suicide soon after killing the two officers, had previously said on social media that he would kill cops to avenge the deaths of Michael Brown and Eric Garner, who were black, unarmed and killed by white police officers.
The deaths of the two African-Americans sparked angry protests that intensified when grand juries in both cases decided not to indict the officers.
Garner was killed after NYPD Officer Daniel Pantaleo put him in a chokehold on a Staten Island street in New York in July, while Brown was fatally shot by Officer Darren Wilson in August in Ferguson, Missouri.
Police union officials have criticized de Blasio for his comments, following the Staten Island grand jury decision, that he feared his half-African-American son would fall victim to police brutality. Union officials have reportedly blamed the mayor for fueling anti-police sentiments that may have led to the death of the officers.
"Things we took for granted maybe a week or two ago we can't take for granted anymore," NYPD Capt. Sergio Centa said, according to Fox News. "You may be in your car and see someone walking up the street toward you. You have to be prepared. You never know. It's a scary time for the police department right now."
Funeral arrangements for the other officer, Liu, are yet to be announced.
© Copyright IBTimes 2023. All rights reserved.