Browns vs. Steelers Playoff Game: How Much Did The Point Spread Move After Cleveland's COVID Cases?
After reaching the postseason for the first time in 18 years, the Cleveland Browns' chances of winning their 2021 wild-card round game just fell dramatically. Five members of the team, including head coach Kevin Stefanski, will miss Sunday's playoff game against the Pittsburgh Steelers because of positive COVID-19 tests.
Starting left guard Joel Bitonio and wide receiver KhaDarel Hodge will also be sidelined after being diagnosed with COVID-19, NFL Network reports. The Browns closed their facility Tuesday, but Sunday's matchup is still scheduled to be played.
The Browns had been the shortest underdogs on Wild-Card Weekend, getting 3.5 points in their visit to Pittsburgh. That quickly changed in light of the team's COVID-19 cases. The betting line is up to 6.0 points in favor of the Steelers, according to OddsShark, moving quickly when it was discovered that Cleveland will be without key personnel.
Stefanski is the top candidate to be named the NFL Coach of the Year. He led Cleveland to an 11-5 record in his first year with the Browns, marking a five-win improvement from last year. Cleveland had never won more than 10 games since re-entering the league in 1999.
Browns special teams coordinator Mike Priefer will be the acting head coach. Offensive coordinator Alex Van Pelt is expected to take over the play-calling duties.
Hodge wasn't much of a factor in the regular season with 11 catches for 180 yards. Bitonio had not missed a start for the Browns since 2016.
Cleveland's offensive line helped give the Browns the NFL's No. 3-ranked rushing attack. Cleveland had 192 rushing yards on 6.2 yards per carry in its Week 17 win over Pittsburgh.
The Steelers defeated the Browns 38-7 in Week 6. Pittsburgh finished a game ahead of Cleveland to win the AFC North.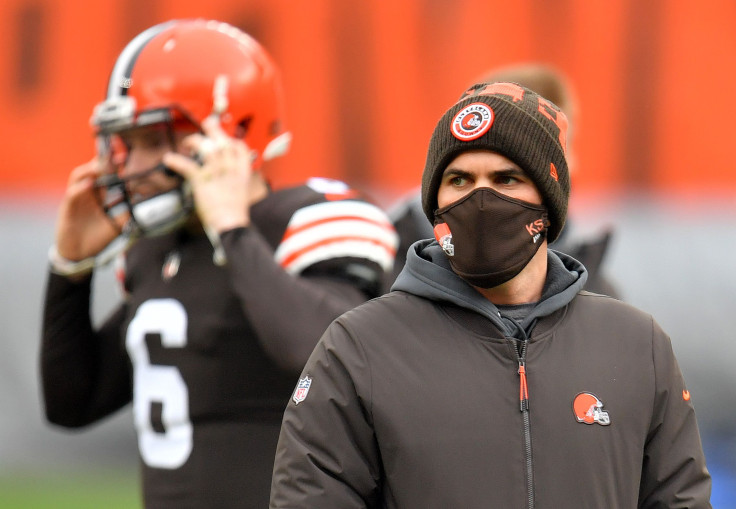 © Copyright IBTimes 2023. All rights reserved.