BSE Sensex Rises for Fifth Straight Session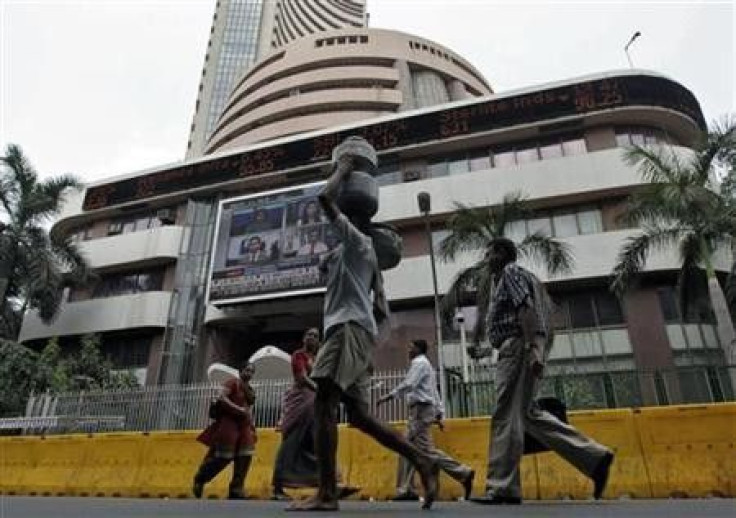 The BSE Sensex rose for the fifth straight session on Monday, ending 0.58 percent higher, after last week's robust U.S. jobs data helped improve risk appetite, but the rally in the local market is expected to take a breather soon.
The main 30-share BSE index closed up 102.35 points at 17,707.31, with 21 of its components advancing.
The benchmark has gained nearly 15 percent this year, with foreign funds pouring more than $3 billion into Indian equities. In 2011, the index fell a quarter as foreign portfolio investors pulled out a net $500 million.
There is optimism, retail investors are coming back to the market. However, this is nothing to be thrilled about, we are only recovering the lost ground, said Arun Kejriwal, strategist at research firm KRIS.
But this is a worrisome trend, as during this period, nothing much has happened which justifies the optimism of this magnitude, he said.
Bank stocks led the rise, with State Bank of India (SBI.NS) rising 2.83 percent and ICICI Bank (ICBK.NS) ending up 1.28 percent.
Most of the banks have come out with good results, said Deven Choksey, managing director of brokerage K.R. Choksey. Expectations that the central bank will cut interest rates also helped bank stocks, he added.
Most auto stocks also ended higher, with carmakers Tata Motors (TAMO.NS) and Maruti Suzuki (MRTI.NS) rising 1.66 percent and 0.96 percent, respectively.
Banking, cement, power and construction and some select telecom stocks are at attractive valuations, said Samir Gilani, head of equities and derivatives at Mape Securities.
We have seen a pretty good run and the overall trend is still up, both in India and globally. But markets will take a breather from here before climbing up further. The sentiment has changed to 'buy on dips' (from 'sell on raise'), Samir Gilani said. We going to pause somewhere here, he added.
Piramal Healthcare (PIRA.NS) closed down 1.14 percent after rising more than 7 percent. The drugmaker said on Saturday it would buy a 5.5 percent stake in Vodafone's (VOD.L) India unit from Essar for 30 billion rupees.
Hindustan Unilever (HLL.NS) fell 3.57 percent, despite reporting a better-than-expected net profit. The consumer goods maker lowered its spending on advertising and promotions in the quarter, raising concerns it may not be able to hold on to its market share.
The 50-share NSE index ended up 0.67 percent at 5,361.65. In the broader market, there were 976 gainers against 486 losers on volume of 986 million shares.
The MSCI's broadest index of Asia Pacific shares outside Japan fell 0.08 percent, while Japan's Nikkei rose 1.10 percent.
STOCKS THAT MOVED
* Real estate firm Unitech Ltd (UNTE.NS) rallied 13.27 percent on a build-up of long positions in February futures, two futures and options traders said.
* Dena Bank (DENA.NS) closed up 8.71 percent after the state-run lender reported a better-than-expected 20.7 percent rise in December-quarter net profit.
* IL&FS Transportation Networks Ltd (ILFT.NS) closed up 3.83 percent after it received an 18.18 billion rupee road contract from the National Highways Authority of India.
* Power Finance Corporation (PWFC.NS) climbed 5.22 percent after the state-run lender to power projects reported a 68.13 percent jump in October-December profit.
© Copyright Thomson Reuters 2023. All rights reserved.