Bud Selig Retirement: MLB's Competitive Balance Is Key To Commissioner's Legacy, But Financial System Remains Imperfect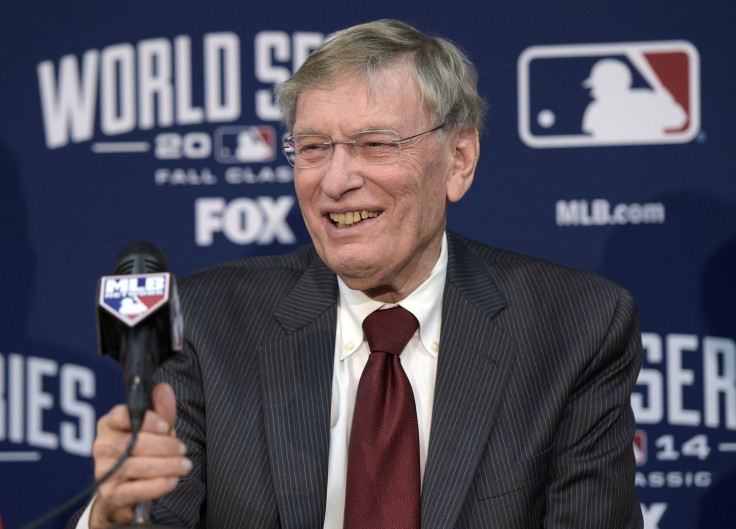 In July, Bud Selig identified the parity fostered by Major League Baseball's economic reforms as the defining legacy of his stint as league commissioner. The Kansas City Royals' rise in 2014 from American League doormat to World Series contender supports Selig's notion of baseball's increased "competitive balance." But MLB's financial system remains imperfect ahead of his retirement in January 2015 as large-market franchises continue to outspend and outperform small-market teams.
"Bud Selig has moved baseball to a situation where you do have competitiveness by small-market teams in an age where dollars should drive everything," said Rick Burton, former commissioner of Australia's National Basketball League and a professor of sports management at Syracuse University. "You want every team to believe that this year they can contend. I think baseball has that now, but I don't think they had that back in 1998 or back in the mid-to-late 90's."
After serving as the MLB's acting commissioner since 1992, Selig was officially named baseball's top executive in 1998. He spearheaded two major economic policy changes during his time in office, each of which aimed to reduce the gap between baseball's richest and poorest franchises.
First, there was the adoption of a revenue-sharing agreement during labor talks in 2002. Under the revolutionary new system, the league agreed to divide 31 percent of its revenue equally among all 30 MLB teams. The subsequent adoption of a new labor agreement in 2011 increased that figure to 34 percent and stipulated that the league's top 15 richest teams would be disqualified from revenue-sharing by 2016. The deal allows small-market teams like the Royals or the Pirates to afford to spend beyond the means they would be capable of without the added income.
"I don't believe there's a way to overstate the impact of the collective bargaining agreements on teams in markets like ours and Kansas City," Pittsburgh Pirates President Frank Coonelly told the Associated Press earlier this month. "Quite simply, without the revenue-sharing agreement in Major League Baseball we couldn't exist in Pittsburgh and it would be very difficult to exist in as many as five to eight other markets in baseball."
The Royals are just one example of a team that rose from the MLB's periphery to become a playoff contender in 2014. While the majority of this year's playoff teams were large-market spenders, the Pirates and the Oakland Athletics each earned a spot with the postseason with payrolls under $80 million.
Selig was also instrumental in the implementation in 2003 of baseball's "competitive balance tax," also known as the luxury tax. Meant to provide a disincentive for the league's richest teams to outspend small-market clubs to sign every top free agent, the tax penalizes any team that exceeds $189 million in payroll. Some clubs, such as the New York Yankees, are still willing to exceed the limit, but at the cost of tens of millions of dollars.
The result is an increased number of teams that are capable of remaining competitive through a full season. From 2009 through the 2014 All-Star break, an average of 13.5 teams owned a winning percentage within five games of .500, compared to just 9.4 from 1998 to 2008.
"What if the Yankees had no penalties at all and could really spend what they could? They'd buy everybody and still make a ton of money," said Andy Andres, a sabermetrician and lecturer at Boston University. "The luxury tax and revenue-sharing have clearly helped competitiveness. Without them, [spending] would be off the charts."
Selig's economic reforms have made it easier for small-market teams to compete, but for all its merits, the league's system remains imperfect. Since 1990, the winning percentage of teams that possess baseball's top 10 payrolls has never dropped below that of baseball's bottom 10 payrolls. Over the same period, the league's top 10 payrolls vastly outspent teams in the league's bottom third.
"It's 'Animal Farm.' All of the animals are equal or appear to be equal, but let's be clear: Some of the animals are more equal than others," Burton added.
The rise of a team like the Royals, who missed the playoffs for nearly three consecutive decades before their return to the World Series in 2014, could be a function of statistical randomness, rather than true evidence of parity. Moreover, the increase in 2013 from eight to 10 playoff teams allows a full third of the league's franchises a chance to catch fire and play their way onto baseball's biggest stage.
"When you really look at the analytics … that's the range you're playing with – you're going to lose 50 games and win 50 games. What you do with the other 60 games is what makes the difference. Teams get hot, they have good fortune with injuries and then they're in the playoffs," Andres said.
It's hard to question the fact that Selig has overseen the most profitable era in baseball's history. The league produced revenue in excess of $8 billion in 2013, with that figure expected to rise for this season.
"Selig is sort of a lightning rod for criticism by fans, but there's 30 people who love that guy, which is the owners," Andres said. "The business of the game has changed dramatically … the game has grown tremendously and the value of these teams has grown tremendously."
© Copyright IBTimes 2023. All rights reserved.