Bum Rap For The Google Bus? Tech Workers' Free Rides Cut Pollution, Traffic (But Protesters Still Want Them Gone)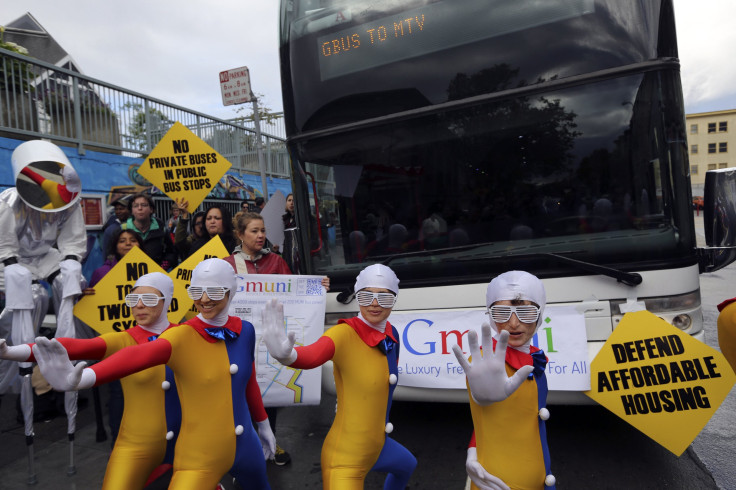 SAN FRANCISCO -- Silicon Valley has brought wealth and a thriving economy to the San Francisco Bay Area, but, because of all the dollars the technology sector has generated, more tech workers have moved to the area, congesting public transportation and increasing the region's traffic.
These are great problems to have -- everyone here will tell you that -- but they are real issues nonetheless. Although the tech sector did not create the region's transportation problems, with the fault mostly lying on the local governments that have failed to effectively deal with the fast-paced growth, it has exacerbated them and done little to help to solve them.
"As we add jobs, we're not adding equivalent amounts of transportation options. And our job market is regional, so things fall apart more on longer distance trips where people have few options," said Ratna Amin, transportation policy director for the San Francisco Planning and Urban Research association.
One of the few things the tech sector has done in terms of transportation is bring in fleets of private buses to shuttle their workers to and from their campuses. The buses are some of the most physical representations of these tech companies that people come across, and that's why they became a symbol for the immense pressure the tech giants put on the region's infrastructure in 2013 when droves of locals took to demonstrating against the so-called Google buses, demanding that they go away and stop using spaces reserved for public buses.
'A Huge Reduction'
But for all the hatred the buses get, transportation experts agree they actually do a lot to help keep the region's public-transportation systems and roadways from getting even more congested than they already are. The San Francisco Municipal Transportation Agency has said the buses displace more than 45 million vehicle-miles traveled annually. Without the buses, 49 percent of riders would drive instead, according to the SFMTA. In response to the protests in 2013, the agency now charges bus operators $3.55 each time they use one of the bus stops (meaning a company that uses 100 bus stops per day would have to pay $355 per day to do so).
"It's a huge reduction," said Gary Bauer, CEO of Bauer's Intelligent Transportation, a San Francisco company providing shuttle services to numerous tech firms in the Bay Area. Bauer and other bus operators estimate that each shuttle takes between 30 and 50 vehicles off the roads every workday. "Our clients at the end of the day are trying to do the right thing for the roadways. We don't want it to be like Southern California."
Startups Step In
And the buses were just the start. More and more, investors are putting money into companies whose goals are to improve transportation in San Francisco and other places.
For example, RidePal is a San Francisco startup that provides shuttles for tech companies such as LinkedIn Corp. that don't want to pay for their own fleets but do want to bus their employees to work. However, nontech workers can also use the shuttles to get around. Those customers log onto RidePal's website to pay a fare -- $12 for a single ride, $85 for a pack of 10 rides or $200 for one month of unlimited rides -- and then see whether there is availability on routes RidePal runs for the tech employees who use its service (the startup says most of its routes have availability for independent riders, as it calls them).
"We are trying to help with a great societal problem which is the habit of driving your car single-handedly alone," said Bob Martin, RidePal vice president of marketing. "We want to provide a lifehack, if you will, to drive-alone commuting."
And RidePal isn't alone. Since 2009, car-hailing startups have raised $4.95 billion in funding, according to CB Insights, which doesn't include the $5.9 billion Uber has managed to raise on its own.
Last August, Lyft and Uber both launched carpooling services that make it possible for multiple riders to share the same vehicle, thus lowering the fare for each ride while removing multiple cars off the roads. This has been taken a step further by startups such as Chariot, Leap and Loup, which operate private buses or vans that circulate on fixed routes. Many of these routes are focused on areas such as San Francisco's Marina neighborhood, which doesn't have as many public-transit options as other areas do.
"We have customers that used to drive to Redwood City or Palo Alto or Mountain View from San Francisco because the commute to CalTrain was so brutal that they didn't even bother," said Ali Vahabzadeh, Chariot CEO and co-founder, who indicated he sees his company as complementary to public transportation. Vahabzadeh added his company has spoken with the Bay Area Rapid Transit agency (BART) about possibly partnering up some time in the future. "Now they Chariot to CalTrain and take CalTrain to their work destination."
Most experts agree the tech sector's jump into solving transportation problems is a good thing, but agencies in the region say they would like to see these companies be more willing to work together. "It'd be so cool to use all of that startup energy and talent to work together solve the congestion issue here," said Timothy Papandreou, the director of strategic planning for the SFMTA. "There's definitely room for a lot of different ideas and experiments."
Specifically, BART and the SFMTA said they would like these companies to help with getting people from their homes to public transportation, and vice versa, which transportation experts call the first- and last-mile issue. Chariot has already been in talks with BART about working together to address this dilemma, but most other startups have not been as eager to cooperate. "They're not knocking down our door right now," said Mariana Parreiras, access coordinator at BART.
And there are many who believe these startups are not enough to help and instead think tech needs to be more involved in improving the existing infrastructure. Last year, Google Inc. ponied up $6.8 million to get young people free rides on Muni, San Francisco's public-transportation system, but that's a drop in the bucket compared with the amount of money it and the rest of the tech sector generates. Last quarter alone, Google booked more than $17 billion in revenue. "We would like to see not just small gestures here and there, but rather substantial and comprehensive shifts so that the private buses are eliminated," said Erin McElroy, who works with the Anti-Eviction Mapping Project.
© Copyright IBTimes 2022. All rights reserved.
FOLLOW MORE IBT NEWS ON THE BELOW CHANNELS