Burger King-Tim Hortons Deal Generates Tax Inversion Controversy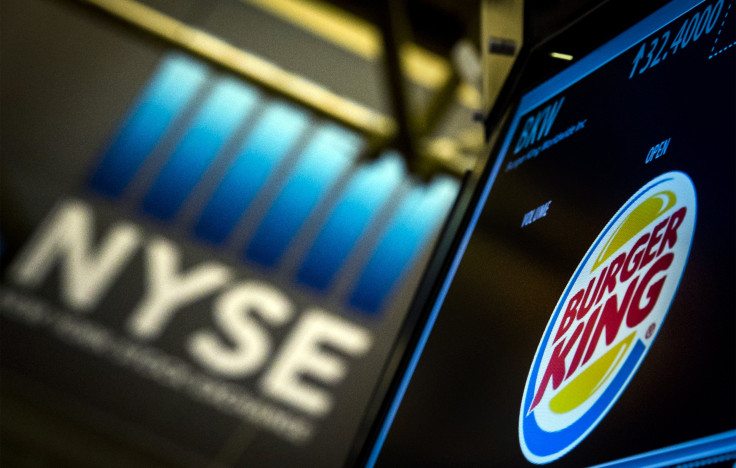 Burger King Worldwide Inc.'s (NYSE:BKW) Tuesday announcement it plans to buy about 51 percent of the Canadian coffee-and-doughnut chain Tim Hortons Inc. (TSX:THI) for $11.4 billion may have been about saving on taxes by moving to Canada -- or it may have been a strategic move to position itself better in the face of declining U.S. sales of fast food.
Experts say the move makes sense for the second-largest U.S. burger chain given the current restaurant industry environment, which has seen traditional fast-food joints quickly lose market share to "fast casual" outlets like Chipotle Mexican Grill (NYSE:CMG) and Panera Bread (NASDAQ:PNRA).
The acquisition will result in the creation of a new company headquartered in Canada, but Burger King and Tim Hortons will continue to operate as stand-alone chains, with Burger King's corporate offices remaining in Miami.
The fact that the new company -- which will be the world's third-largest fast-food corporation -- will be based in Canada has raised suspicions among some observers Burger King made the move in a cynical bid to take advantage of Canada's lower taxes.
Known as a "tax inversion," the controversial practice of acquiring a foreign company based in a more business-friendly country for the purpose of relocating corporate headquarters to reap tax benefits has come to prominence in recent months, as a number of companies have announced their intentions to make such a leap.
"I think this is primarily a financial deal based on taxes and the whole tax inversion thing," David Henkes, vice president at the Chicago food industry research firm Technomic Inc., said Tuesday. "You can talk about restaurant synergies and other things, but the major driving factor behind this is the significant tax savings behind moving to Canada."
The practice of inversion has come under fire from politicians, consumers and critics who see it as a traitorous move for established American brands, a phenomenon that contributed to Walgreen Co.'s (NYSE:WAG) decision to withdraw plans to move its headquarters to Ireland with its purchase of a European drugstore chain.
Burger King Executive Chairman Alex Behring said during a conference call with investors Tuesday the acquisition is "not being driven by tax rates" but by potential synergies and the opportunity to combine forces in pursuit of international growth.
"A key driver of these discussions is the potential to leverage Burger King's worldwide footprint and experience in global development to accelerate Tim Hortons' growth in international markets," the company wrote in a statement Sunday that did not touch on the two countries' business friendliness or taxes.
The United States' combined corporate tax rate held steady at about 40 percent from 2006 to 2014, while Canada's has fallen from 36.1 percent to 26.5 percent in the same period, KPMG International Cooperative reported. Taking advantage of that gap would be a boon for Burger King, Henkes said.
"When you look at a company like Burger King that has been aggressive in its cost-cutting, the tax-cutting in this would be a major cost savings," he said. "Does it hurt their U.S. business? Maybe yes, maybe no. But with the significant tax benefit combined with the global financial opportunity, in the mind of Burger King executives the long-term financial advantage probably outweighs any kind of potential harm to the business."
But Burger King paid an effective tax rate of just 27.4 percent after deductions and other adjustments last year, its annual filing shows, while Tim Hortons paid 26.8 percent. That slim difference suggests the immediate financial benefits of tax inversions may not be as marked as many observers assume, though they could accrue in the long term as the companies adapt to their new home countries' tax regimes.
Purchasing Tim Hortons will give Burger King significantly more presence in Canada than it has today. Tim Hortons held 18 percent of the chained consumer food service industry market share in Canada in 2013, up 1.4 percentage points from 2009, while Burger King held 1.3 percent there in 2013, up from 1 percent in 2009, the Euromonitor market research firm said. Meanwhile, Burger King's U.S. market share fell from 3.8 percent in 2009 to 3.2 percent in 2013, and Tim Hortons' stayed steady at 0.2 percent.
As such, the move makes sense from a strategic perspective, said Robert Carter, a leading expert on the Canadian fastofood industry and executive director of the NPD Group market research firm.
"With restaurant industry traffic in both Canada and [the] U.S. flat, and the long-range forecast not offering hope for improvement, it makes sense for chains to combine forces to make a more dramatic impact in the marketplace," he said via email. "Economies of scale will help improve share as well as enable more-rapid international expansion. I'm sure we'll be seeing more of these partnerships in the future."
FOR FREE to continue reading
✔️ Unlock the full content of International Business Times UK for free
offer available for a limited time only
✔️ Easily manage your Newsletters subscriptions and save your favourite articles
✔️ No payment method required
Already have an account?
Log in
© Copyright IBTimes 2023. All rights reserved.